The Smok RPM80 & Pro 80W Mod Pod Kits, you can choose the RPM80 or the RPM80 Pro. with the cuboid-shaped design and intuitive resin material cover, comfortable to grip and with quality looks. adopts the 0.96-inch colorful display and the concise and informative user interface for the carefree vaping experience. the Smok Device with the newest IQ-80 chipset offers a variety of intelligent features and functional protections that allows the RPM 80 fires up to 80W, you can press the Up and Down buttons to adjust the working wattage to get the preferred effect. the fast charging system allows the battery will be fully charged in a short time. there are two Pods available: the RPM Pod and RGC Pod. both of them can hold 5ml e-juice, the RPM Pod compatible with all RPM Coils to maximize coil compatibility and meet diverse vaping needs. the RPM80 RGC Pod is Smok first Pod with the adjustable airflow design, the adjustable airflow ring at the bottom can be rotated to adjust the intake freely. there are two new Coils available, the RGC Conical Mesh Coil and RGC RBA. the RGC Conical Mesh Coil powered by nexMesh technology, designed for the powerful, warm throat hit with massive vapor and amazing flavor. the unique conical structure can maximize the bottom of the airflow inlet and condense the vapor as it flows through the coil to the drip tip, creating an unparalleled burst of flavor. you can purchase the RGC RBA separately, which designed to help you and your individual vaping style.
Quick Links:
Features:
Size: 109*31.55*Z26mm(Standard Version) / 118*31.5*26mm(Pro Version)
Colors: Fluid Gold, Fluid Blue, Black And White Resin, 7-Color Resin, Black Carbon Fiber, Black Stabilizing Wood, Red Stabilizing Wood, Fluid Blue, Black And White Resin
Adopts New IQ-80 Chipset
Built-in 3000mAh Battery (Standard Version) / Powered By Single High-Rate 18650 Battery(Sold Separately)(Pro Version)
Output Power Range: 1-80W
Output Mode: Watt
Resistance Range: 0.15-3.0ohm(Standard Version)/ 0.1-2.5ohm(Pro Version)
Standby Current: <100uA
Output Voltage: 0.5-4.1V
Input Voltage: 3.3-4.2V
Charging Voltage: 5V/2A
Over-Discharge Voltage: 2.4V
Over-Charge Voltage: 4.3V
0.96 Inch Colorful Display
Intelligent Atomizer Recognition
Puff Monitoring System
10 Seconds Cut-Off
Short Circuit Protection
Over-Heating Protection
Low-Battery Warning
Micro USB Port For Charging
--------------------------------------------------------
5ML E-Juice Capacity
Convenient Top E-Juice Refill Design
Transparent E-Juice Window
Pods:
RPM80 RGC Pod With Airflow Adjustable Design
RPM80 RPM Pod
Coils:
RPM Mesh Coil, 0.4ohm, Best: 25W
RPM DC MTL Coil, 0.8ohm, Best: 16W
RPM Triple Coil, 0.6ohm, Best: 25W
RPM Quartz Coil, 1.2ohm, Best: 12W
RPM SC Coil, 1.0ohm, Best: 14W
RPM MTL Mesh Coil, 0.3ohm, Best: 10-15W
RPM RBA Coil
RGC Conical Mesh Coil, 0.17ohm, Best: 40-80W
RGC RBA Coil, 0.6ohm
RGC Mesh Coil, 0.3ohm, Best: 30-60W
RGC DC MTL Coil, 0.8ohm, Best: 8-16W
Includes: (RPM 80 Version)
1*RPM 80 Mod Device
1*RPM80 RPM Pod(Pre-installed 0.4ohm Mesh Coil)
1*RPM80 RGC Pod(Pre-installed RGC Conical Mesh Coil 0.7ohm)
1*Micro USB Cable
1*User Manual
Includes: (RPM 80 Pro Version)
1*RPM80 Pro Device
1*RPM80 RPM Pod With RPM Mesh Coil 0.4ohm
1*RPM80 RGC Pod With 0.17ohm Conical Mesh Coil
1*USB Cable
1*User Manual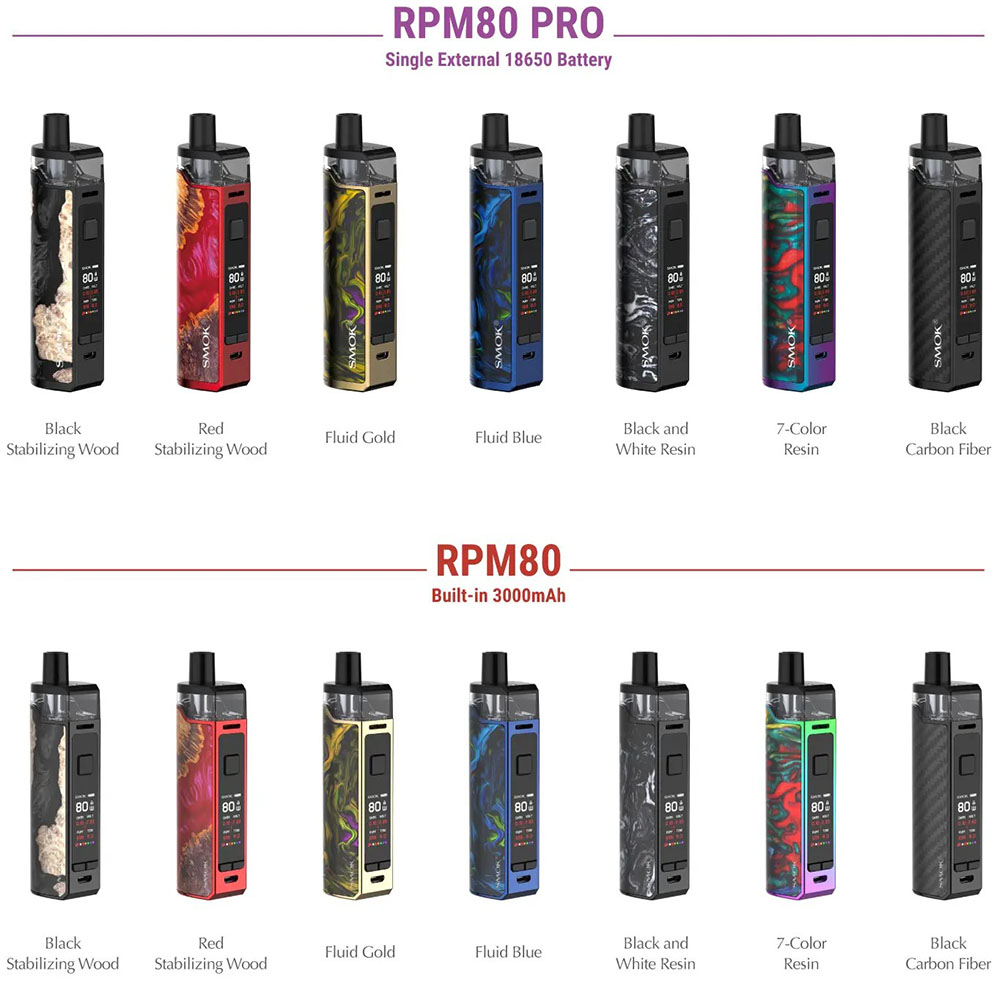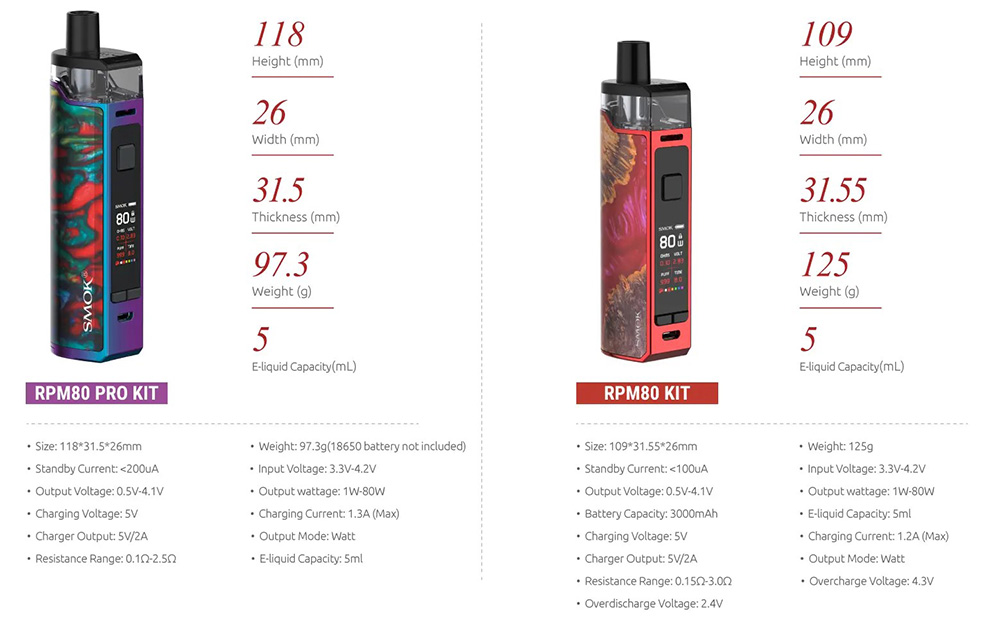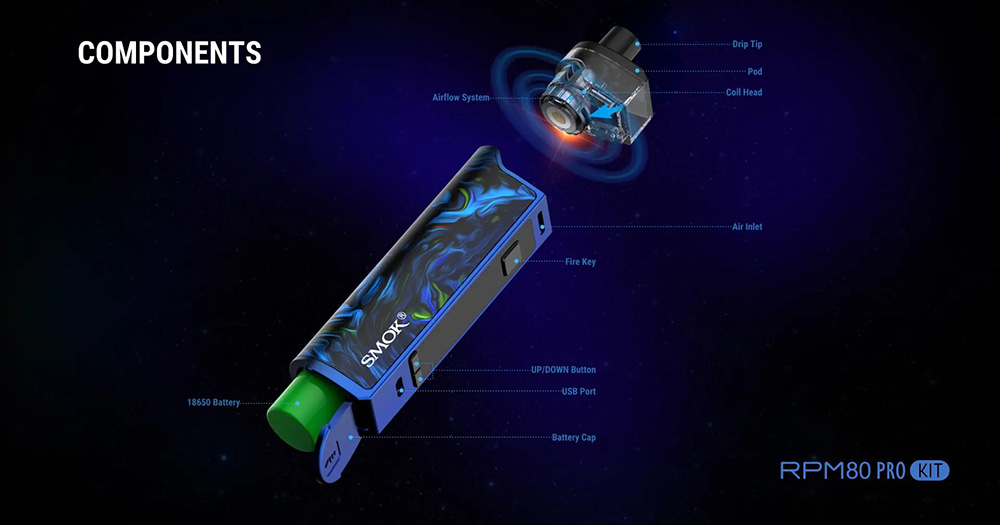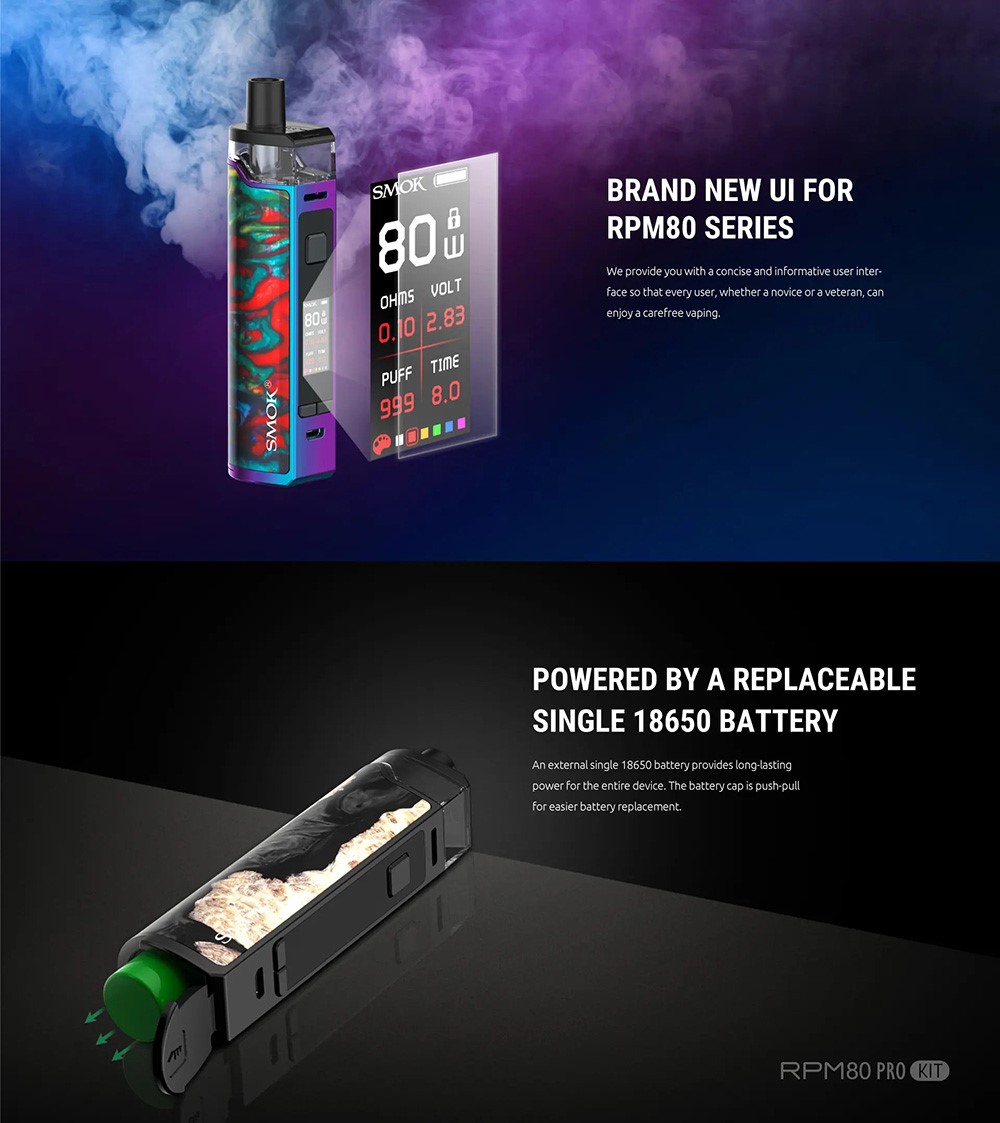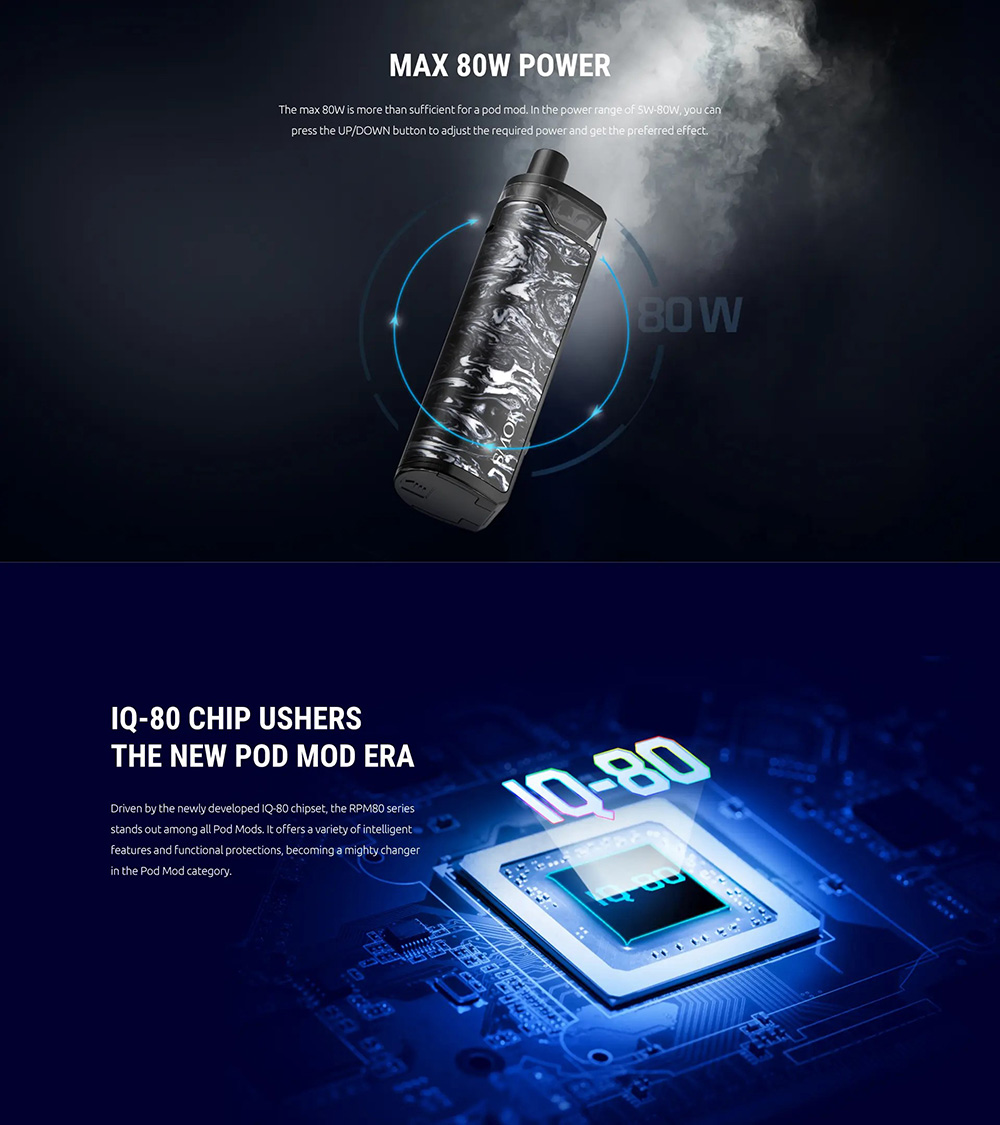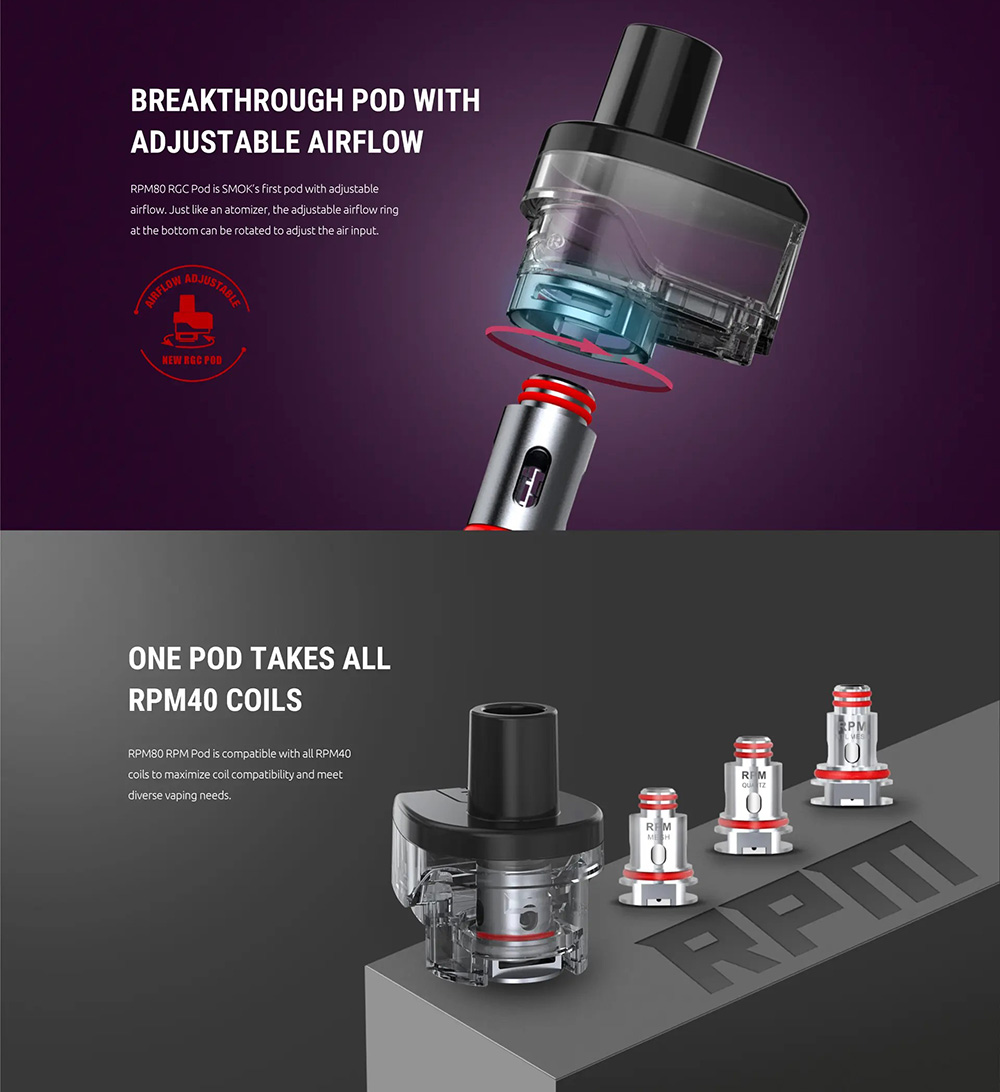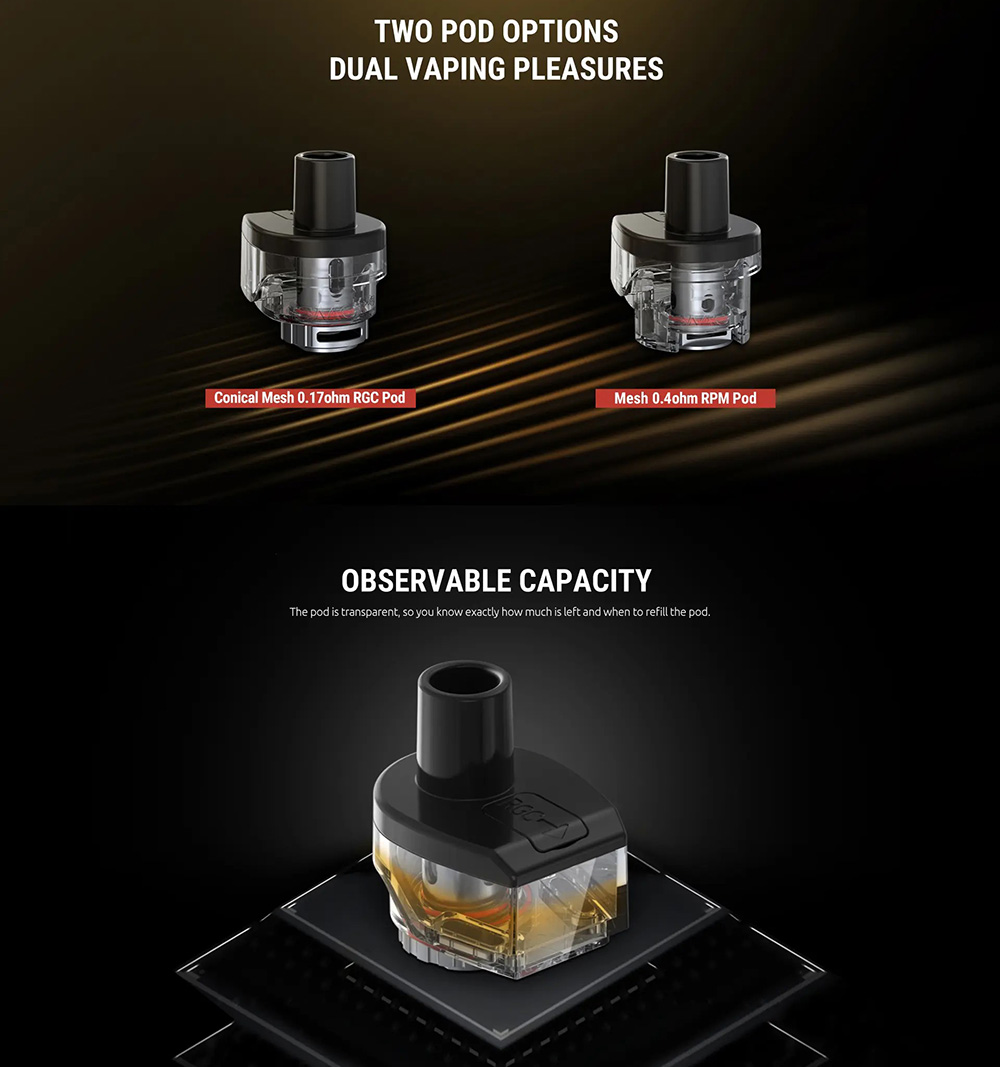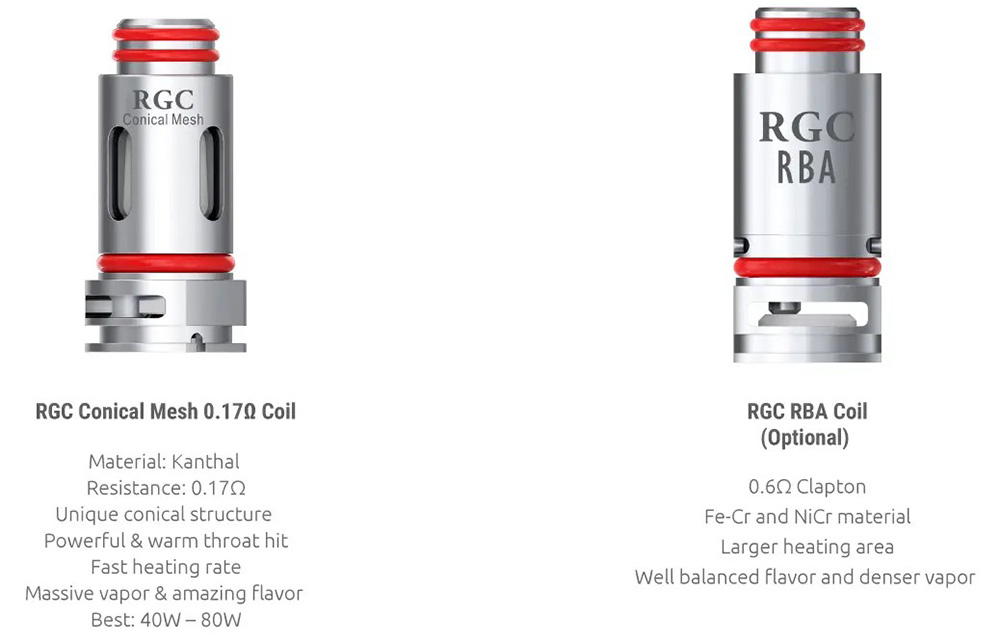 Note: please ensure you have basic knowledge on how to properly use it.
1)If the tanks use sub-ohm coils, vapers must be sure that your device and batteries can handle sub-ohm coils, only recommend experienced users order this, extra safety precautions should be practiced when using a sub-ohm tank. the tank only works with the mod that can support the atomizer and coil. if you have a tank and resistance is 0.3ohm, you must sure that the mod or battery can support resistance low to 0.3ohm. improper use and lead to injury or damage. use the OHMS LAW Calculator to check. if you have a question, please feel free to contact us.
2)users need to pay attention to Li-ion cells when vaping. the batteries very sensitive to charging characteristics and may explode or burn if mishandled. so vapers must have enough knowledge of Li-ion batteries in charging, discharging and assembly before use. please use the fire-proof surface battery charger, never leave a charging battery unattended. we will not responsible for damage to the human reason or mishandling of Li-ion batteries and chargers. the device always recommends work with rechargeable lithium-ion IMR batteries with min output current 20A or higher.
3) Smokstore will not responsible or liable for any injury, damage, defect, permanent or temporary that may be caused by the improper use of Li-ion battery, coils, tanks, mods. please have a basic knowledge of batteries. Welcome to contact us anytime to get help.