$39.99
$14.90
Sale
-63%
OFF
Brand: Smok
Product Code:

Trinity Alpha
The Smok Trinity Alpha Pod System, in the shape of a square box with a smart response system, with resin decoration panels, it's a small but exquisite vape partner that you can take along with whenever you want. the Smok Pod Battery built-in 1000mah battery, the output power range from 6W to 30W, three taste modes to satisfy your vaping demands from Soft, Norm, Hard. you can switch to your desired output power mode by pressing the mode button, meanwhile, the corresponding LED light will turn on. there is a big black power button on the side, which with ergonomically designed and placed at the lateral side together with other functional buttons, easy to find and easy to operate. vapers can charge the Smok Pod Mod via the micro USB port by connecting to a wall adapter, the intelligent battery life indicator light will show you the charging status. the Trinity Alpha Pod can hold 2.8ml e-juice, with the slide-to-open top refill design, with the stainless steel filling cap for convenient e-liquid refilling and leakproof purpose as well. the SS ring is placed on the upper part of the pod where the drip tip is inserted into. the kit adopts a lock button to fix the pod for the sake of security. you can easily achieve the pod attachment and detachment by pushing this lock button. there are two airflow channels to help bring more air in and produce the huge vapor, the Smok Kit compatible with the Nord Series Replacement Coil Heads: Mesh-MTL 0.8ohm, Mesh 0.6ohm, Regular 1.4ohm, and Ceramic 1.4ohm coil heads. the 0.6ohm and 0.8ohm MTL mesh coils optimized for the regular e-juice, the 1.4ohm regular coil for the nicotine salts, vapers can use the 1.4ohm ceramic coils for the oil.
Quick Links:
Smok Trinity Alpha Replacement Pods
Features:
Material: Zinc Alloy + Resin
Colors: Bright Black, Prism Chrome, Prism Rainbow, Prism Blue, Red, Prism Gold
Size: 91*38*16mm
Built-in 1000mAh Battery
6-30W Output Wattage Range( Soft / Norm / Hard )
Resistance Range: 0.4-1.4ohm

Input Voltage: 3.3-4.2V
Output Voltage: 2.4-6.0V
Standby Current: <200uA( No Load )/ <250uA ( Load )
Charger Output: DC5V/1A
Charging Voltage: 5V
Charging Current: 0.7A(Max)
2.8ML E-Juice Pod
Mesh-MTL 0.8ohm Coil, Max Power: 16W
Mesh 0.6ohm Coil, Max Power: 25W
Regular 1.4ohm Coil, Max Power: 12W
Ceramic 1.4ohm Coil
Unique Lock Button For Pod Fixation
Convenient Slide-To-Open E-Juice Refill Design
Fast Charging System
Ergonomically Designed Power Button
Micro USB For Charging
Intelligent Battery Life Indicator
Includes:
1*Trinity Alpha Pod Mod Smok
1*Refillable Pod
1*Mesh 0.6ohm Coil
1*Mesh-MTL 0.8ohm Coil
1*USB Cable
1*User Manual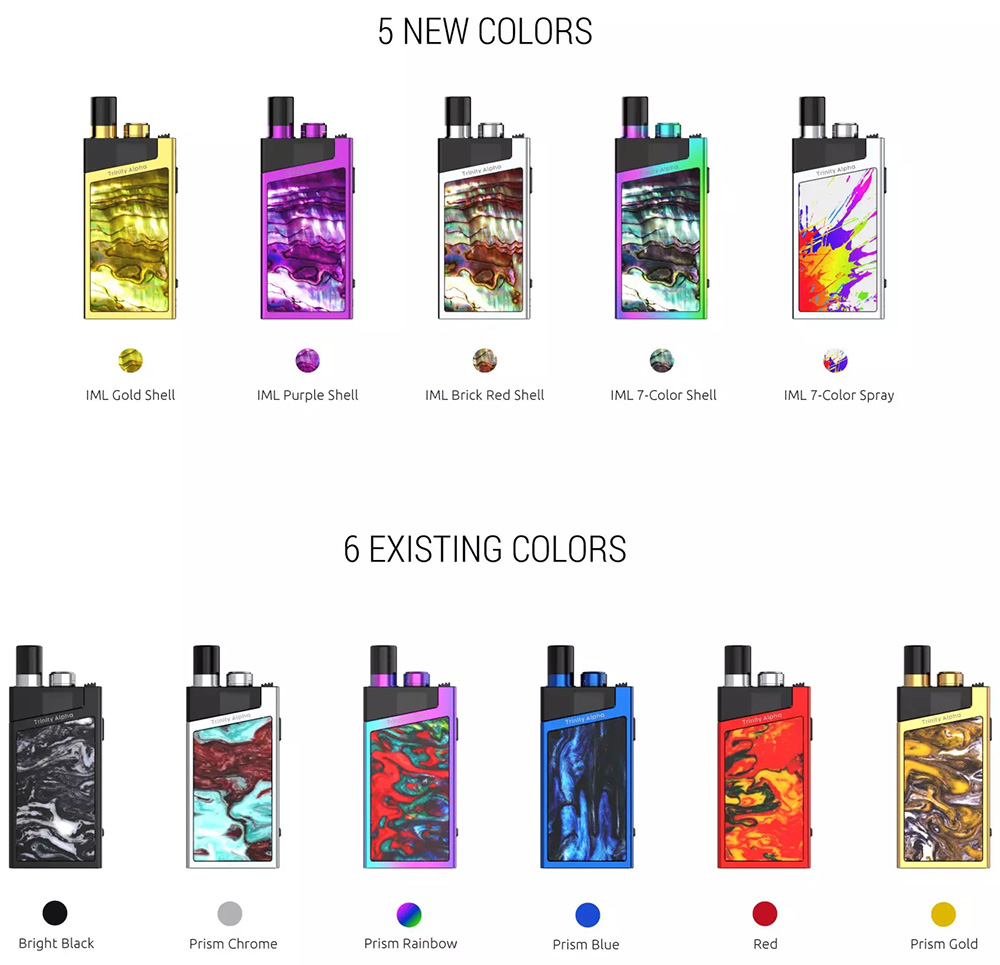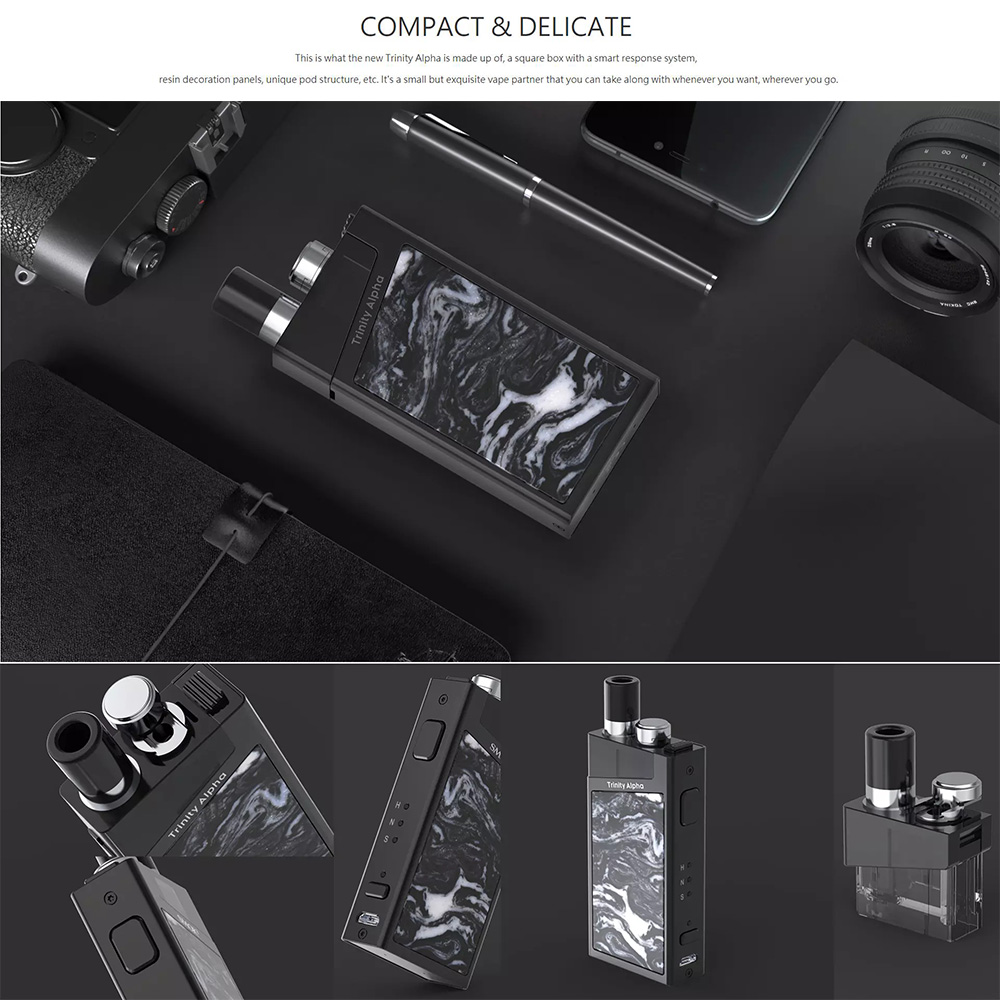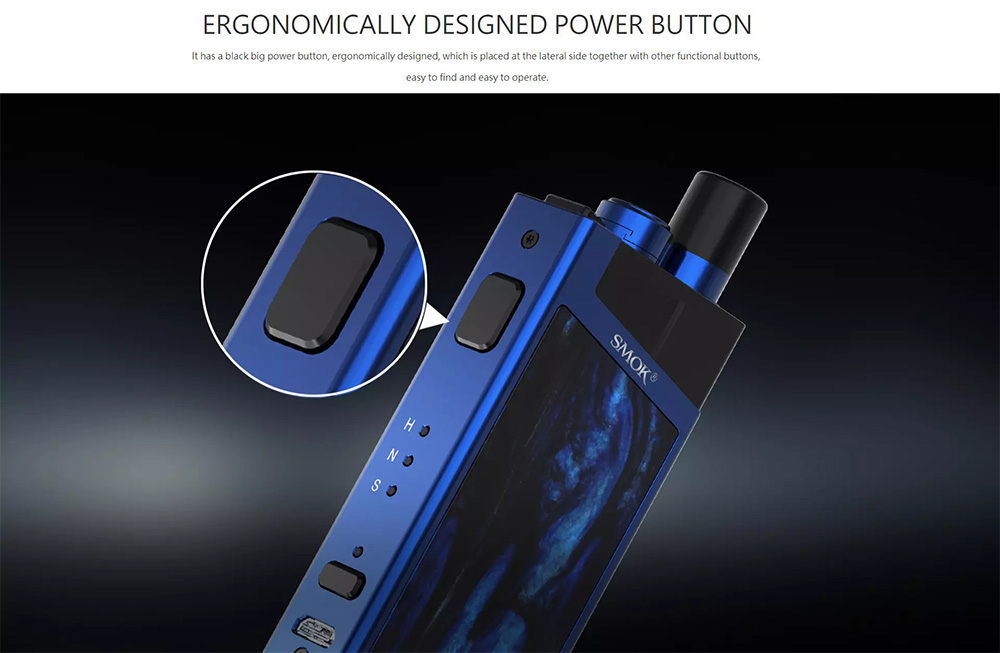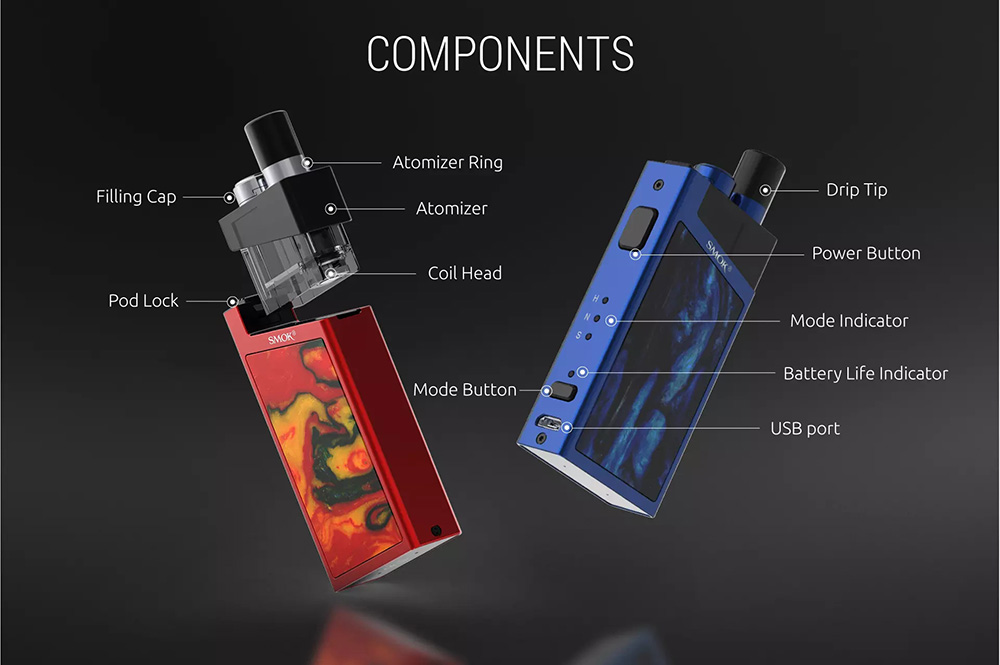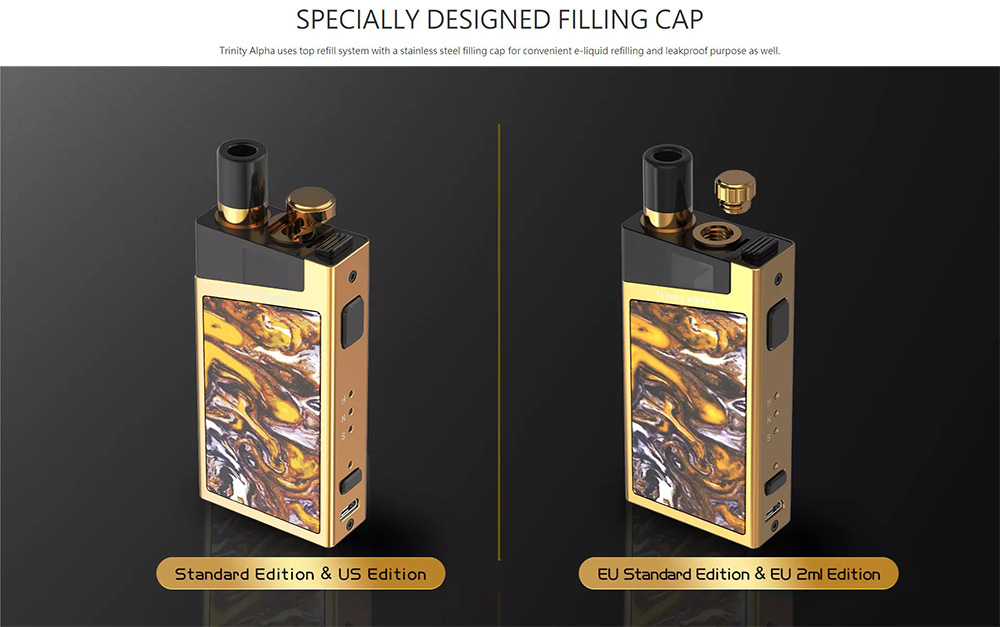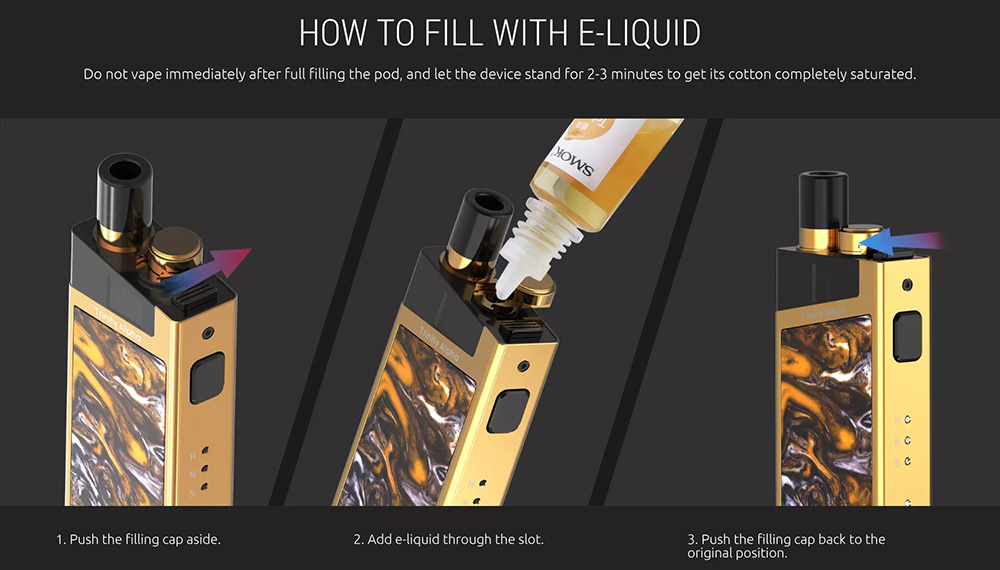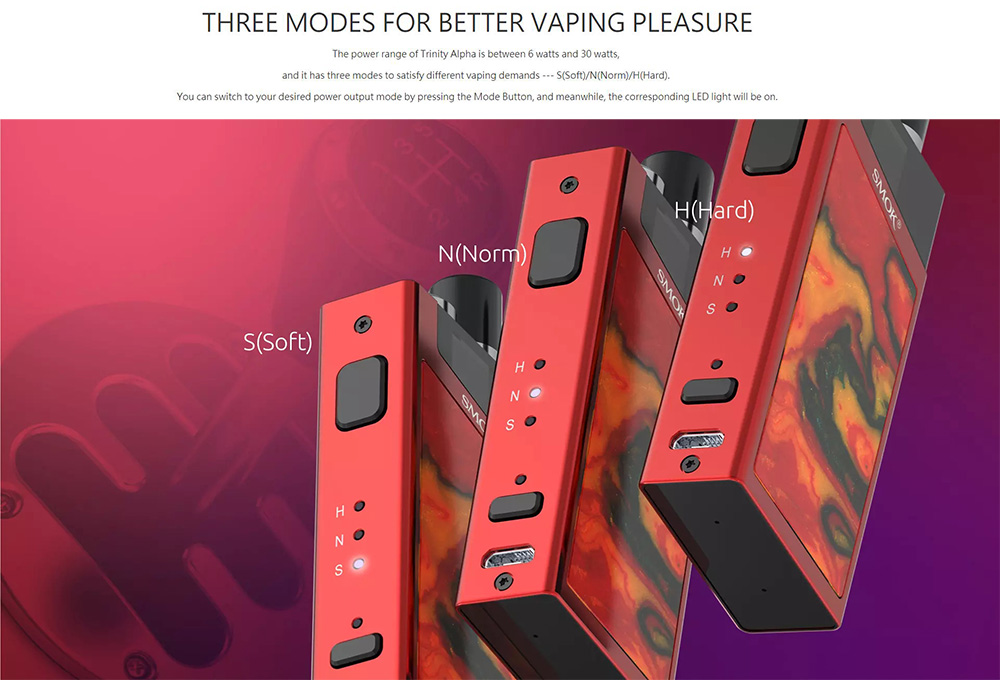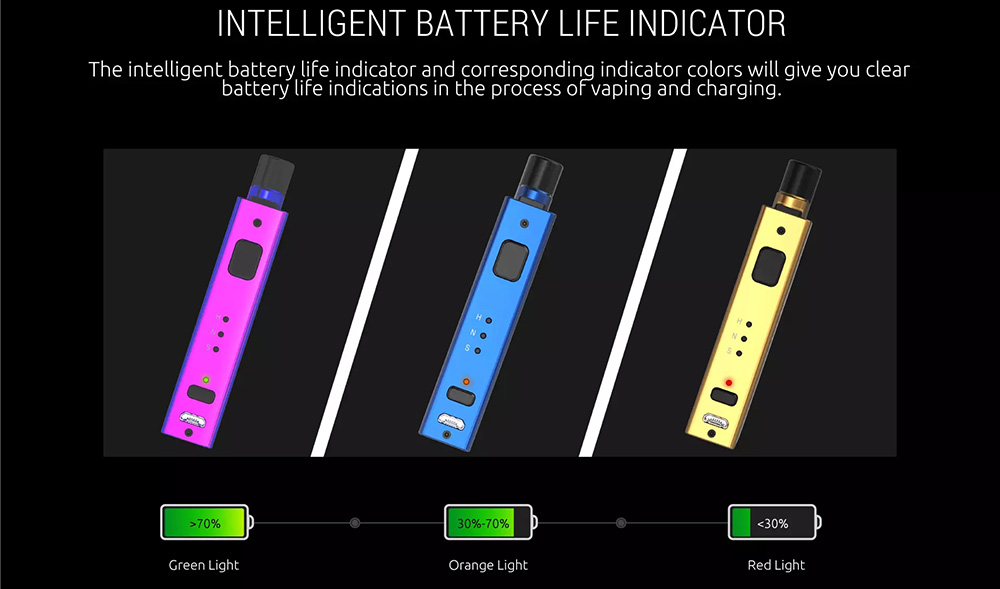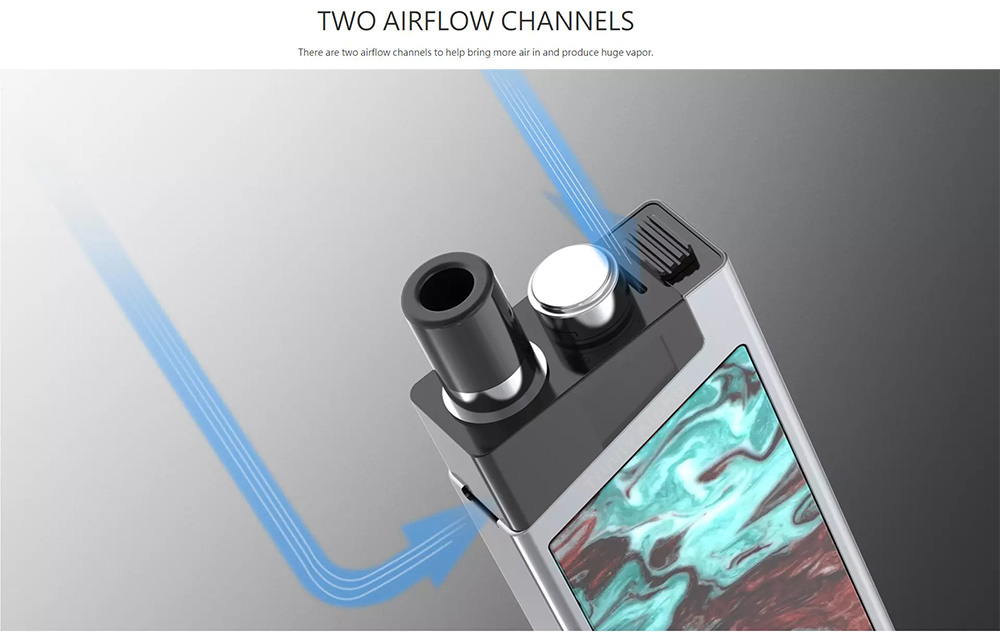 Note: please ensure you have basic knowledge on how to properly use it.
1)If the tanks use sub-ohm coils, vapers must be sure that your device and batteries can handle sub-ohm coils, only recommend experienced users order this, extra safety precautions should be practiced when using a sub-ohm tank. the tank only works with the mod that can support the atomizer and coil. if you have a tank and resistance is 0.3ohm, you must sure that the mod or battery can support resistance low to 0.3ohm. improper use and lead to injury or damage. use the OHMS LAW Calculator to check. if you have a question, please feel free to contact us.
2)users need to pay attention to Li-ion cells when vaping. the batteries very sensitive to charging characteristics and may explode or burn if mishandled. so vapers must have enough knowledge of Li-ion batteries in charging, discharging and assembly before use. please use the fire-proof surface battery charger, never leave a charging battery unattended. we will not responsible for damage to the human reason or mishandling of Li-ion batteries and chargers. the device always recommends work with rechargeable lithium-ion IMR batteries with min output current 20A or higher.
3) Smokstore will not responsible or liable for any injury, damage, defect, permanent or temporary that may be caused by the improper use of Li-ion battery, coils, tanks, mods. please have a basic knowledge of batteries. Welcome to contact us anytime to get help.