The Wotofo Profile 1.5 Mesh RDA, diameter 24mm, the upgraded version of the original Profile RDA, a stronger flavor production version. two 810 resin drip tips included, nice appearance with comfy contact between lips. with the flexible airflow control design, maximized airflow options. the Profile 1.5 RDA with bigger building deck supports single Mesh Coil, bigger mesh surface area and bigger vapor production. with the same ceramic support design and clamp-securing method to prevent dry burning taste, easy to build on.the centered heating surface area, convenient and fast liquid dripping with drip tip on. the Profile 1.5 squonkable with e-liquid distribution. Wotofo Profile 1.5 Mesh RDA comes with 3 types of pre-built Mesh Coils, Powered by the nexMesh technology, which will fast heat the e-juice, efficient vaporizing and flavor strengthening.
Quick Links:
Features:
Material: Stainless Steel
Height: 33.1mm ( With Drip Tip And 510 Pin )
Diameter: 24mm
Build Deck Diameter: 22.5mm
Coil Configuration: Single Mesh Coil
Recommend Output Wattage: 60-80W, Best: 70-75W
Thread: 510
Juice Feeding Method: Drip / Squonk
Insulator Material: German Peek
Coils:
nexMesh Extreme KA1 Coil, 0.16ohm, Refined Woven Wire, For Strong and Vigorously Warmer Flavor
nexMesh Turbo KA1 Coil, 0.13ohm, High-Density Perforated Mesh Strip Wire, For More Heightened Flavor And Thicker Vapor Production
nexMesh Chill KA Coil, 0.15ohm, Strip Of Vape Metal With Properly Punched Holes Wire, For More Laid-Back Flavor And Great Vapor Production
Includes:
1*Wotofo Profile 1.5 Mesh RDA
1*User Manual
1*Extra Drip Tip
1*Bending Tool
1*Accessory Bag
1*Allen Key
1*Cross Head Screwdriver
3*6MM Thick Xfiber Cotton Strip
1*nexMesh Chill A1 Coil 0.15ohm
1*nexMesh Turbo A1 Coil 0.13ohm
1*nexMesh Extreme A1 Coil 0.16ohm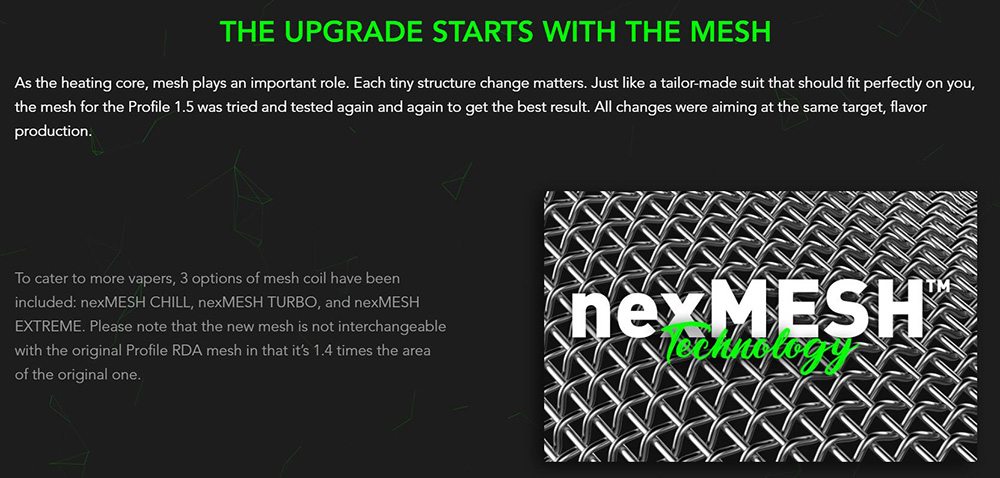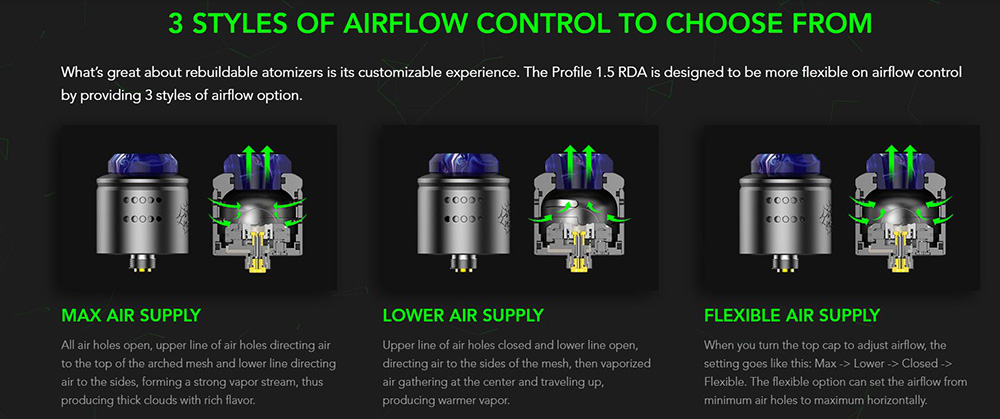 Note: please ensure you have basic knowledge on how to properly use it.
1)If the tanks use sub-ohm coils, vapers must be sure that your device and batteries can handle sub-ohm coils, only recommend experienced users order this, extra safety precautions should be practiced when using a sub-ohm tank. the tank only works with the mod that can support the atomizer and coil. if you have a tank and resistance is 0.3ohm, you must sure that the mod or battery can support resistance low to 0.3ohm. improper use and lead to injury or damage. use the OHMS LAW Calculator to check. if you have a question, please feel free to contact us.
2) Smokstore will not responsible or liable for any injury, damage, defect, permanent or temporary that may be caused by the improper use of Li-ion battery, coils, tanks, mods. please have a basic knowledge of vape. Welcome to contact us anytime to get help.