Yocan Elove-D Dry Herb Vape Pen Features:
The Yocan Evolve D is the newest dry herb vape pen, five different colors available. the kit designed with concision in mind, pen-style shaped vaporizer comes with a quite comfortable size, small and exquisite. take this portable unit to enjoy your convenient vaping days. the pancake dual coils will ensure the rich vapor. after filling the dry herb, vapers can press the stuff down to the coil, vape more evenly and successfully, push out the mouthpiece and clean the ash easily.
Quick Links: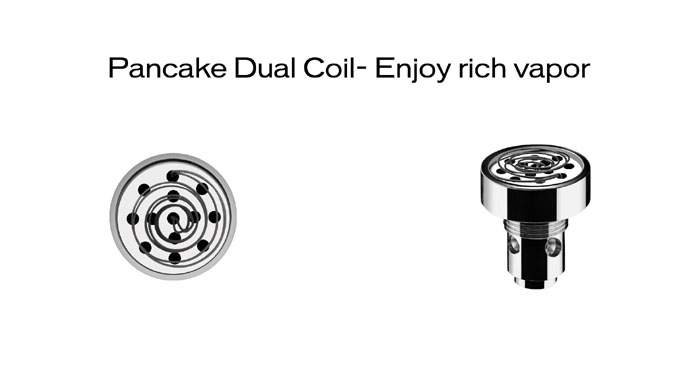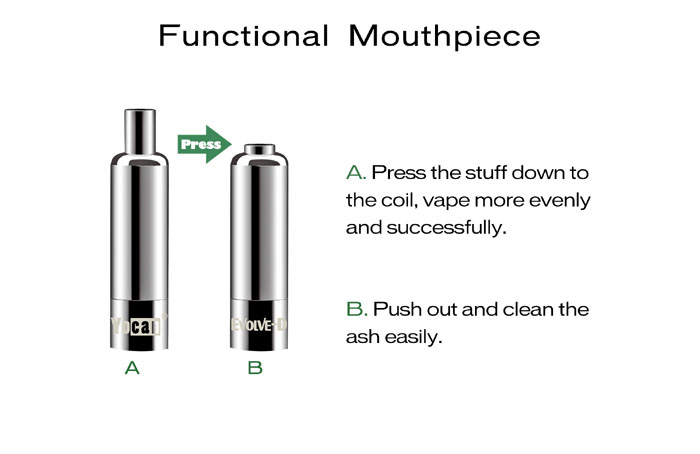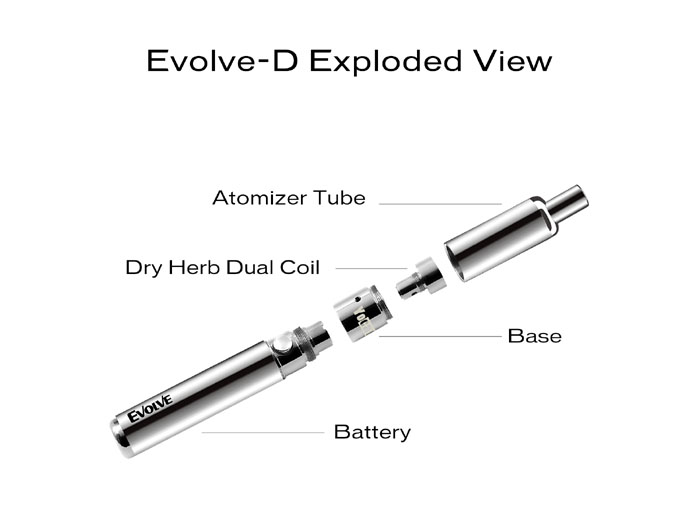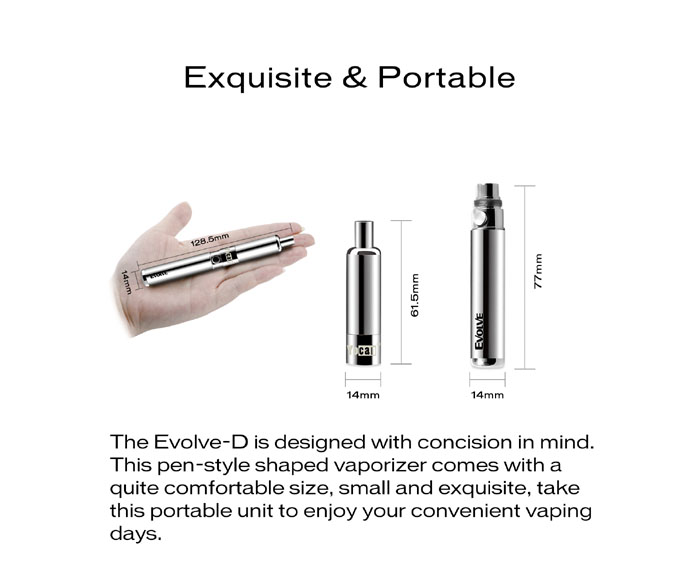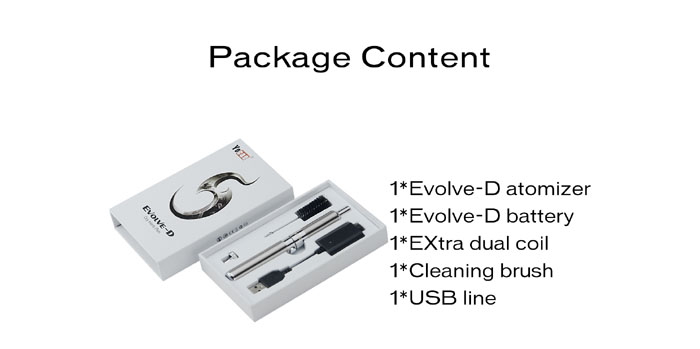 Package Contents:
1*Evolve-D Atomizer
1*Evolve-D Battery
1*Extra Dual Coil
1*Cleaning Brush
1*USB Cable
Note: please ensure you have basic knowledge on how to properly to use it.
1)If the tanks use sub ohm coils, vapers must be sure that your device and batteries can handle sub ohm coils, only recommend experienced users order this, extra safety precautions should be practiced when using a sub ohm tank. the tank only work with the mod that can support the atomizer and coil.if you have a tank and resistance is 0.3ohm, you must sure that the mod or battery can support resistance low to 0.3ohm.improper use and lead to injury or damage.use the OHMS LAW Calculator to check.if you have question,please feel free to contact us.
2)if the coils are sub ohm coils, the user should be sure that the tank and mods can handle the sub ohm resistance coils, please make sure you have the great understanding of them, if you are not sure, please do not order and use, welcome contact us any time to get help.
3)users need pay attention to Li-ion cells when vaping.the batteries very sensitive to charging characteristics and may explode or burn if mishandled.so vapers must have enough knowledge of Li-ion batteries in charging, discharging and assembly before use. please use the fire-proof surface battery charger, never leave charging battery unattended.we will not responsible for damage for the human reason or mishandling of Li-ion batteries and chargers.the device always recommend work with rechargeable lithium-ion IMR batteries with min output current 20A or higher.
4) Smokstore will not responsible or liable for any injury, damage, defect, permanent or temporary that may be caused by the improper use of Li-ion battery, coils, tanks, mods etc.please have a basic knowledge of batteries.welcome to contact us anytime to get help.