Another high-end RTA(Rebuildable Tank Atomizer) by Shenzhen Vapefly company, the new RTA name is Brunhilde. which designed by German 103 Team. all parts of the newest vapefly RTA detachable and reassembled, with dual coil building deck, side refill design, and innovative premium stainless steel continuous automatic e juice replenishment system.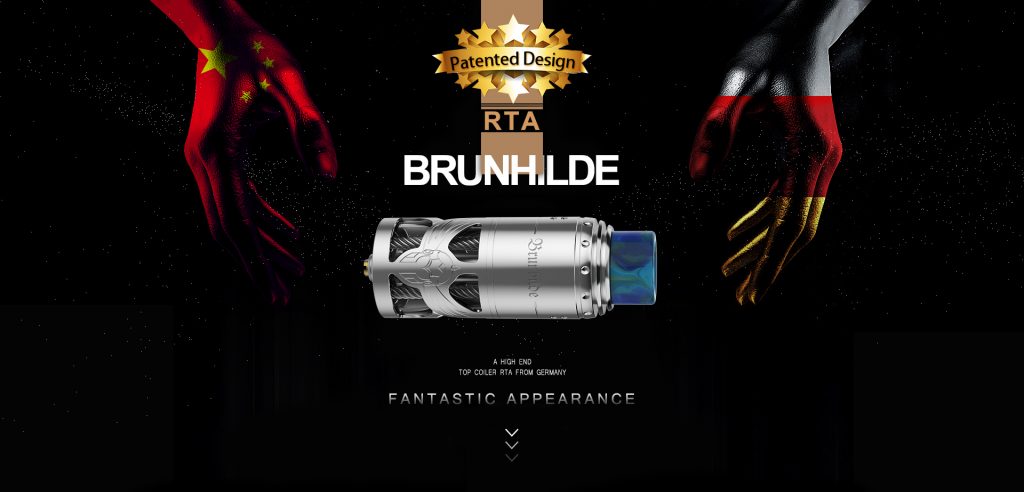 Features:
Material: Stainless Steel + Resin + Pyrex Glass
Colors: Black, Stainless Steel, Rainbow, Gun Metal
Designed By German 103 Team
High-End Top Coiler Design From German
Diameter: 25.2mm
Height WIth Drip Tip: 65.5mm
8ML E Juice Capacity
Dual Coil Building Deck
Easy Fast Refilling Design
Premium Stainless Steel Continuous automatic E Juice Replenishment System
Surrounding Airflow System
Wide Bore Resin Drip Tip Included
All Parts Detachable And Reassembled
The Brunhilde RTA designed by German 103 team, the guys include the experienced engineers, vapers and designers. they designed several popular rebuildable tanks before, this time, the new vapelfy tank with a fantastic appearance, it made of high-quality stainless steel and resin material, diameter 25mm, it can hold 8ml e juice. all parts detachable and reassembled, the top with one wide bore resin drip tip, the big size drip tip will bring you the large airflow, the bottom of the drip tip is the top cap with airflow system, the surrounding airflow system will bring you the different airflow, only rotating the top cap to adjust, there is one large building deck for dual coil builds, the coils line up on the same horizon with the deck. the Brunhilde RTA with side refill design, easy fast refill the e juice without leaking. under the building deck has 4 pieces stainless steel wires, which is the innovative continuous automatic e juice replenishment system, each stainless steel wire includes 7 pieces SS wires too, the SS wire also includes 7 3mm SS wires, which is the basic automatic e-juice transfer unit. the bottom is the e juice tank, the outer is the stainless steel frame, and inner is the 8ml glass tank. the outside of the RTA with beautiful laser engraving and pattern。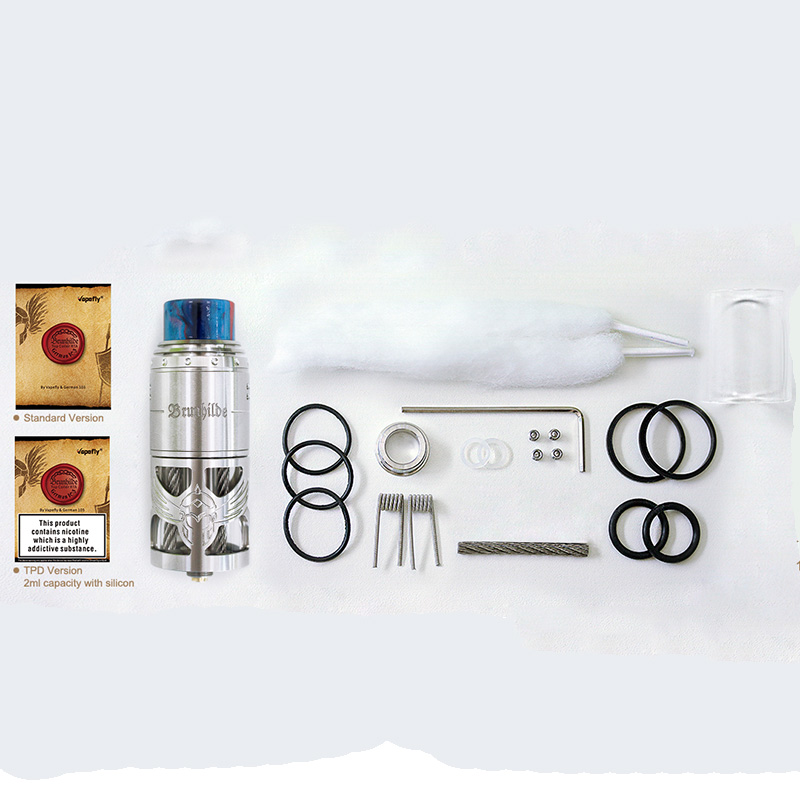 the new Vapefly Brunhilde RTA will in stock at the end of January, it with the large e juice capacity, top coiler dual coil building deck and innovative stainless steel continuous automatic e juice replenishment system, must bring you the different vaping experience.
now this new high-end RTA pre-order on smokstore, 4 colors available, check it here:
https://www.smokstore.com/Vapefly-Brunhilde-High-End-Top-Coiler-RTA-8ML