Hi, vapers, introduce the newest Vandy vape rebuildable tank atomizer TRIPLE 2. this is the triple coils building RTA by Vandy vape, which is an upgraded version of triple 28 RTA. the postless building deck supports single coil, dual coils, and triple coils. triple coils, triple flavor.
Features:
Colors: Rainbow, Matte Black, Stainless Steel, Gold
Material: Stainless Steel + Pyrex Glass
Length: 45MM
Diameter: 28MM
Capacity; 4.0ML/7.0ML
All Parts Detachable And Assembled
Nifty Slide-Out Top Refill Design
Bottom Honeycomb Airflow System
Single Coil/Dual Coils/Triple Coils Building Supports
Gold Plated Pin
Packing Content:
1*Vandyvape Triple 2 RTA
1*17.5MM Resin Drip Tip
1*Accessory Bag
1*Replacement Glass Tank
1*510 Adapter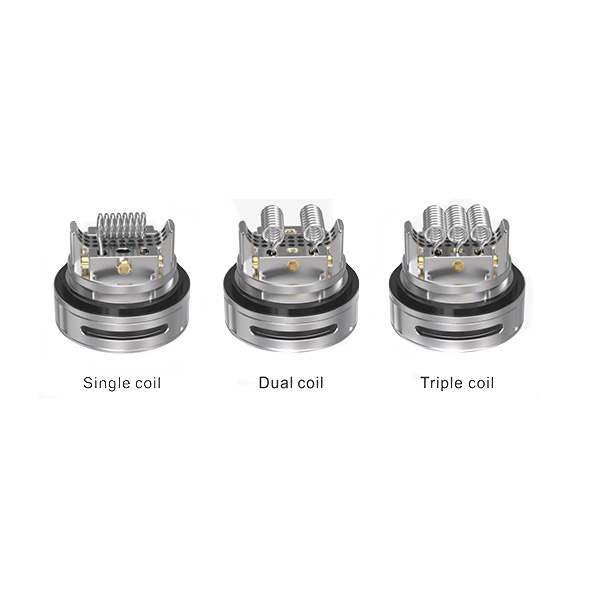 The newest vandyvape RTA made of high-quality stainless steel and acrylic materials, totally 4 colors available, it comes with 4ml straight glass tank and bubble glass tank, after installed the bubble glass tank, the Vandy vape triple II RTA can hold max 7ml e juice. the large postless building deck with six holes for simple vertical coil building and countless airflow holes, it will allow the air out to hit the coil or coils directly from the bottom, vapers can adjust the airflow via rotating the bottom airflow adjustable ring. the large building deck supports single coil, dual coils, and triple coils project. the nifty slide-out top refill design allows you inject e juice quickly and easily, no leaking issue. the triple v2 tank comes with a 17.5mm resin drip tip and 510 adapters, you can select the variable drip tips on it.
Now the newest Vandy vape RTA pre-order on smokstore, matte black, stainless steel, gold and rainbow colors available,
only $29.9 per set.if you want to order this RTA, check here:
http://www.smokstore.com/Vandy-Vape-Triple-V2-RTA