Features:
the coilart CTOCC monster kit include 3packs coils,
one pack is temp control coils include one piece TI coil, one piece NI200 coil, one piece NiTi Clapton coil,
one piece TiNi Clapton coil, one piece 316L SS Clapton coil.
one pack is Clapton coils, include one piece tiger coil, one piece 24GA Clapton coil, one piece 26GA Clapton coil,
one piece alien Clapton coil and one piece fused Clapton coil.
the last pack is twisted coils include one piece hive coil, one-piece twisted coil, one piece mixt twisted coils, one piece
flat twisted coil and one piece quad twisted coil.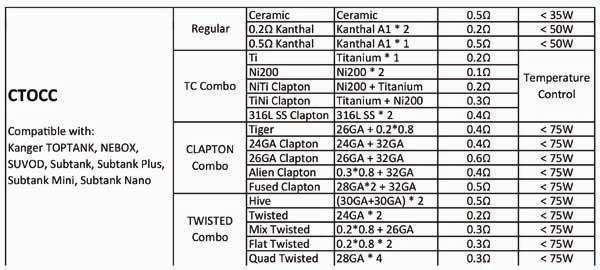 compatible with
nebox
subvod
subtank
subtank plus
subtank mini
subtank nano
longer lifespan, no burning smell, no leaking.
Package:
1*TC combo coils(1pc TI,1pc NI200,1pc NiTi Clapton, 1pc TiNi Clapton, 1pc 316L SS Clapton)
1*Clapton combo coils(1pc tiger,1pc 24GA Clapton, 1pc 26GA Clapton, 1pc alien Clapton, 1pc fused Clapton)
1*Twisted Combo coils(1pc hive,1pc twisted,1pc mix twisted,1pc flat twisted,1pc quad twisted)
Note: please ensure you have basic knowledge on how to properly to use it.
1)if the coils are sub ohm coils, the user should be sure that the tank and mods can handle the sub ohm resistance coils, please make sure you have the great understanding of them, if you are not sure, please do not order and use, welcome contact us any time to get help.
2)Smokstore will not responsible or liable for any injury, damage, defect, permanent or temporary that may be caused by the improper use of Li-ion battery, coils, tanks, mods etc.please have a basic knowledge of batteries.welcome to contact us anytime to get help.