Description:
Replacement cores for smok vape pen 22 use only,5pcs per pack,0.25ohm,0.3ohm and 0.4ohm coil heads available.
0.25ohm dual smok 22 coils,recommend works between 30-50W,brings massive cloud of vapor.
0.3ohm dual coil,made of 0.3mm NiCr material,brings you smooth taste.
0.4ohm X4 quadruple core,brings you deep and rich cloud taste,works between 20-50w,best 30-40w.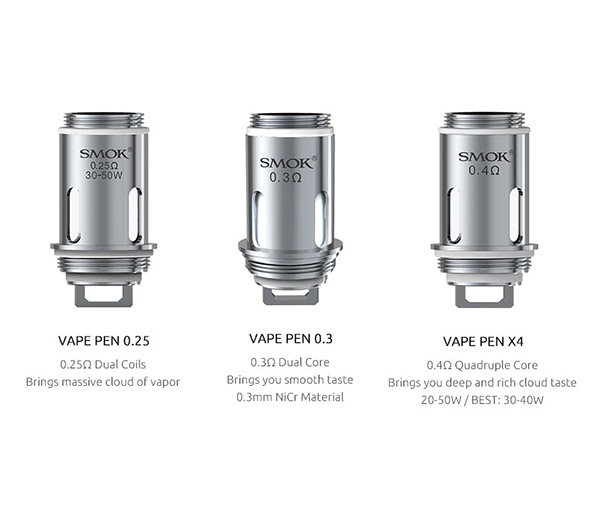 Note:
the tanks may uses sub ohm coils,vapers must be sure that your device and batteries can handle sub ohm coils,only recommend experienced users order this,extra safety precautions should be practiced when using a sub ohm tank.the tank only work with the mod that can support the atomizer and coil.if you have a tank and resistance is 0.3ohm,you must sure that the mod or battery can support resistance low to 0.3ohm.improper use and lead to unjury or damage.use the OHMS LAW Calculator to check.if you have question,please feel free to contact us.
Package:
1*replacement cores for vape pen 22(5pcs/pack)