Description:
This kit includes one resin glass tank and one resin drip tip, six different colors available, fit for TFV12 King beast tanks. the smok tanks look unique and fashionable, fit the tanks perfectly, no leaking issue. the resin drip tip made of high-quality resin material, vapers can install them on your TFV12 tanks, it looks more fashionable, it's more durable than the glass tanks, longer lifespan, it can hold 7ml e juice.
vapers can select:
Colors: white/green/purple/red/orange/dark blue/light blue/yellow
Fit for: TFV12 Beast King Sub Ohm Tanks
Capacity: 7ML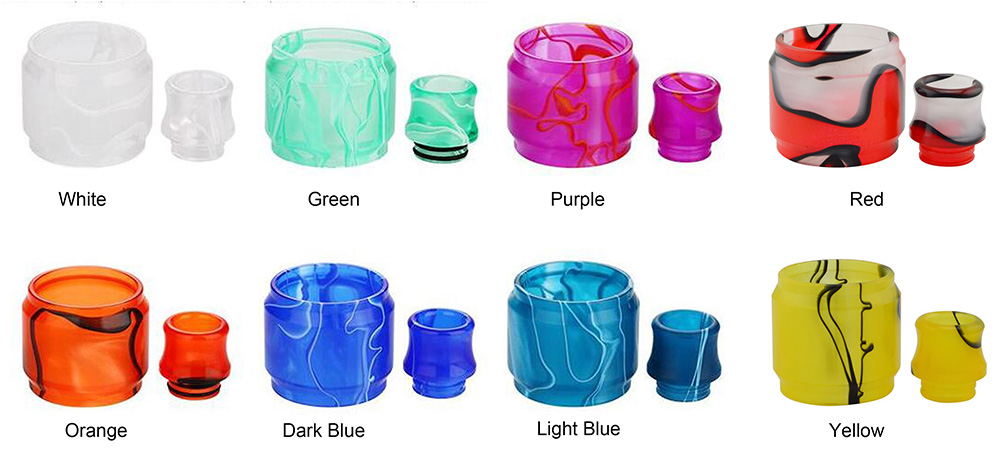 Package:
1*resin glass tank
1*resin drip tip
Note: please ensure you have basic knowledge on how to properly to use it.
1)If the tanks use sub ohm coils, vapers must be sure that your device and batteries can handle sub ohm coils, only recommend experienced users order this, extra safety precautions should be practiced when using a sub ohm tank. the tank only work with the mod that can support the atomizer and coil.if you have a tank and resistance is 0.3ohm, you must sure that the mod or battery can support resistance low to 0.3ohm.improper use and lead to injury or damage.use the OHMS LAW Calculator to check.if you have question,please feel free to contact us.
2) Smokstore will not responsible or liable for any injury, damage, defect, permanent or temporary that may be caused by the improper use of Li-ion battery, coils, tanks, mods etc.please have a basic knowledge of vape.welcome to contact us anytime to get help.