The Smoant Ranker 218W TC Vape Mod, which uses the high-quality leather material to give you the quality look and feel, utilizes the Ant218 V2 chipset with the faster response firing time low to 0.015S, the Smoant Mod can be fired instantly, the chipset is upgradeable. powered by dual high-rate 18650 batteries and the max output up to 218W, supports resistance as low as 0.1ohm in VW working mode or 0.05ohm in temp control mode. comes with the wattage and temperature curve modes, you can set the wattage or temp at intervals for the first 10 seconds, bringing you a customized vaping experience. the Ranker Mod with a big fire key, which will provide you special and cool user experience every time clicking. features one large 1.3 inch TFT screen, will show you the vaping data clearly, two different UI options to choose, vapers can customize the wallpaper.
Features:
Material: Leather +Zinc Alloy
Size: 92*60*31.5mm
Colors: Black, Tarnish, Camo
Screen: 1.35 Inch TFT Color Screen
Utilizes ANT218 V2 Chipset
Output Wattage: 1-218W
Output Modes: VW, VW Curves, TC-NI, TC-TI, TC-SS, TCR, TC Curves
Resistance Range: 0.05-2.0ohm(TC/TCR/TC Curves)/0.1-5.0ohm(VW/VW Curves)
Temp Control Range: 100-315℃ / 200-600℉
Two Different UI Available To Choose
The Big Responsive Fire Button
Firmware Upgradeable
Overheat Protection
Reverse Polarity Protection
Over-Current Protection
Low Voltage Protection
Over-Charge Protection
Over-Time Protection
Package:
1*Ranker Mod
1*Charging Cable
1*User Manual
1*Warranty Card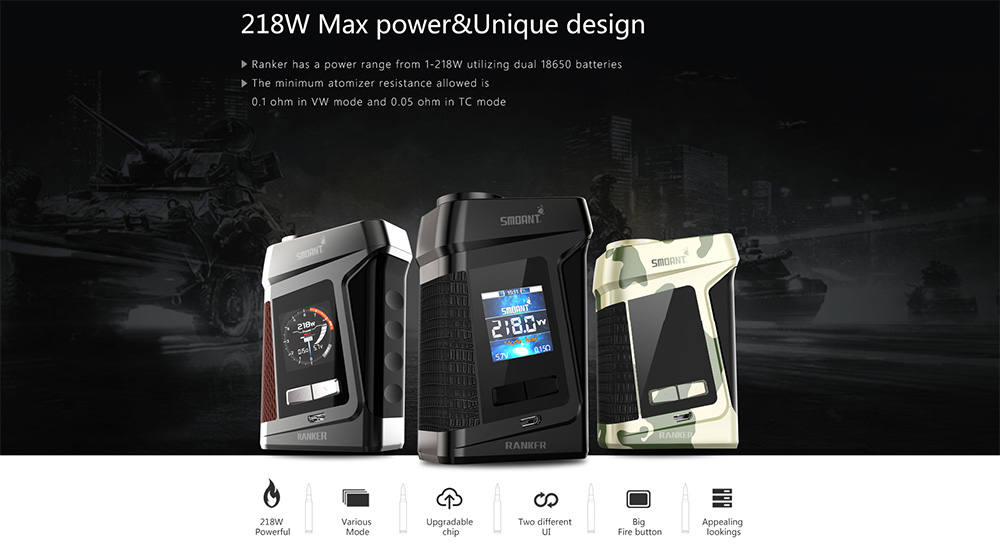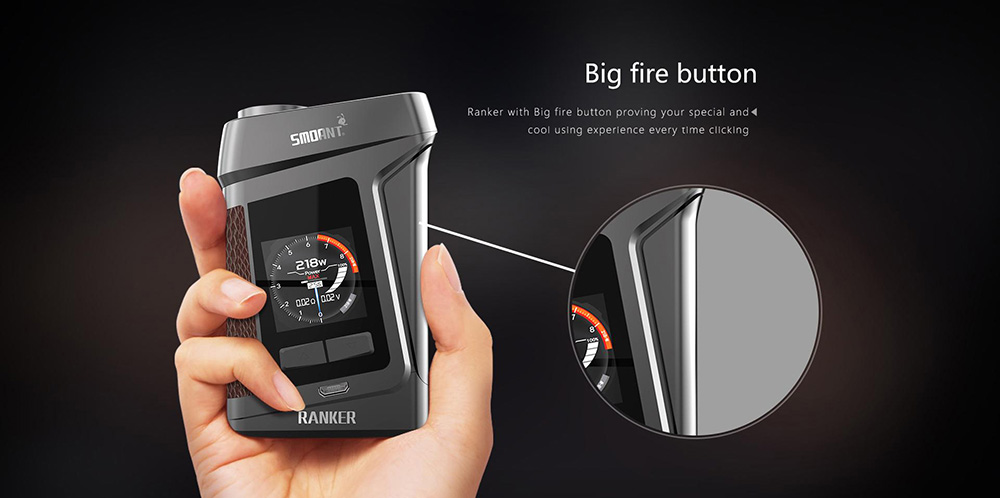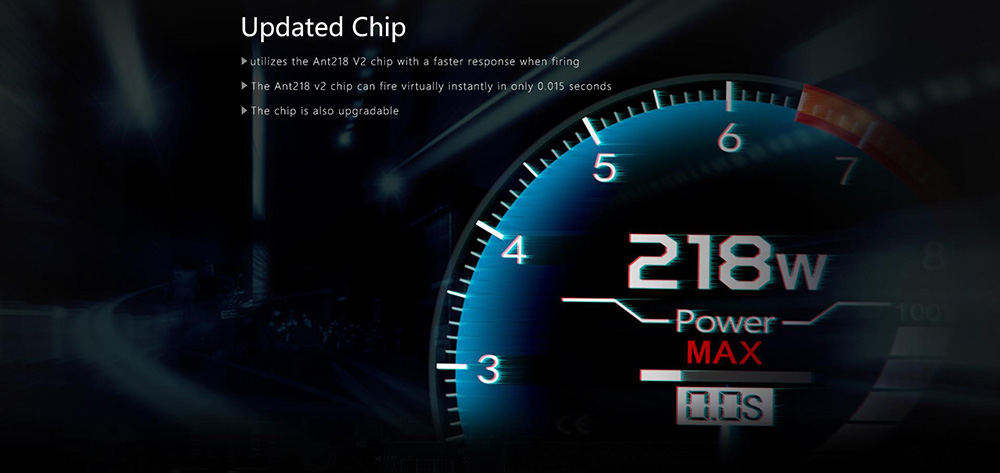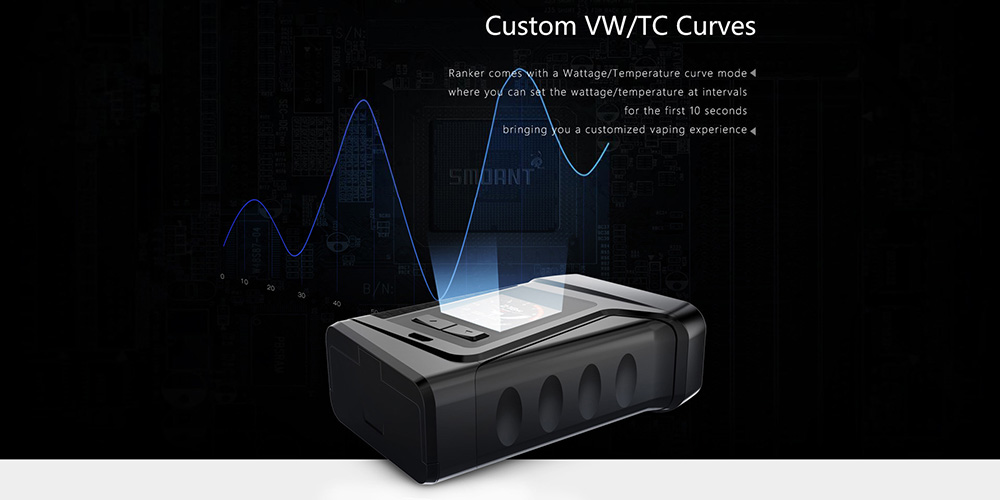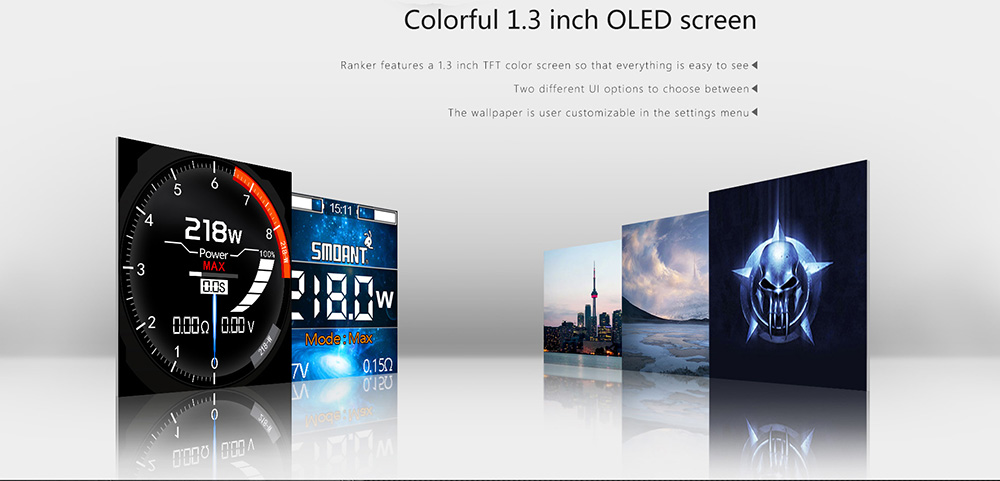 Note: please ensure you have basic knowledge on how to properly use it.
1)users need to pay attention to Li-ion cells when vaping. the batteries very sensitive to charging characteristics and may explode or burn if mishandled. so vapers must have enough knowledge of Li-ion batteries in charging, discharging and assembly before use. please use the fire-proof surface battery charger, never leave a charging battery unattended. we will not responsible for damage to the human reason or mishandling of Li-ion batteries and chargers. the device always recommends work with rechargeable lithium-ion IMR batteries with min output current 20A or higher.
2) Smokstore will not responsible or liable for any injury, damage, defect, permanent or temporary that may be caused by the improper use of Li-ion battery, coils, tanks, mods. please have a basic knowledge of batteries. Welcome to contact us anytime to get help.