The Smok Replacement Pods for the Pozz X Kits, made of good grade PCTG material, the transparent pod allows for the more intuitive observation of e-liquids, can hold 4.5ml e-juice, which can fulfill your daily vaping indeed. the bottom of Pods equipped with the airflow adjustable ring, which tightly surrounds the coil, you can rotate the ring to adjust the airflow freely. the POZZ X Pods with side e-juice refill design, which allows you to inject your favorite e-juice conveniently.
Features:
Material: Food-Grade PCTG
4.5ML E-Juice Capacity
Side E-Juice Refill Design
Airflow Adjustable
Compatible With Smok RPM Series Coils
3PCS Per Pack
Coils Available:
RPM Mesh Coil, 0.4ohm, Best: 25W
RPM DC MTL Coil, 0.8ohm, Best: 16W
RPM Triple Coil, 0.6ohm, Best: 25W
RPM Quartz Coil, 1.2ohm, Best: 12W
RPM SC Coil, 1.0ohm, Best: 14W
RPM MTL Mesh Coil, 0.3ohm, Best: 10-15W
RPM BRA Core
Includes:
1*Smok Pozz X Pods Without Coil(3PCS/Pack)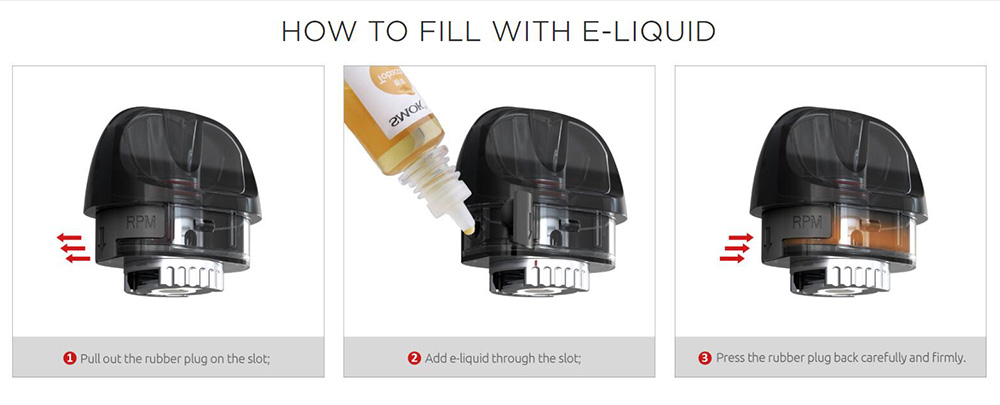 Note: please ensure you have basic knowledge on how to properly use it.
1)if the coils are sub-ohm coils, the user should be sure that the tank and mods can handle the sub-ohm resistance coils, please make sure you have a great understanding of them, if you are not sure, please do not order and use, welcome contact us any time to get help.
2)Smokstore will not responsible or liable for any injury, damage, defect, permanent or temporary that may be caused by the improper use of Li-ion battery, coils, tanks, mods. please have a basic knowledge of batteries. Welcome to contact us anytime to get help.