$89.90
$57.90
Sale
-36%
OFF
Brand: Smok
Product Code:

Species
The Smok Species 230W Vape Kit, which with colored decorative strips covering on the front and black of the mod and like armor outline of the warriors, perfectly delineating the masculinity of the product. the Smok Species Mod powered by dual 18650 batteries and max output 230W, supports resistance as low as 0.05ohm under temp control mode. with one 1.45 inch colorful touch screen, which is responsive, and with the brand-new designed user interface, most of the operations can be finished very simply. there are 6 colors available for screen settings. there is one independent screen locking button located at the bottom of the touchscreen, which is an obvious position and convenient to operate. screen locking button makes locking/unlocking the screen simple and secure. need to unlock the fire key if you want o perform the interface operation, long-press the screen locking button to unlock the touch function. the TFV8 baby V2 tank can hold 5ml e juice, with the convenient top refill design, easy to inject your favorite e-juice with leaking issue. the bottom with dual airflow adjustable slots, you can adjust the airflow to your preference quickly. comes with Baby V2 A1 Coil and Baby V2 A2 Coil, the Baby V2 A1 Coil with a large heating area and the Baby V2 A2 with dual heating cores, will deliver the pursuit of dense flavor and massive cloud. the Baby V2 A3 Coils optional for the amazing thick vapor and purer flavor.
Smok Species 230W TC Box Mod Features:
Material: Zinc Alloy
Colors: Black Red, Red Black, Gold Black, Prism Blue Black, Prism Chrome Black
Size: 82.1*49*30.6mm
Output Wattage Range: 1-230W
Battery: 2PCS 18650 High-Drian Batteries (Sold Separately)
Input Voltage Range: 6.4-8.4V
Output Voltage Range: 0.5-8.2V
Resistance Range: 0.1-2.5ohm(VW)/0.05-2.0ohm(TC)
Supports TI, NI200, SS Heating Elements Under Temperature Control Mode
Preheat Modes: Soft, Normal, Hard, Max
Temperature Control Range: 100-315℃/200-600℉
1.45 Inch Colorful Touch Screen
6 Colors Screen Setting
Independent Screen Locking Button
Dual Battery Life Indicator LED Light
Brand New User Interface
Charging Voltage: DC5V
Charging Current: 1.8A
Intelligent Atomizer Recognition
Short Circuit Protection
Puffs Monitoring System
10 Seconds Cut-Off
Over-Heating Protection
Over-Discharge Protection
Micro USB Port Supports Upgrading And Charging
Smok TFV8 Baby V2 Tank Features:
Material: Stainless Steel
Size: 54*30mm
Thread: 510
E Juice Capacity: 5.0ml
Baby V2 A1 0.17ohm Single Coil, 90-140W, Best 110-130W
Baby V2 A1 Gold 0.17ohm Single Coil, 90-140W, Best 110-130W
Baby V2 A1 Rainbow 0.17ohm Single Coil, 90-140W, Best 110-130W
Baby V2 A2 0.2ohm Dual Coils, 50-80W, Best 65-75W
Baby V2 A2 Gold 0.2ohm Dual Coils, 50-80W, Best 65-75W
Baby V2 A2 Rainbow 0.2ohm Dual Coils, 50-80W, Best 65-75W
Baby V2 A3 0.15ohm Triple Coils,60-100W, Best 80-90W
Baby V2 A3 Gold 0.15ohm Triple Coils, 60-100W, Best 80-90W
Baby V2 A3 Rainbow 0.15ohm Triple Coils, 60-100W, Best 80-90W
16mm Delrin Drip Tip Included
Convenient Top Refill Design
Bottom Triple Airflow Adjustable Slots
Package Contents:
1*Species 230W TC Box Mod
1*TFV8 Baby V2 Sub Ohm Tank
1*Baby V2 A1 0.17ohm Single Coil(Pre-Installed)
1*Bby V2 A2 0.2ohm Dual Coils
1*Extra Glass Tank
1*USB Cable
1*User Manual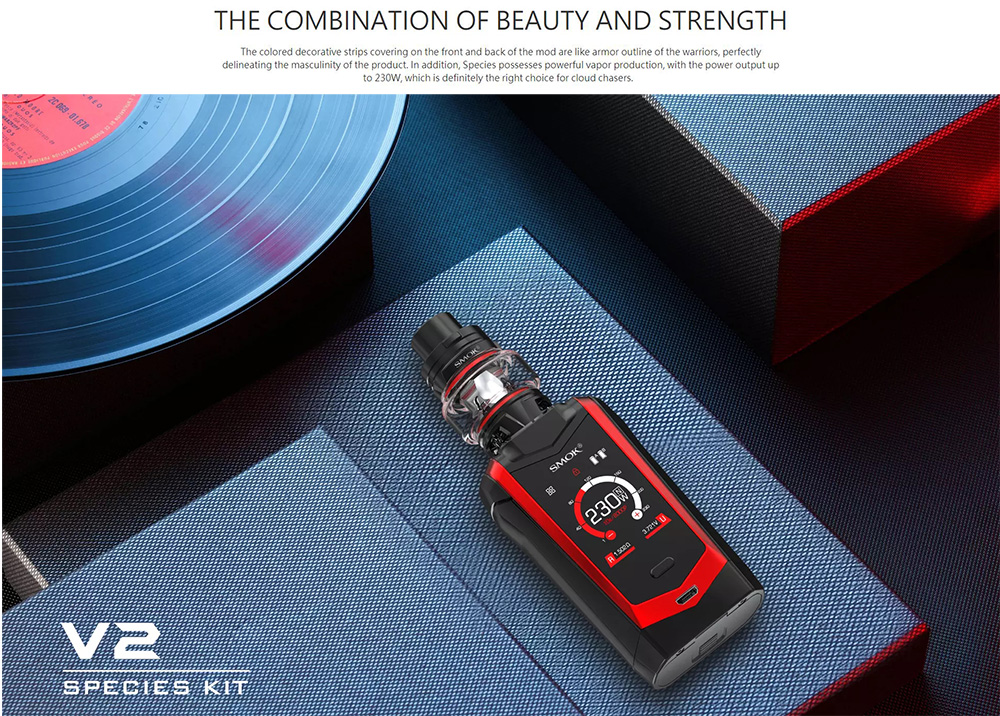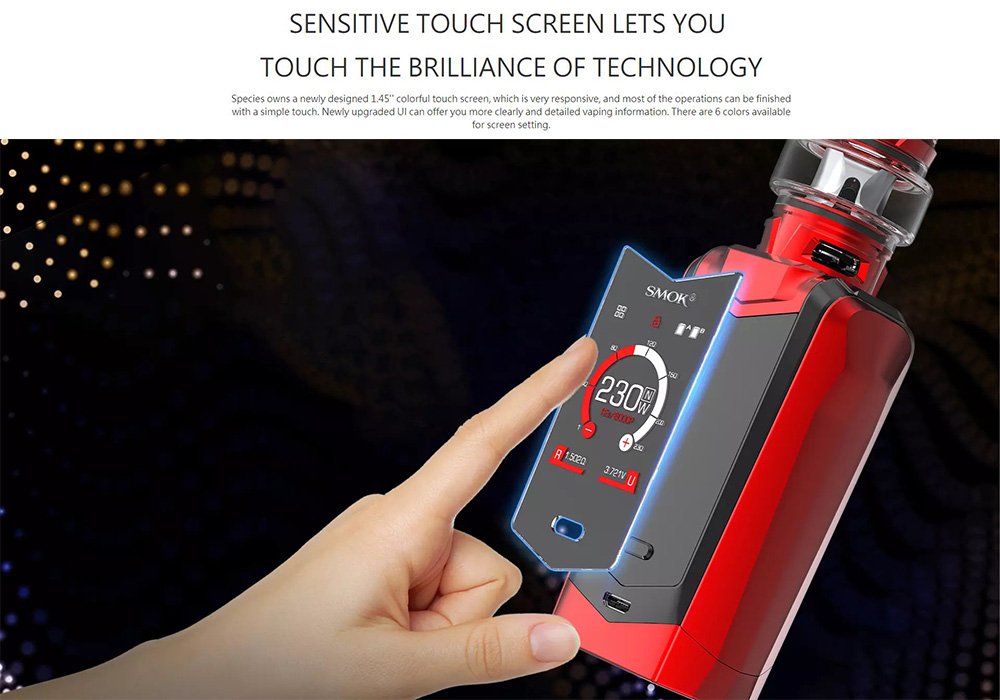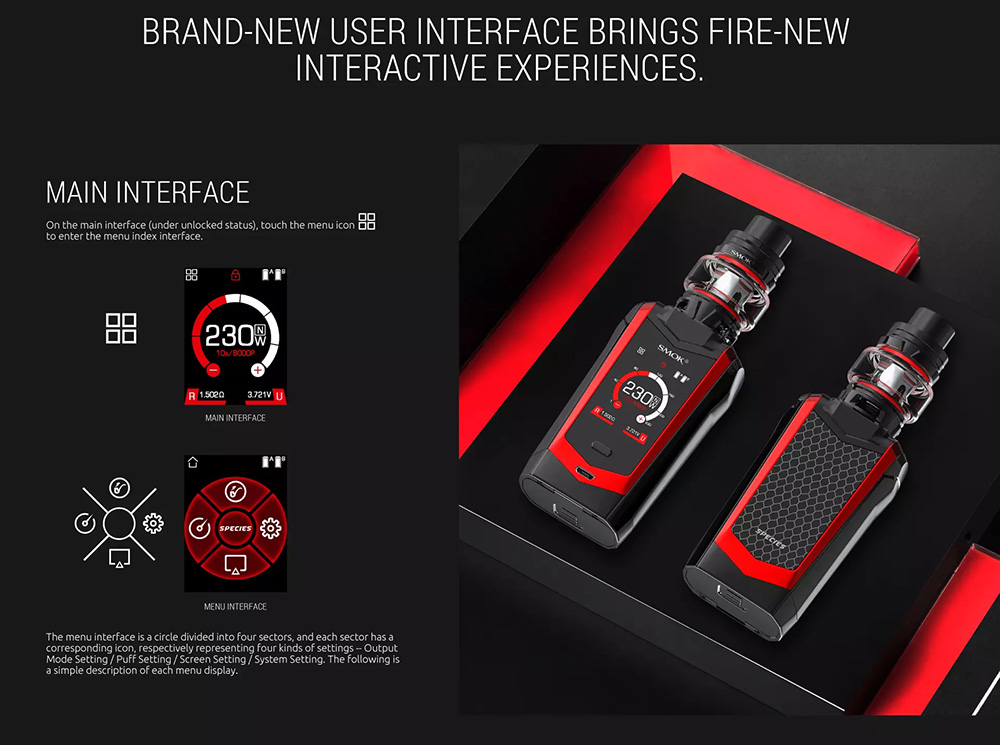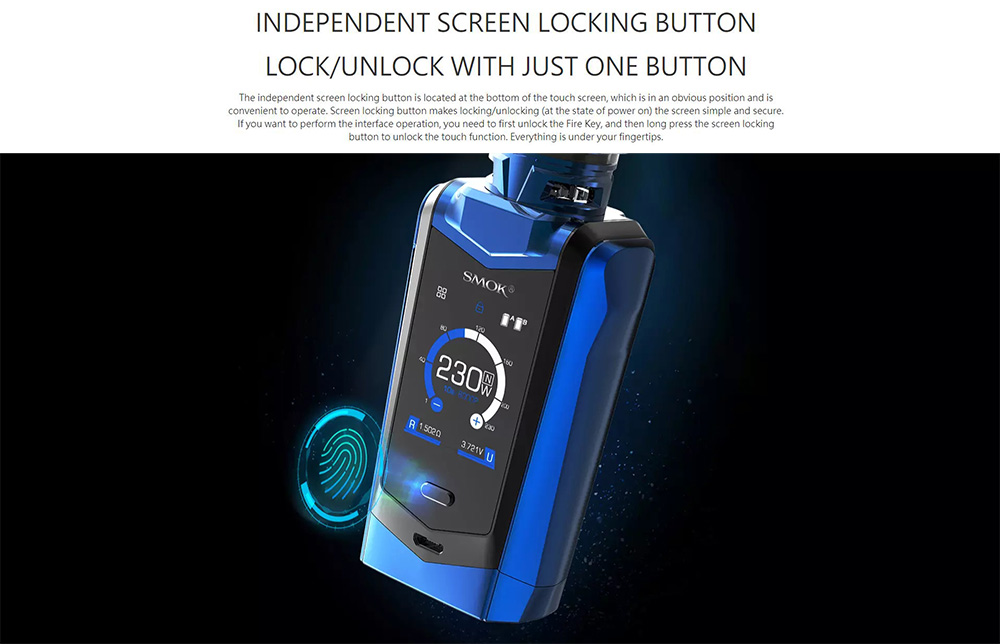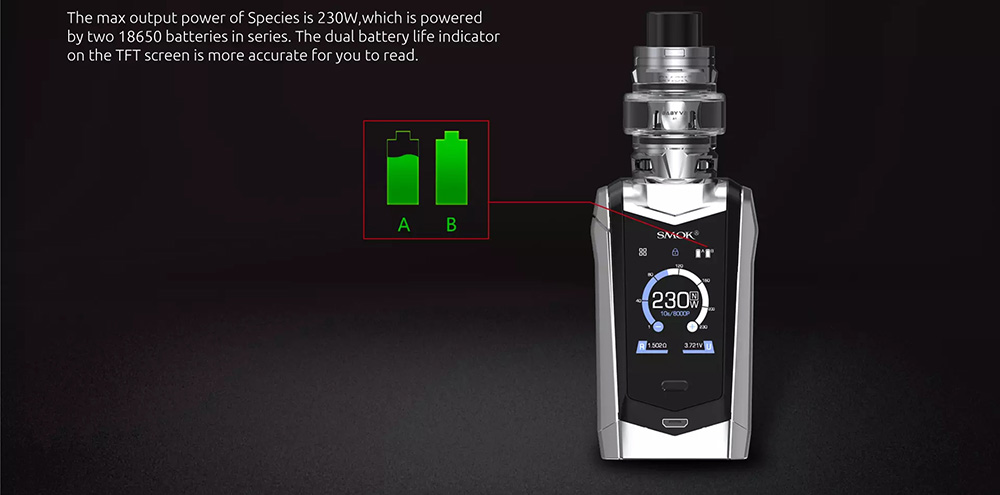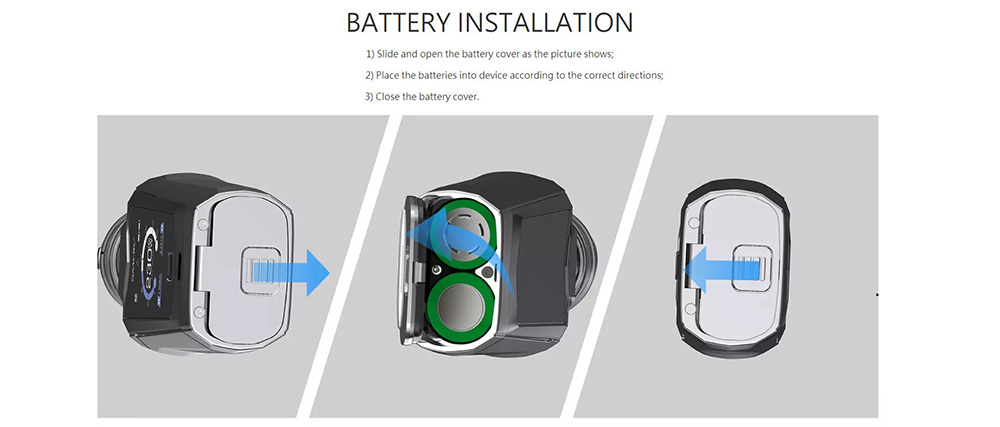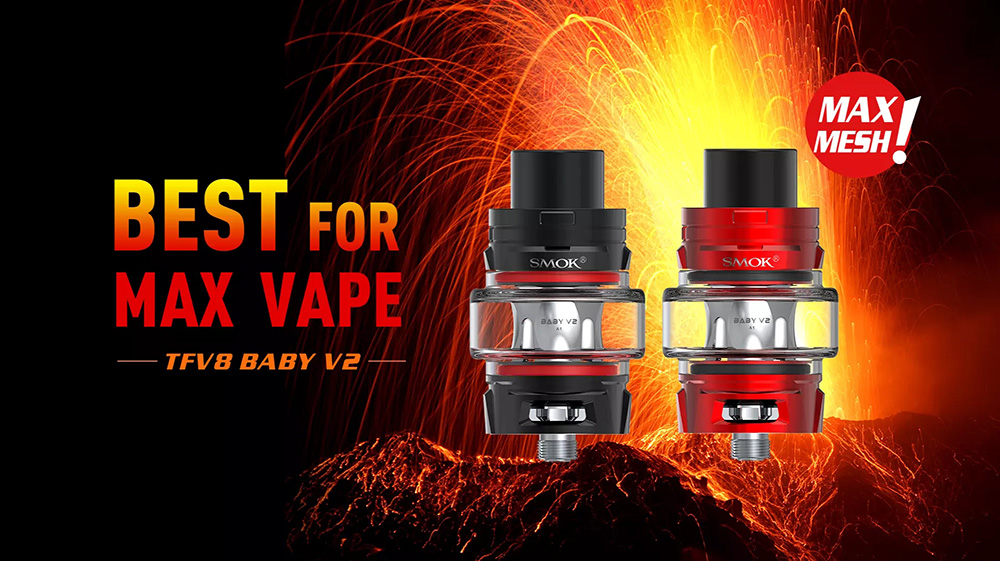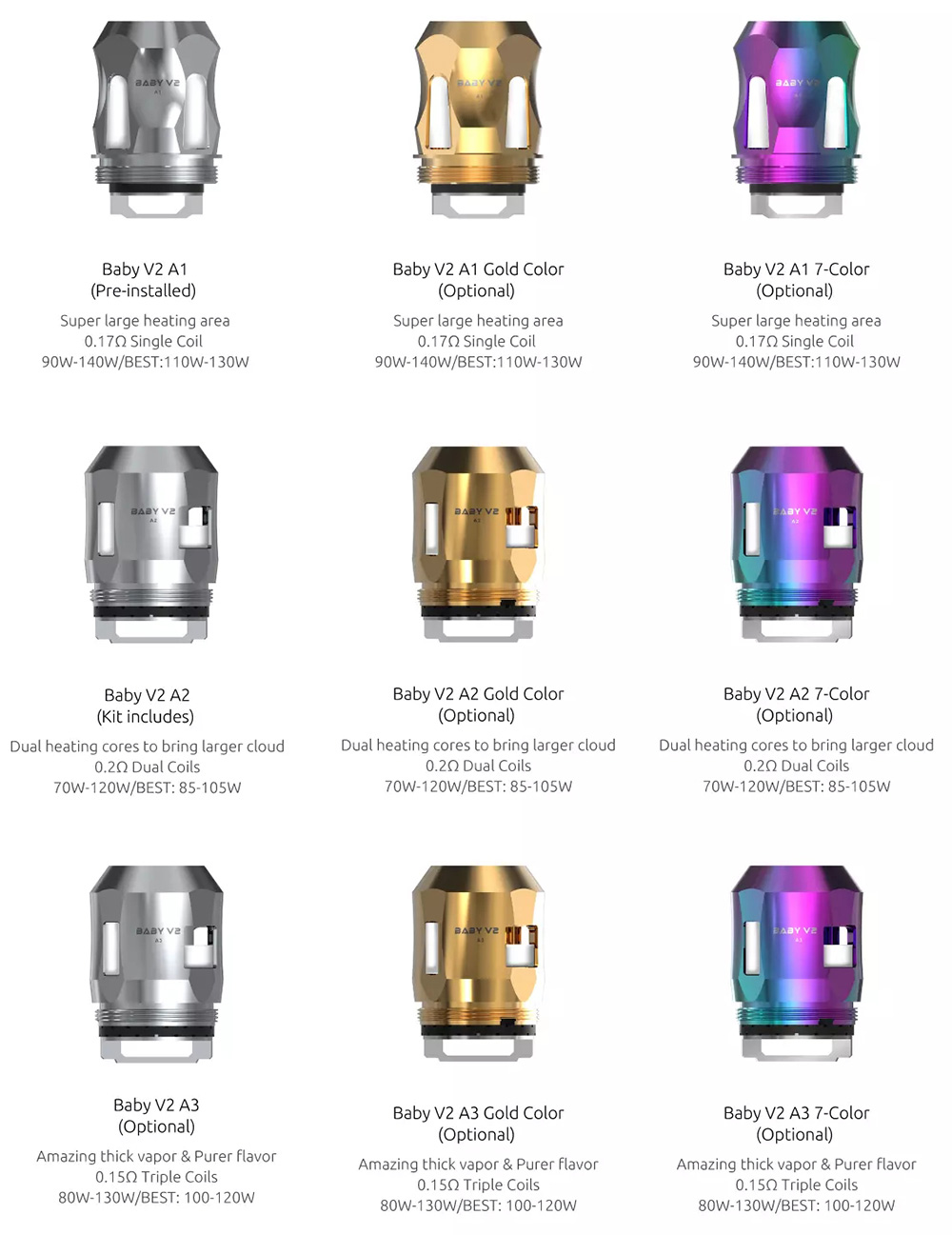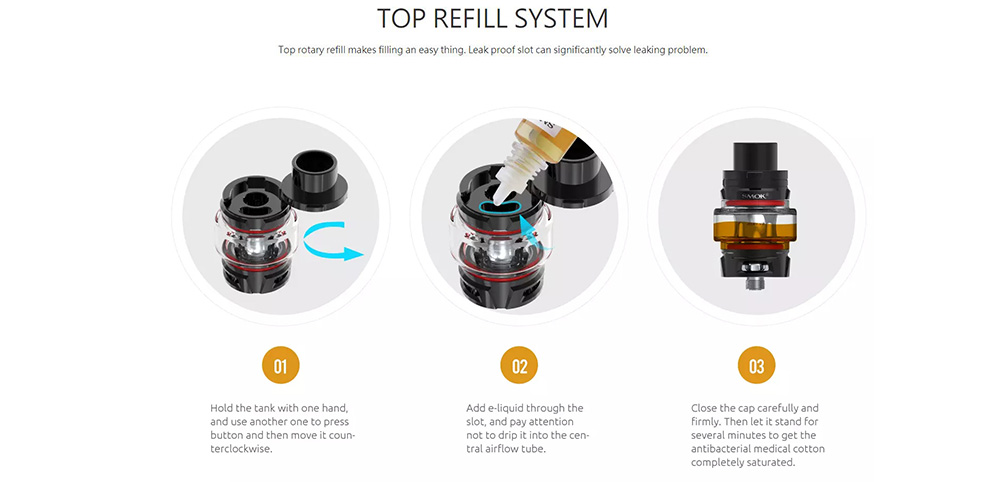 1*Spare Parts
Note: please ensure you have basic knowledge on how to properly use it.
1)If the tanks use sub-ohm coils, vapers must be sure that your device and batteries can handle sub-ohm coils, only recommend experienced users order this, extra safety precautions should be practiced when using a sub-ohm tank. the tank only works with the mod that can support the atomizer and coil. if you have a tank and resistance is 0.3ohm, you must sure that the mod or battery can support resistance low to 0.3ohm. improper use and lead to injury or damage. use the OHMS LAW Calculator to check. if you have a question, please feel free to contact us.
2)users need to pay attention to Li-ion cells when vaping. the batteries very sensitive to charging characteristics and may explode or burn if mishandled. so vapers must have enough knowledge of Li-ion batteries in charging, discharging and assembly before use. please use the fire-proof surface battery charger, never leave a charging battery unattended. we will not responsible for damage to the human reason or mishandling of Li-ion batteries and chargers. the device always recommends work with rechargeable lithium-ion IMR batteries with min output current 20A or higher.
3) Smokstore will not responsible or liable for any injury, damage, defect, permanent or temporary that may be caused by the improper use of Li-ion battery, coils, tanks, mods. please have a basic knowledge of batteries. Welcome to contact us anytime to get help.