$57.20
$35.90
Sale
-37%
OFF
Brand: Smok
Product Code:

Stick Prince
The Smok Stick Prince Vape Pen, with the newly pen-style design, with a special hexagon power button and carefully carved battery base you can feel how exquisite it is, give you better hand-feel when you press it. the Stick Prince Battery built-in 3000mAh battery, which is powerful and durable, the large capacity will let vapers enjoy a longer time vaping and no need to charge frequently. the intelligent LED indicator will show you the accurate conditions of itself, the LED flash 4 times each time you take a puff if flash 15times that's mean the working voltage lower than 3.3V. the Smok Vape Pen with multiple functions to ensure the vape reliable and safe. the TFV12 Prince Tank can hold 8ml e juice, the cobra drip tip will bring you powerful airflow and excellent enjoyment, two large adjustable air slots on the base, vapers only turning the airflow control ring to adjust the airflow to your preference easily. the top rotary refill hole makes filling an easy thing, the leak-proof slots on Stick Prince Tank can significantly solve the leaking problem. comes with V12 Prince M4 Coils bring you silky and rich cloud taste.

Quick Links:
Smok TFV12 Prince Replacement Coils
Features of Smok Stick Prince Battery:
Material: Stainless Steel
Colors: Black, Red, Blue, Gold, Purple, Rainbow, Green, Silver
Size: 85*24.5mm
Battery Capacity: 3000mAh
Voltage Range: 3.4-4.2V
Standby Current: <200uA
Newly Designed Hexagon Power Button
Intelligent Battery Life Indicator
Micro USB Port For Charging
Low Voltage Protection
Low Battery Protection
8 Seconds Cut-off
Short Circuit Protection
Features of Smok TFV12 Prince Tank:
Material: Stainless Steel And Pyrex Glass
Size: 63*25.5mm
Colors: Black, Red, Blue, Gold, Purple, Rainbow, Green, Silver
Capacity: 8.0ml
Thread: 510
Cobra Drip Tip Included
2 large Bottom Airflow Adjustable Air Slots
Top Refill System
V12 Prince-M4 0.17ohm Quadruple Coil, 30-70W/Best 40-60W
Package:
1*Stick Prince Battery
1*TFV12 Prince Tank
1*V12 Prince-M4 0.17ohm Quadruple Coil(Pre-installed)
1*V12 Prince M4 0.17ohm Quadruple Coil
1*USB Cable
1*User Manual
1*Spare Parts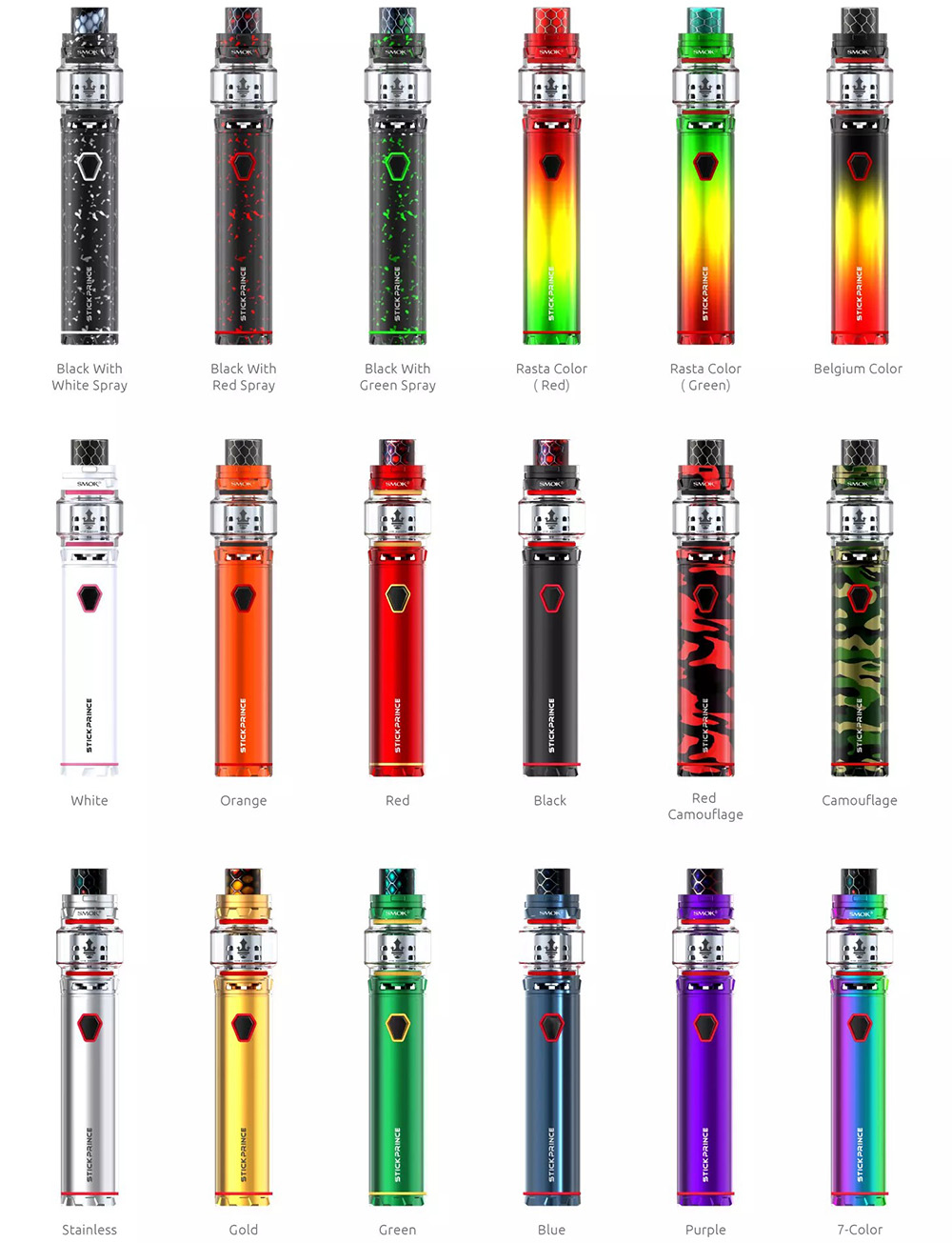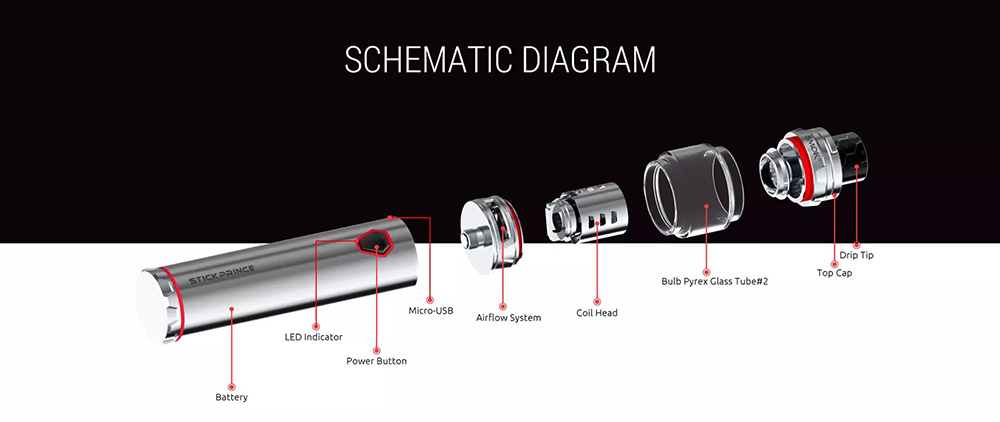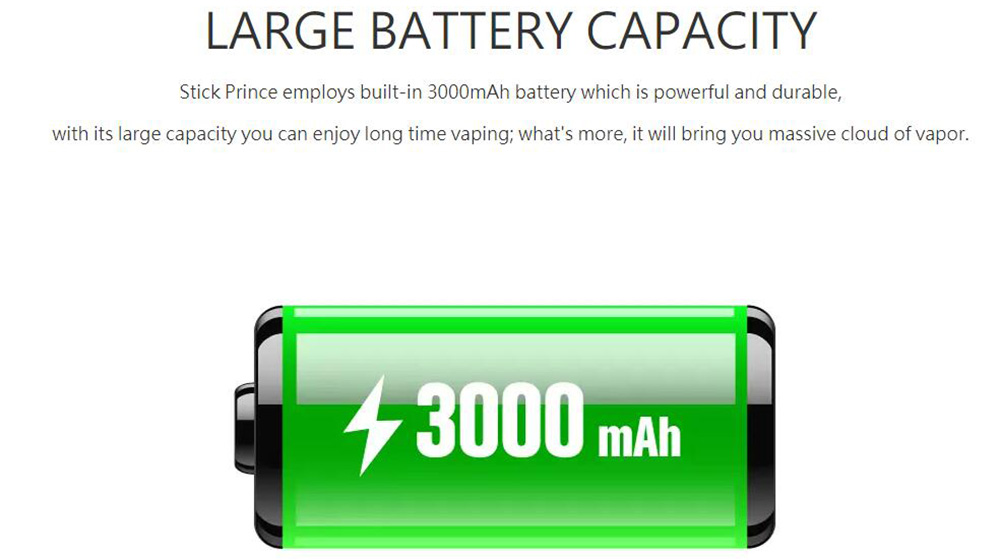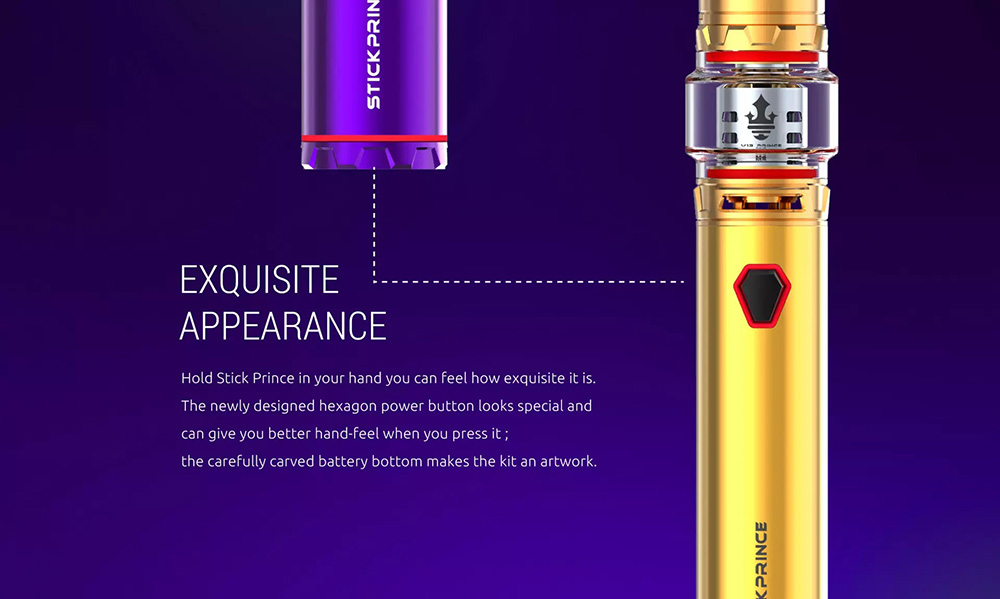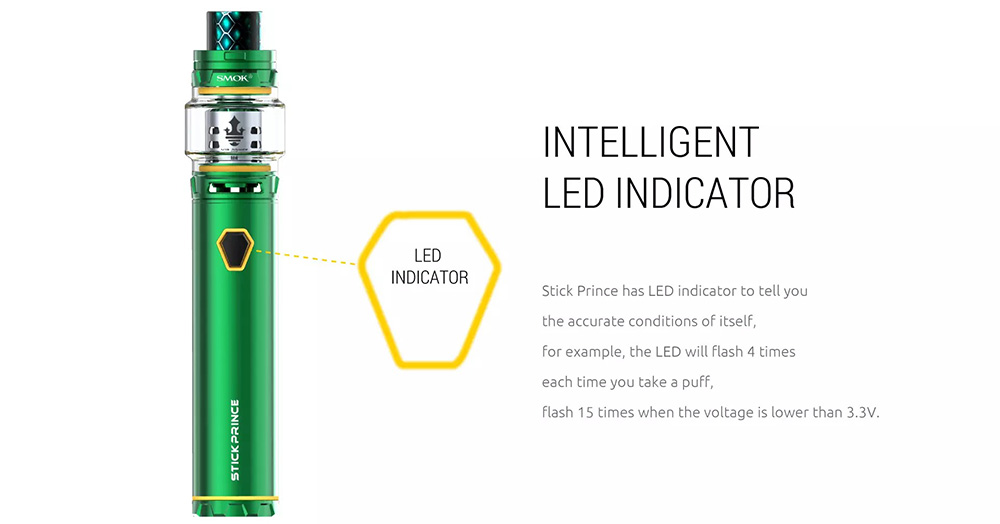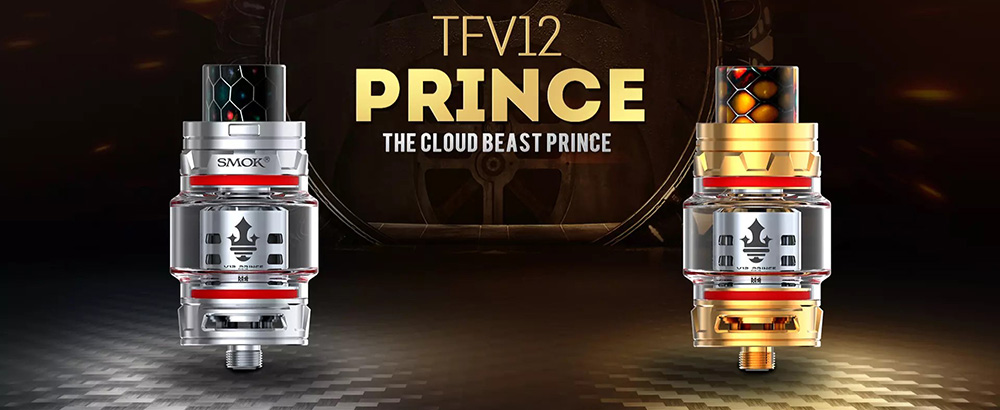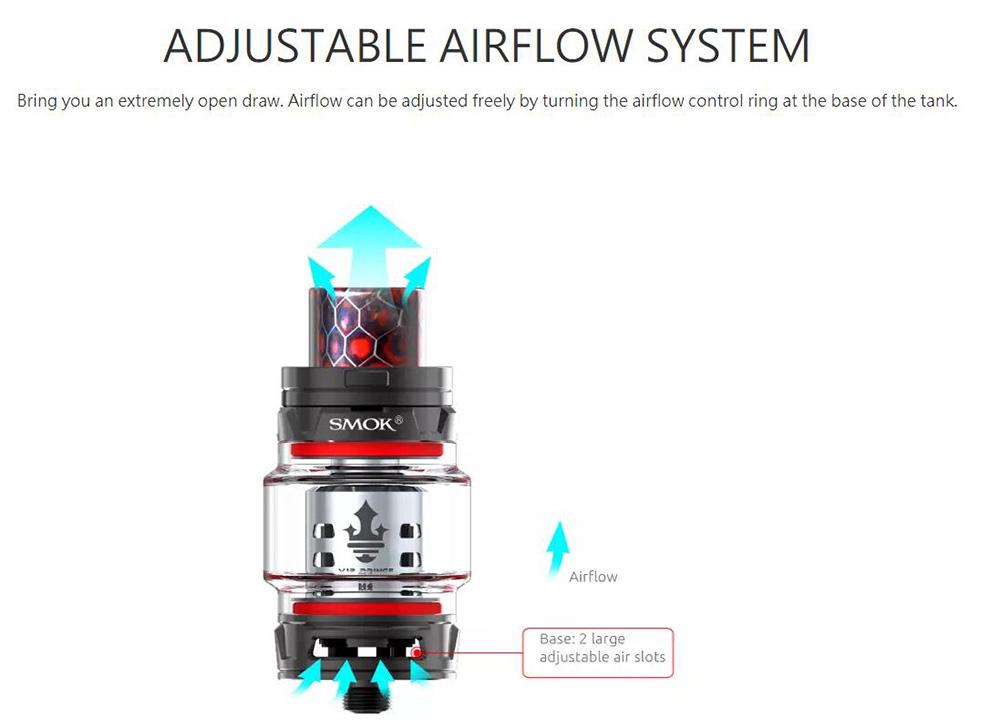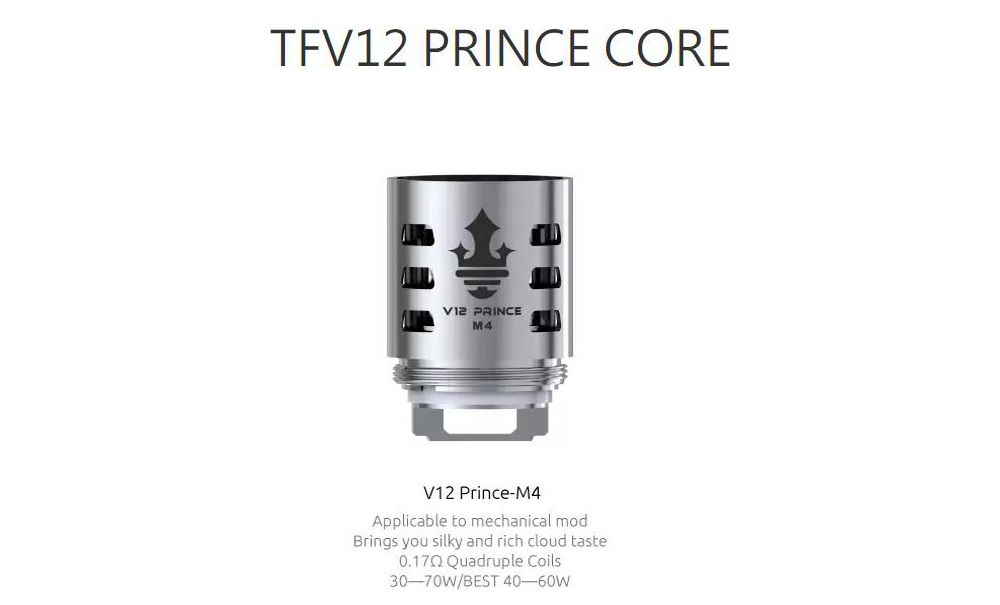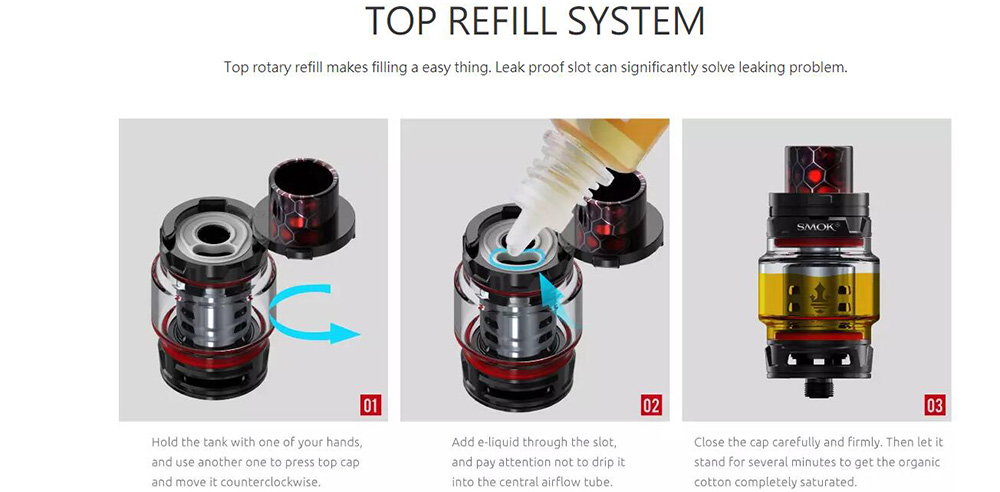 Note: please ensure you have basic knowledge on how to properly use it.
1)If the tanks use sub-ohm coils, vapers must be sure that your device and batteries can handle sub-ohm coils, only recommend experienced users order this, extra safety precautions should be practiced when using a sub-ohm tank. the tank only works with the mod that can support the atomizer and coil. if you have a tank and resistance is 0.3ohm, you must sure that the mod or battery can support resistance low to 0.3ohm. improper use and lead to injury or damage. use the OHMS LAW Calculator to check. if you have a question, please feel free to contact us.
2)users need to pay attention to Li-ion cells when vaping. the batteries very sensitive to charging characteristics and may explode or burn if mishandled. so vapers must have enough knowledge of Li-ion batteries in charging, discharging and assembly before use. please use the fire-proof surface battery charger, never leave a charging battery unattended. we will not responsible for damage to the human reason or mishandling of Li-ion batteries and chargers. the device always recommends work with rechargeable lithium-ion IMR batteries with min output current 20A or higher.
3) Smokstore will not responsible or liable for any injury, damage, defect, permanent or temporary that may be caused by the improper use of Li-ion battery, coils, tanks, mods. please have a basic knowledge of batteries. Welcome to contact us anytime to get help.