The Smok TFV12 baby prince is the mini version of TFV12 Prince, with the bulb style replacement glass tank, which can effectively enlarge the e juice capacity to 4.5ml, with dual large bottom airflow adjustable slots, allow you to adjust the airflow to your preference easily, with the convenient top e-juice refill design, easy to inject your favorite e-juice without leaking, leak-proof slot can n significantly solve the leaking problem. the Baby Prince with a patented locking mechanism on its top cap, with simply press that little button you can open the cap, the design can effectively avoid accidental opening of the top cap and leaking of e juice. the Smok Beast Tank adopts the cobra drip tip, which has the wild outlook and special tactility, which will bring you the increased airflow and powerful draw effects. 7 new Replacement Coils available for the Baby Prince Tank, the new V8 Baby T12 Series Coils with the LED light, you can see the beautiful light emit when you are vaping. you can choose the Coils with Red, Green or Orange Light. the new V8 Baby Strip and V8 Baby Mesh Coils, have the larger heating area to speed the heating process, will produce the denser clouds and purer flavor at the same wattage, longer lifespan and no burning taste. bring you the better vaping experience.

Quick link:
Smok Baby Beast Replacement Coils
Features:
Material: Stainless Steel + Pyrex Glass
Size: 53.7*26mm
Colors: Matte Black, Stainless, Purple, White, Auto Pink, Gold, Green, Red, Prism Blue, Rainbow
E juice Capacity: 4.5ml
Thread: 510
Bottom Airflow Adjustable Design
Top Refill Design
Bulb Style Glass Tank
V8 Baby-Q4 0.4ohm Dual coil, 30-65W, Best 50-60W
V8 Baby-t12 red light Duodecuple 0.15ohm Coil, 50-90W, Best 60-80W
V8 Baby Mesh 0.15ohm Coil, 40-80W, Best 60-70W
V8 Baby-T12 0.15ohm Duodecuple Coil, 50-90W, Best 60-80W
V8 Baby-T12 Green Light 0.15ohm Duodecuple Coil, 50-90W, Best 60-80W
V8 Baby-T12 Orange Light 0.15ohm Duodecuple Coil, 50-90W, Best 60-80W
Package:
1*TFV12 Prince Baby Tank
1*V8 Baby Q4 0.4ohm Quadruple coil(Pre-installed)
1*V8 Baby-T12 Red Light 0.15ohm Duodecuple Coil
1*V8 Baby Mesh 0.15ohm Coil
1*Extra Glass Tank
1*User Manual
1*Spare Parts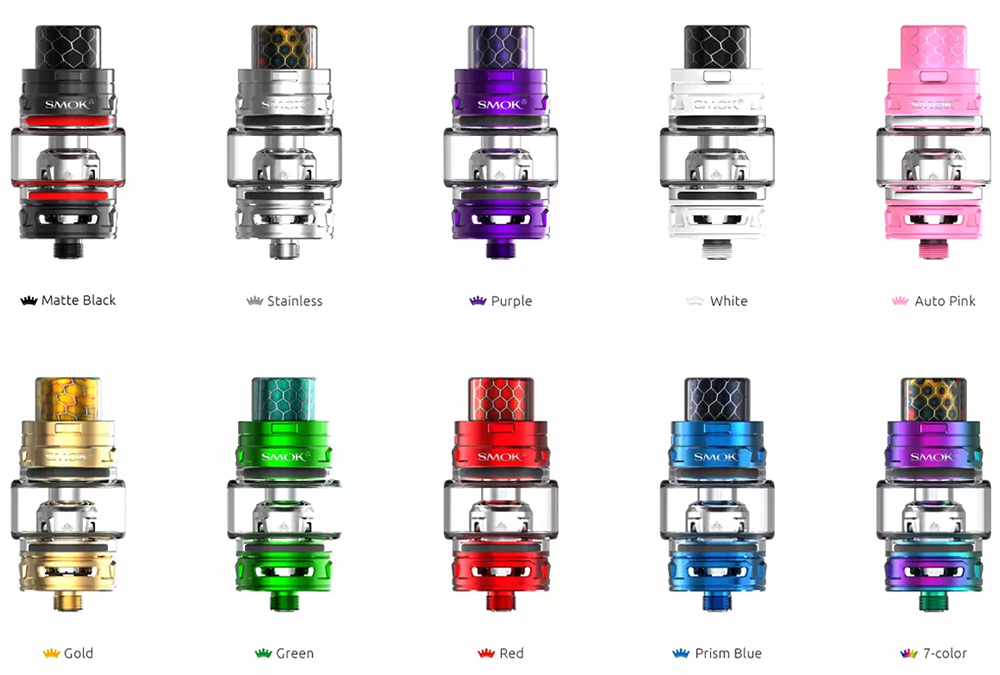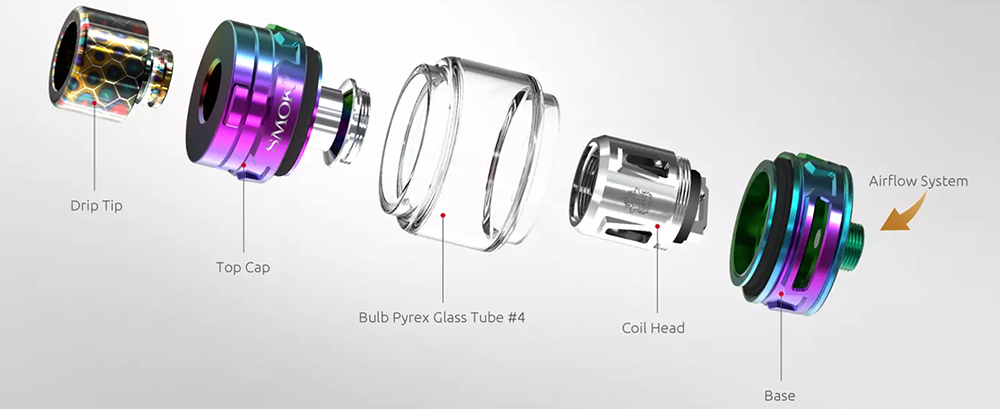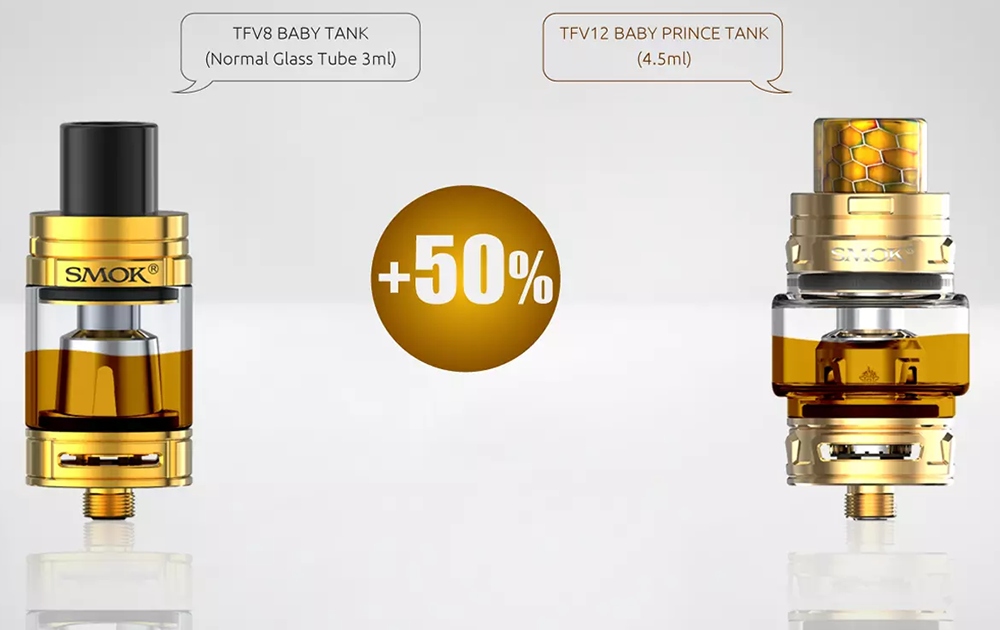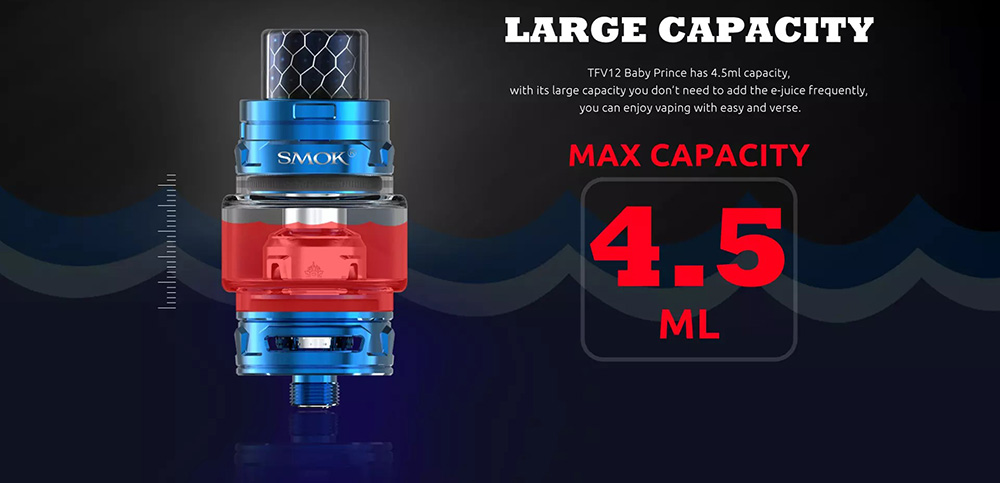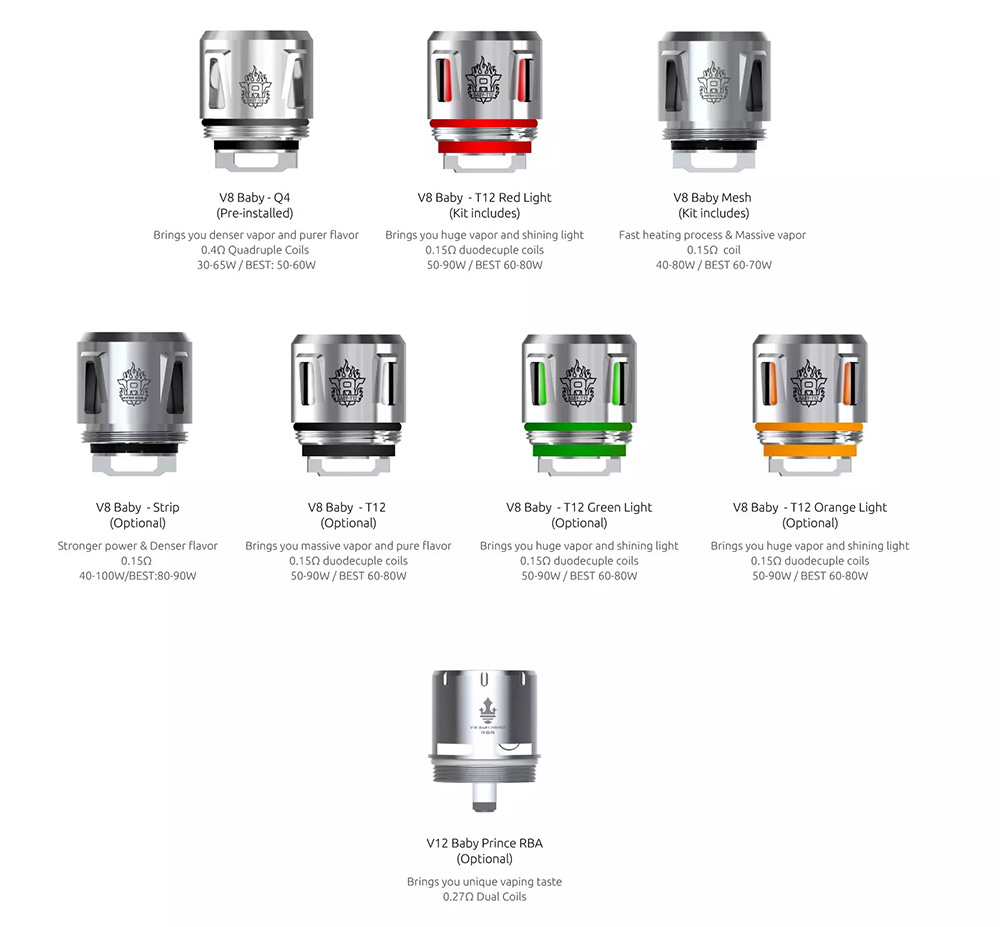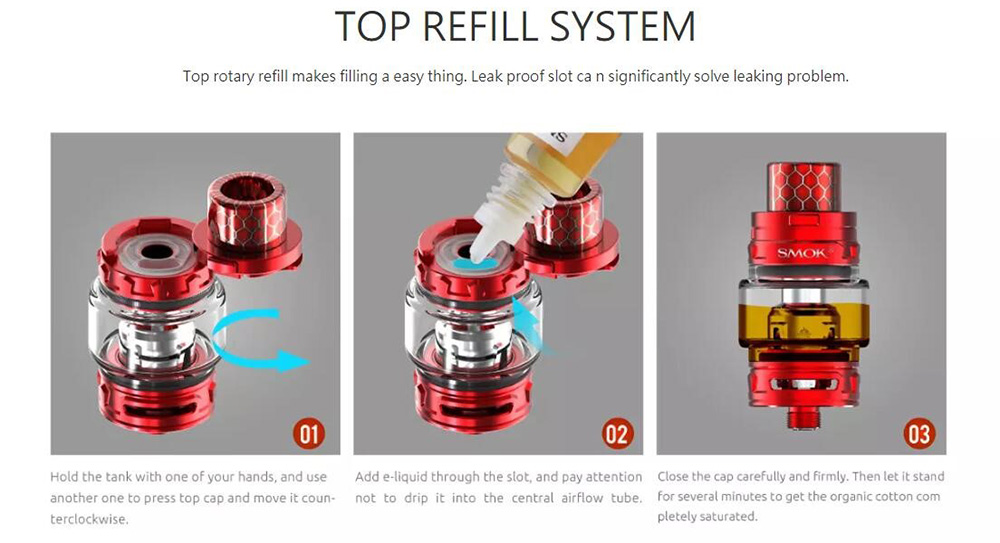 Note: please ensure you have basic knowledge on how to properly use it.
1)If the tanks use sub-ohm coils, vapers must be sure that your device and batteries can handle sub-ohm coils, only recommend experienced users order this, extra safety precautions should be practiced when using a sub-ohm tank. the tank only works with the mod that can support the atomizer and coil. if you have a tank and resistance is 0.3ohm, you must sure that the mod or battery can support resistance low to 0.3ohm. improper use and lead to injury or damage. use the OHMS LAW Calculator to check. if you have a question, please feel free to contact us.
2) Smokstore will not responsible or liable for any injury, damage, defect, permanent or temporary that may be caused by the improper use of Li-ion battery, coils, tanks, mods. please have a basic knowledge of vape. Welcome to contact us anytime to get help.