$49.90
$24.80
Sale
-50%
OFF
Brand: Uwell
Product Code:

Crown IV
The Uwell Crown 4 Sub Ohm Tank, which is the newest member of the Crown series. the new crown IV tank made of high-quality stainless steel and pyrex glass material, 6 fashionable colors available. the stainless steel structure makes it durable and stronger, the uwell tank with bubble style glass that allows it can hold 6ml e juice comes with an extra 5ml regular glass tank. the tank with patented self-clean technology, which can absorb the e-juice in the condensation holder through regular usage and vaporize it. it reduces juice leakage and waste and lessens the cleaning frequency. this time, the Uwell company brings us 4 new sub-ohm coil heads: the Dual SS904L coil heads and double helix mesh coil heads. the double helix coil design heats evenly and fully atomize the juice, it gives the good flavors, the Dual SS904L coil heads will produce better flavor, longer life with the higher quality steel commonly used in luxury watches. the crown IV tank with convenient top e-liquid refill design, allow vapers to inject the e-liquid quickly without leaking. dual large airflow adjustable slots on the bottom, only rotating the ring to adjust the airflow to your preference. it will bring you a better taste flavor and the large cloud of vapor.

Quick Links:
Uwell Crown 4 Replacement Coils
Features:
Material: Stainless Steel + Pyrex Glass + Silicone
Size: 54.8*28mm
Colors: Blue, Silver, Black, Green, Iridescent, Purple
E Juice Capacity: 5.0ML/6.0ML
Pre-Installed Bubble Style Glass Tank
Convenient Top E-Liquid Refill Design
Optimized Top Cap
Pro-FOCS Flavor Testing Technology Guarantees The Perfect Flavor
All Parts Detached And Assembled
Dual Airflow Adjustable Slots On Bottom
510 Thread
Coils: Dual SS904L 0.2ohm Coil Head, 70-80W
SS904L Dual 0.4ohm Coil Head, 60-70W
SS304 UN1 Mesh 0.25ohm Coil Head, 55-65W
FeCrAl UN2 Mesh 0.23ohm Coil Head, 60-70W
Package Contents:
1*Crown 4 Sub Ohm Tank
1*5ML Extra Straight Glass Tank
1*0.4ohm Dual SS904L Coil Head(Pre-Installed)
1*0.2ohm Dual SS904L Coil Head
1*O-Rings
1*User Manual
1*Drip Tip Cover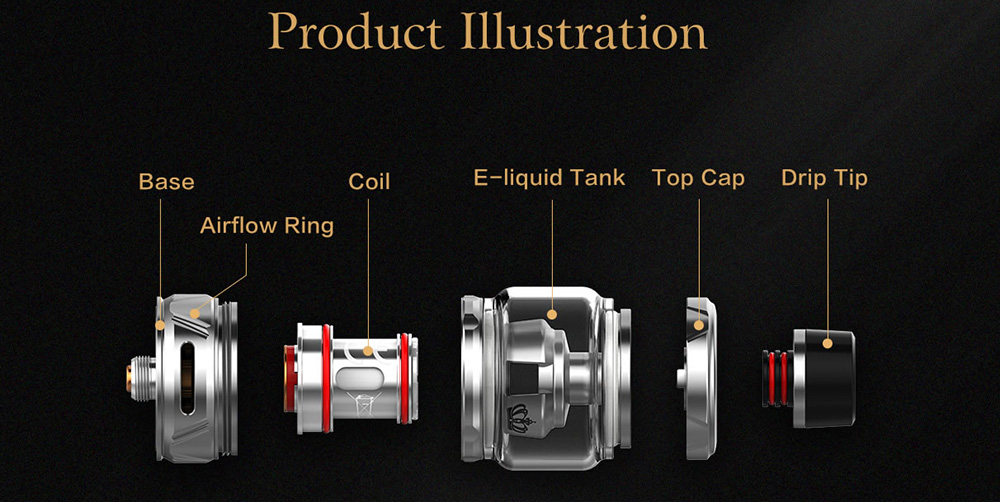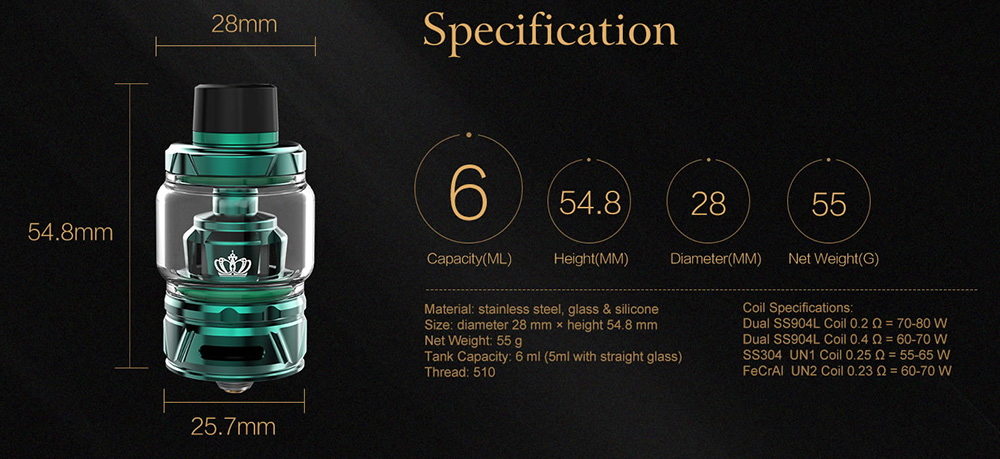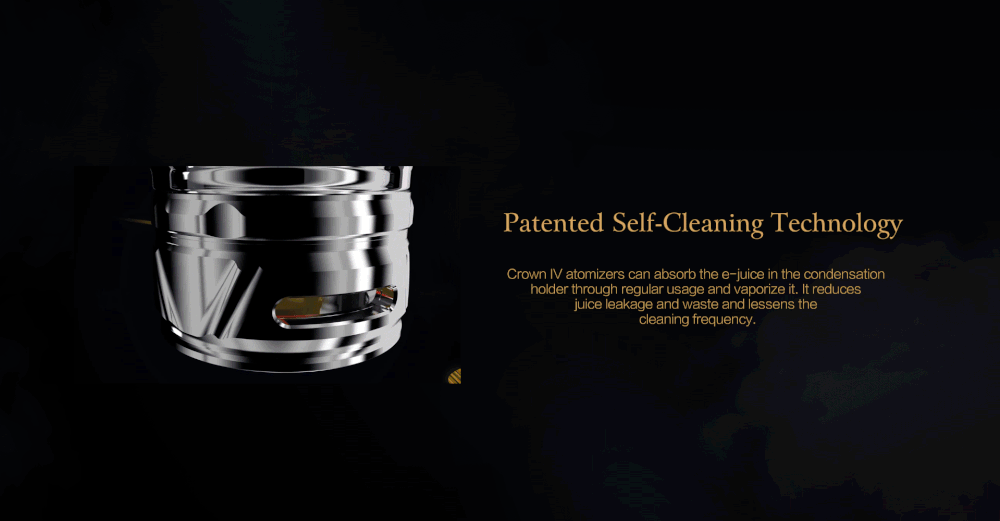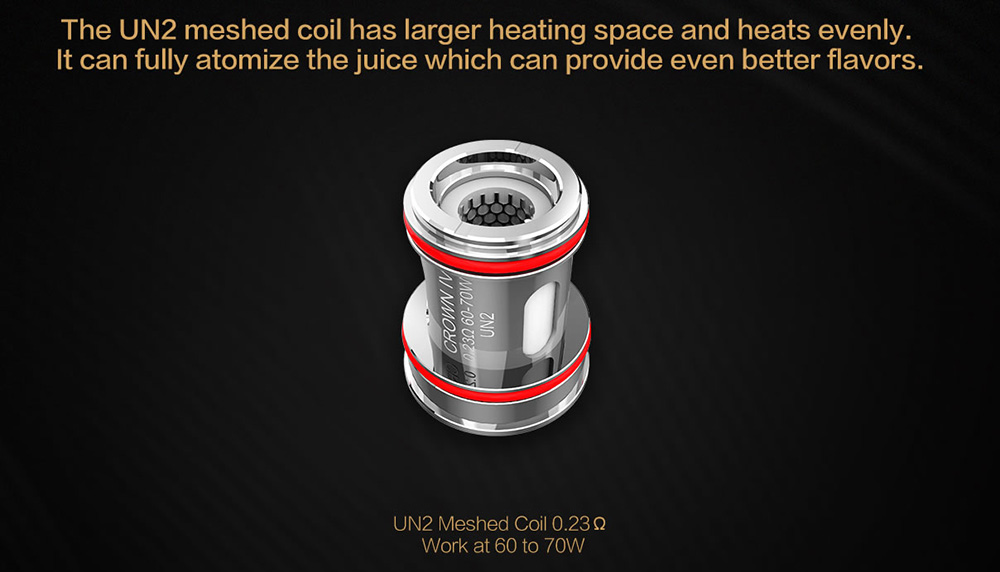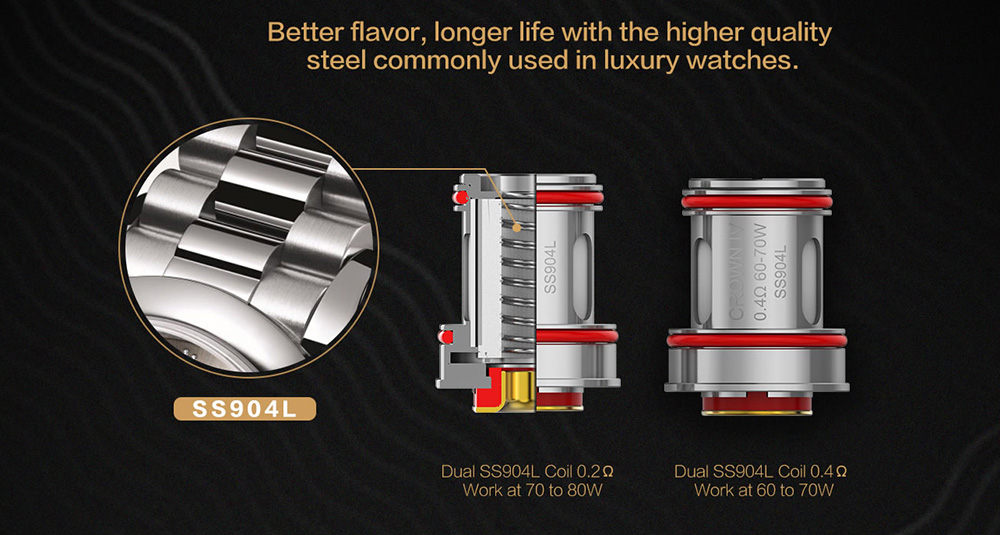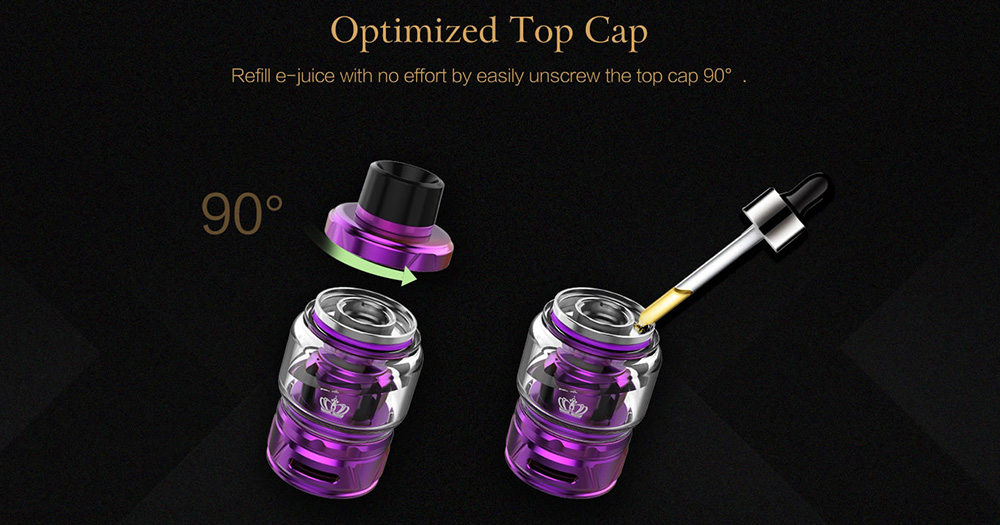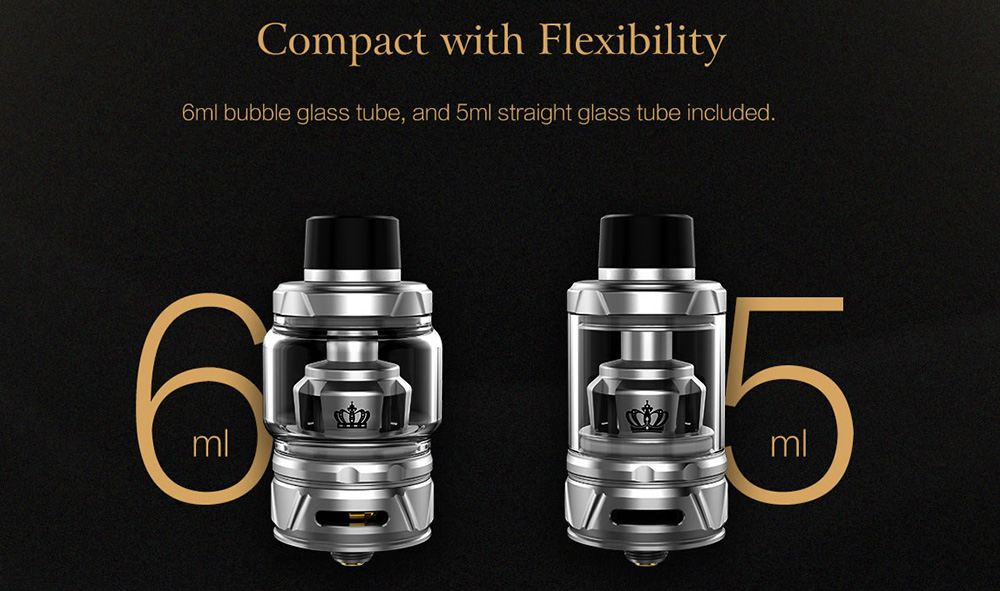 Note: please ensure you have basic knowledge on how to properly use it.
1)If the tanks use sub-ohm coils, vapers must be sure that your device and batteries can handle sub-ohm coils, only recommend experienced users order this, extra safety precautions should be practiced when using a sub-ohm tank. the tank only works with the mod that can support the atomizer and coil. if you have a tank and resistance is 0.3ohm, you must sure that the mod or battery can support resistance low to 0.3ohm. improper use and lead to injury or damage. use the OHMS LAW Calculator to check. if you have a question, please feel free to contact us.
2) Smokstore will not responsible or liable for any injury, damage, defect, permanent or temporary that may be caused by the improper use of Li-ion battery, coils, tanks, mods. please have a basic knowledge of vape. Welcome to contact us anytime to get help.