The Voopoo Vinci 40W Mod Pod System, with the cuboid-shaped ergonomically design, built-in the Gene AI chipset and integrates 1500mAh battery. the max output of the Voopoo Pod Device is 40W, various working modes available, vapers can adjust the working voltage or working wattage by pressing the Up / Down buttons, with the auto or manual mode, firing by the auto-draw firing mechanism or pressing the physical firing button. the Voopoo Vinci adopts a one-piece 0.96inch TFT colorful screen, it will show you the vaping data clearly. the Voopoo Pod can hold 5.5ml e-juice, you can inject your favorite regular e-juice or the nic salts, there are two new PnP series coil heads included: the PnP-VM1 0.3ohm Mesh Coil for DTL vaping, another PnP-R1 Dual Coil for the MTL vaping. the VINCI adopts the GENE AI chipset and features the multiple protections to ensure the vaping and charging reliable.
Quick Links:
Features:
Material: Zinc Alloy + PCTG
Colors: Dazzling Green, Space Grey, Carbon Fiber, Peacock, Scarlet, Ink, Opal, Hill Yellow, Jade Green
Size: 104*25.3*25.3mm
Built-in 1500mAh Battery
5-40W Output Power Range
Resistance Range: 0.1-3.0ohm
Output Voltage: 3.2-4.2V
3Levels Working Voltage Adjust: 3.2V, 3.5V, 3.8V
Working Modes: Auto Mode, Manual Mode, Puff Curve Mode
Draw-Activated Firing Mechanism
0.96 Inch TFT Colorful Display
Micro USB Port For Charging
Intelligent Coil protection
Dry Burn Protection
--------------------------------------------
5.5ML Refillable Pod
Juice Viewing Window
Plug "n" Play Coil Installation
Coils:
0.3ohm PnP VM1 Mesh Coil, 32-40W
0.8ohm PnP R1 Dual Coil, 12-18W
Includes:
1*Voopoo Vinci Mod Battery
1*Voopoo Vinci Pod
1*PnP-VM1 0.3ohm Mesh DTL Coil
1*PnP-R1 Dual 0.8ohm MTL Coil
1*USB Cable
1*Warranty Card
1*User Manual
1*Gene Chip Card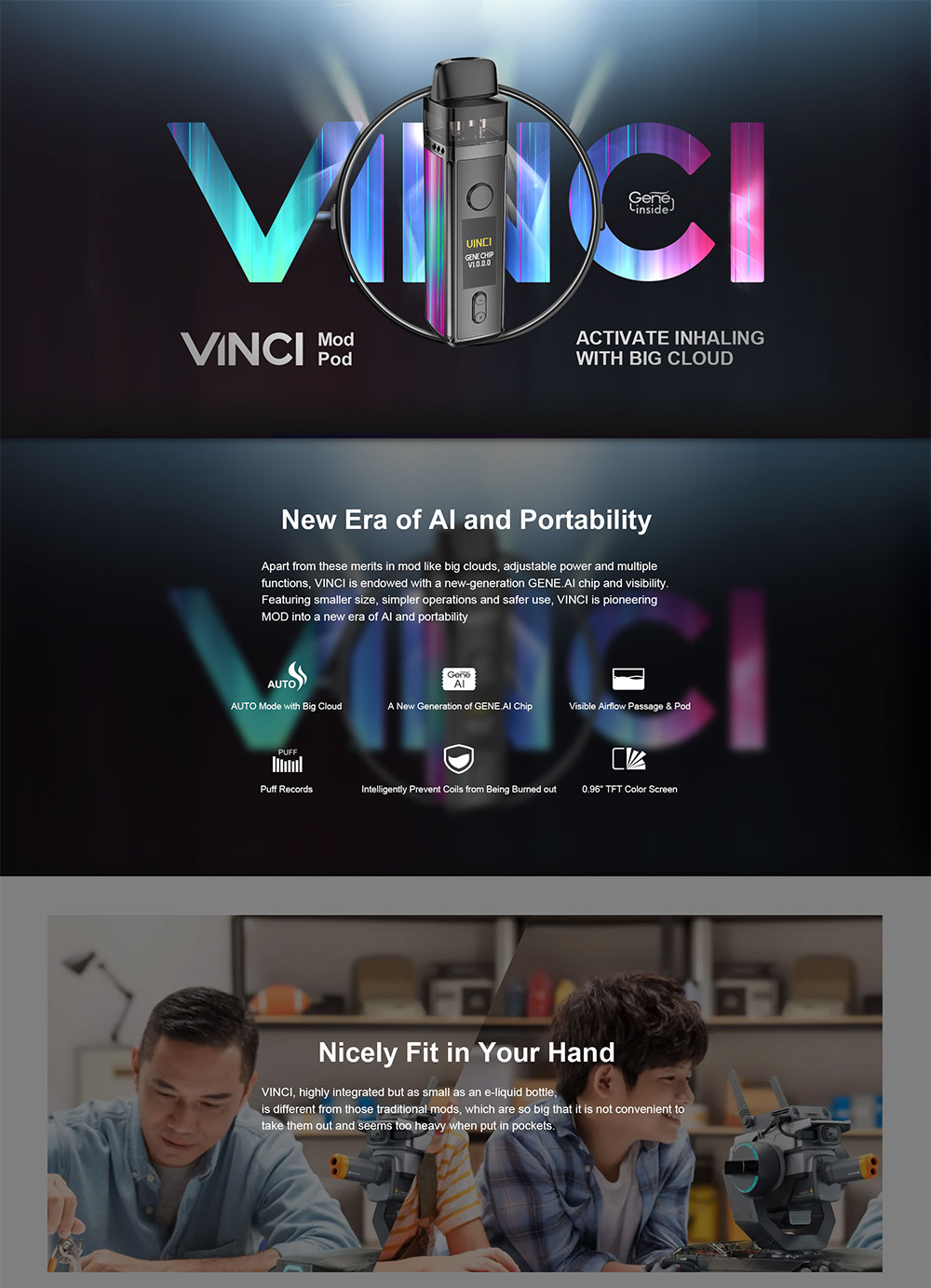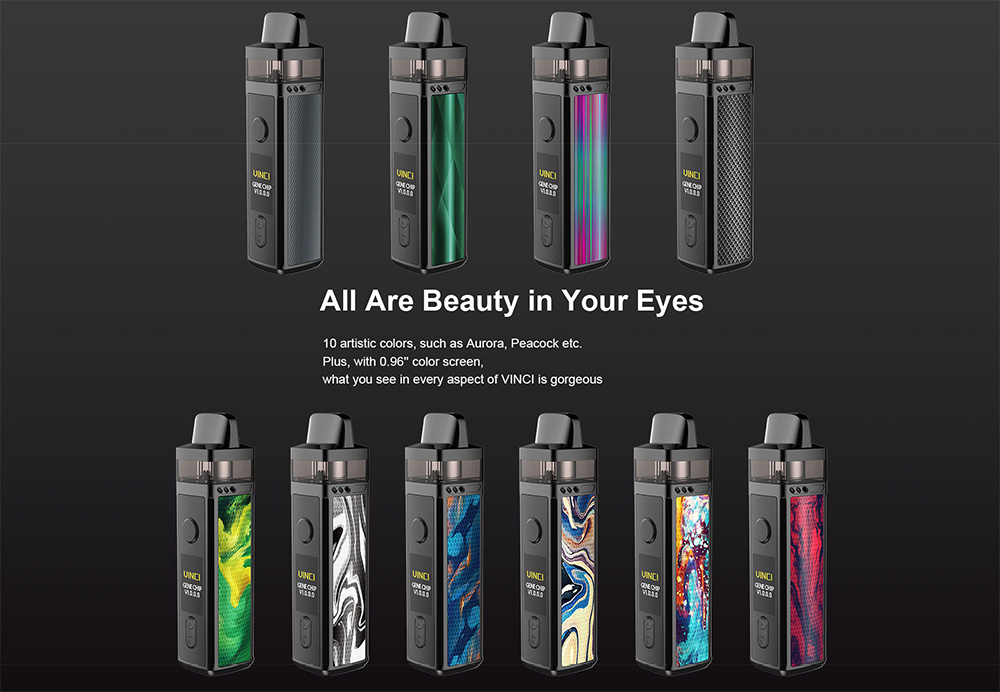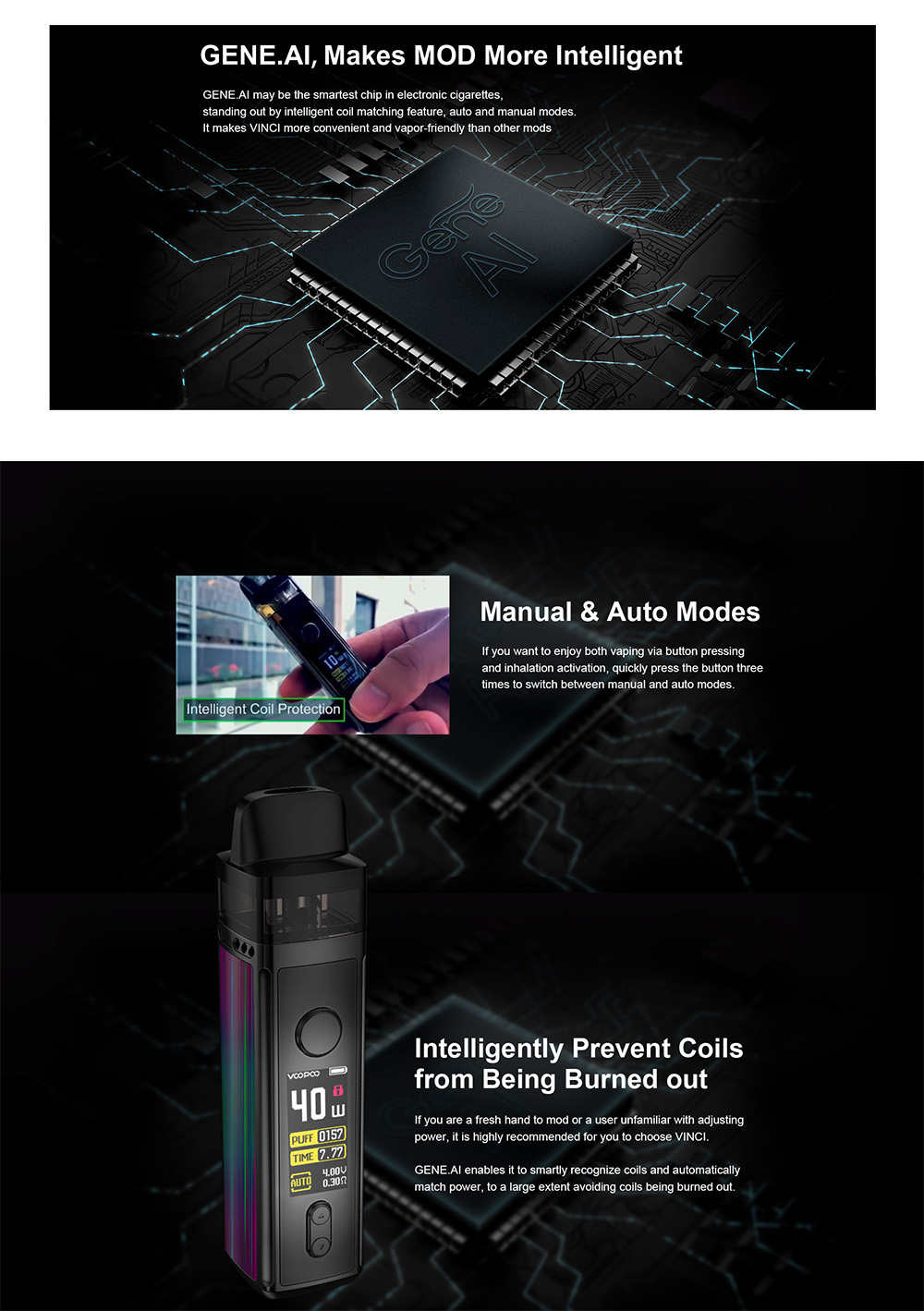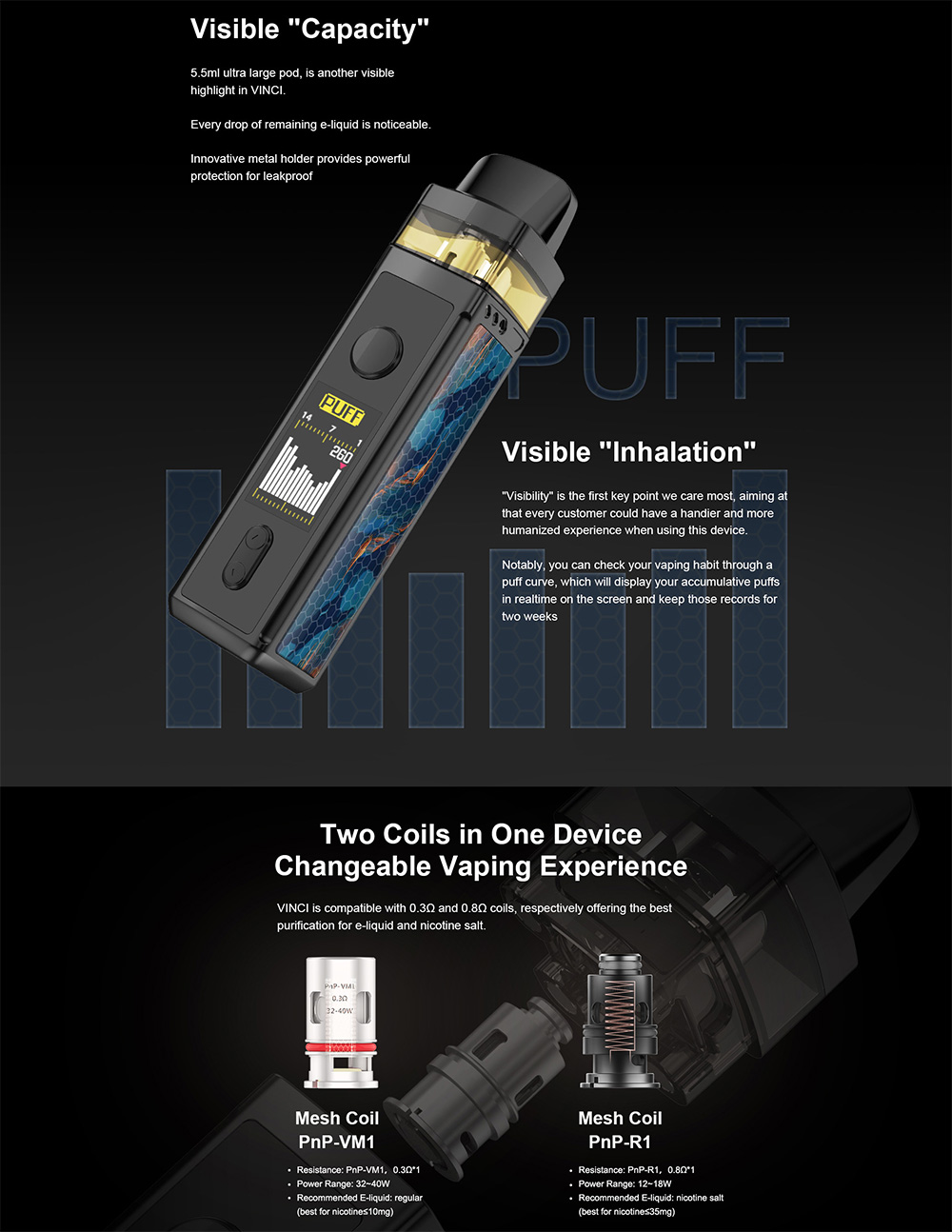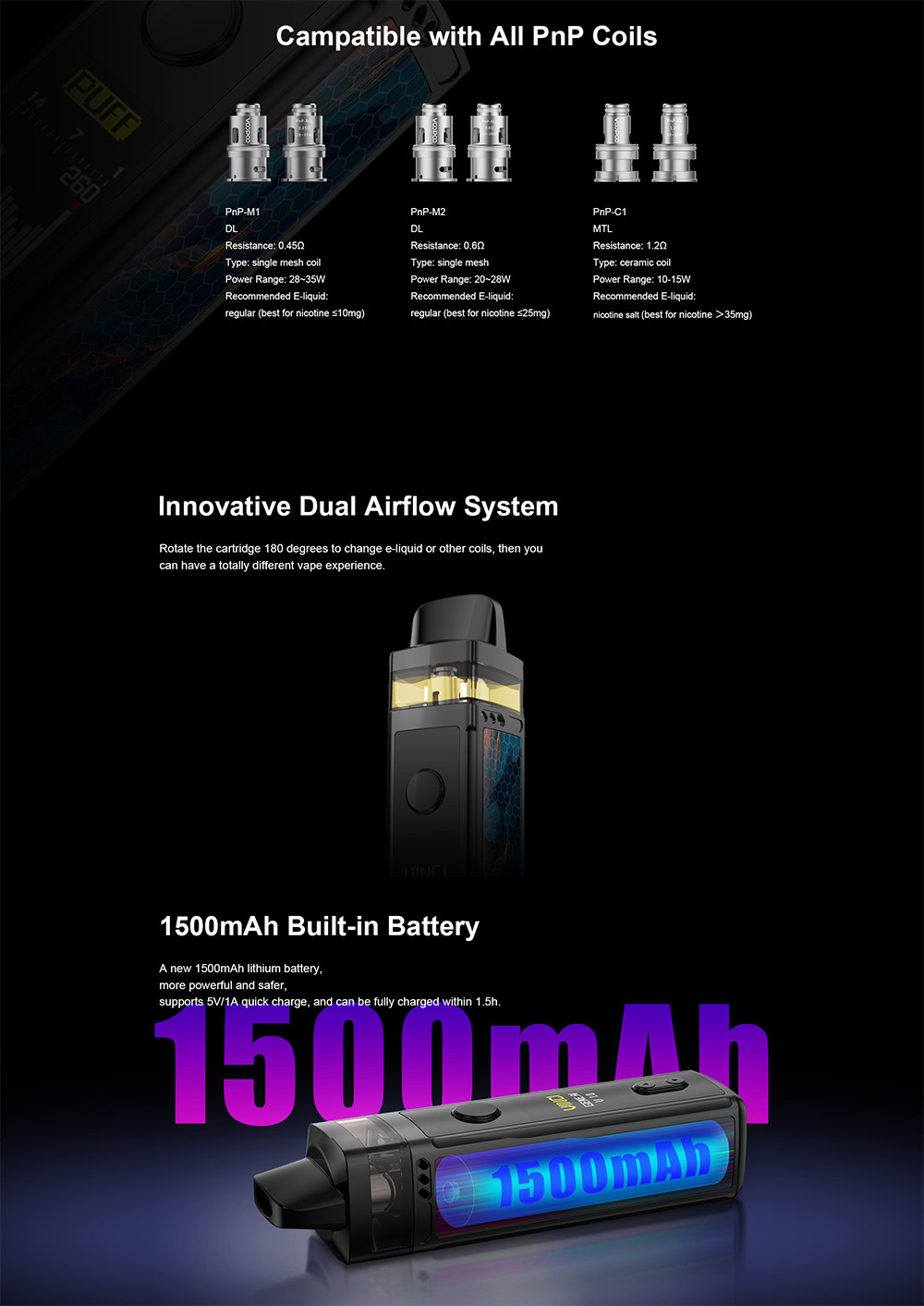 Note: please ensure you have basic knowledge on how to properly use it.
1)If the tanks use sub-ohm coils, vapers must be sure that your device and batteries can handle sub-ohm coils, only recommend experienced users order this, extra safety precautions should be practiced when using a sub-ohm tank. the tank only works with the mod that can support the atomizer and coil. if you have a tank and resistance is 0.3ohm, you must sure that the mod or battery can support resistance low to 0.3ohm. improper use and lead to injury or damage. use the OHMS LAW Calculator to check. if you have a question, please feel free to contact us.
2)users need to pay attention to Li-ion cells when vaping. the batteries very sensitive to charging characteristics and may explode or burn if mishandled. so vapers must have enough knowledge of Li-ion batteries in charging, discharging and assembly before use. please use the fire-proof surface battery charger, never leave a charging battery unattended. we will not responsible for damage to the human reason or mishandling of Li-ion batteries and chargers. the device always recommends work with rechargeable lithium-ion IMR batteries with min output current 20A or higher.
3) Smokstore will not responsible or liable for any injury, damage, defect, permanent or temporary that may be caused by the improper use of Li-ion battery, coils, tanks, mods. please have a basic knowledge of batteries. Welcome to contact us anytime to get help.