The Yocan Evolve Plus is the upgraded version of Evolve Wax Vape Kit, the new Yocan Wax Pen with QDC technology, the Evolve Plus Atomizer Coils are crafted with quartz instead of traditional fiber wick for the purest experience. quartz dual coil guarantees a crystal clean and smooth essence. the 0.8ohm Ceramic Donut Coil is an optional replacement coil to give you more choices. it heats up quickly, provides the clean tasty hits and big vapor. the air inlets were placed on the sides of the ceramic cup, looks nicer and avoids concentrate leaking from the bottom of the coil. with 1100mah large battery capacity and 15seconds of continuous heat, the Evolve Plus becomes more powerful and durable. built-in silicone jar is the most consumer-friendly point, patented by Yocan, making the Yocan Dab Pen the first multifunctional and traveling vape pen in the dab market. you can use the micro USB port to charge the battery, simply connecting it with a wall adapter or power bank by USB cable.

Link: Yocan Evolve Plus Coils
Features:
Material: Zinc Alloy
Size: 120*19mm
Colors: Silver, Black, Red, Blue, Orange
Built-In 1100mAh Battery
3 Output Levels: 3.2-4.2V
Long Heating Chamber
Airflow Adjustable Control Ring
Built-in Silicone Jar
Side Firing Button
LED Battery Indicator Light
510 Thread
Micro USB Port For Charging
Coils:
Ceramic Donut Coil, 0.8ohm, Heats Up Quickly For Clean Tasty Hits And Big Vapor
Quartz Dual Coil, Guarantees A Crystal Clean And Smooth Essence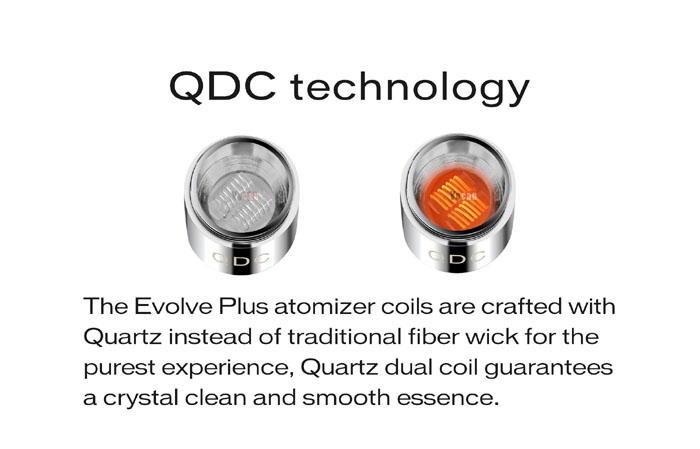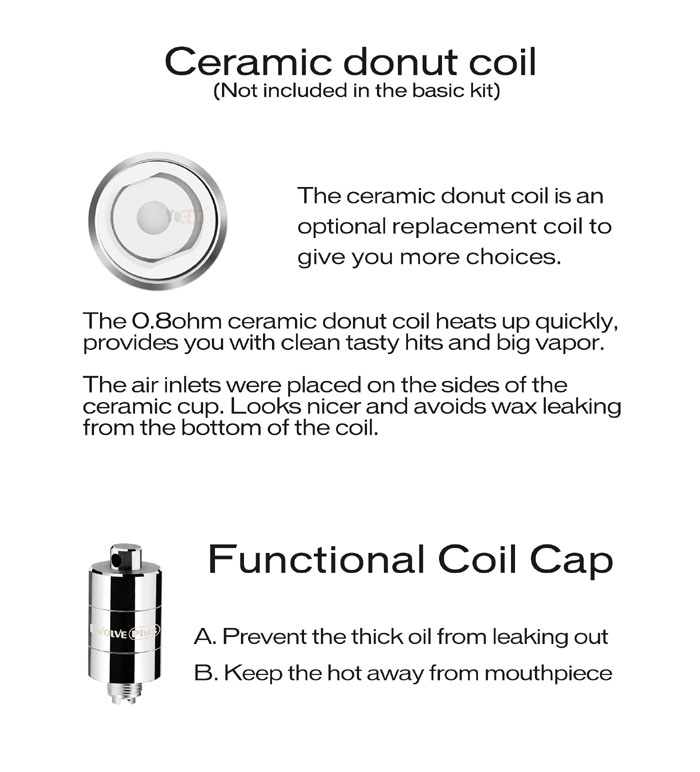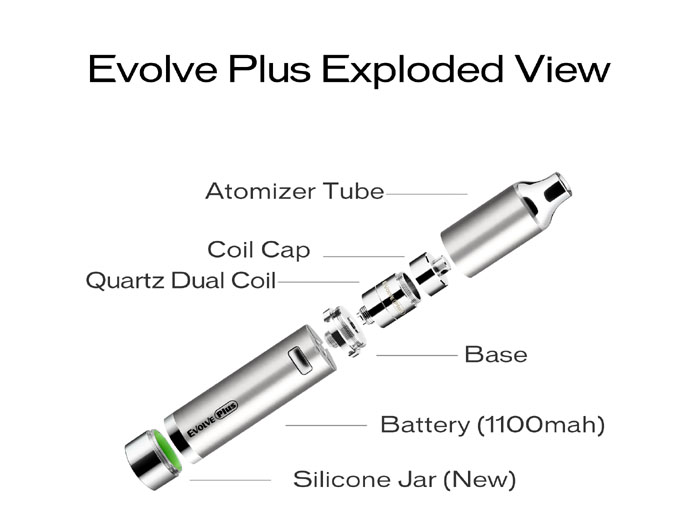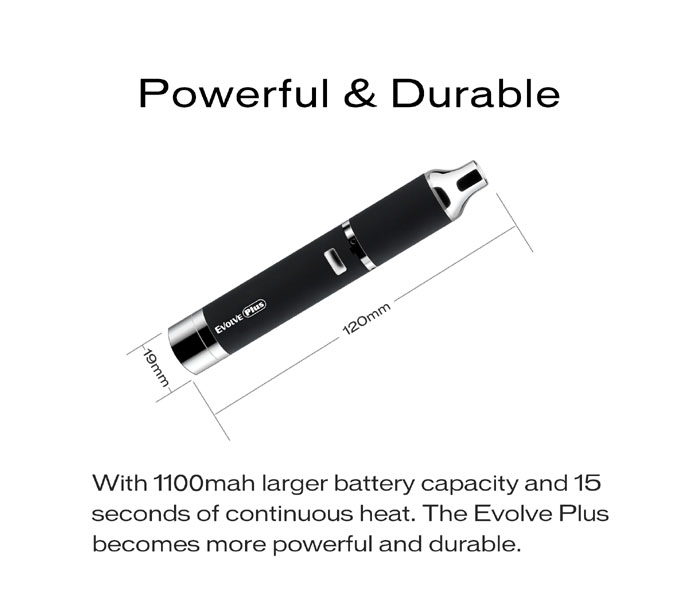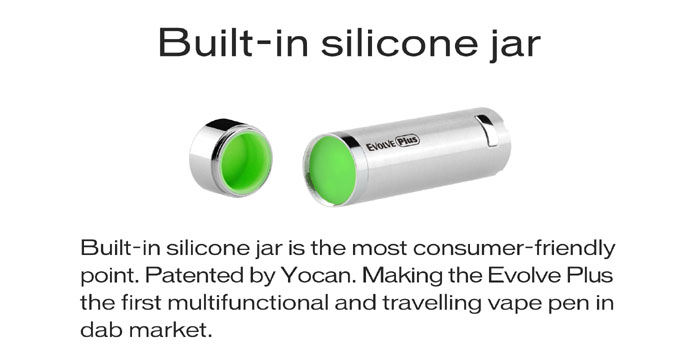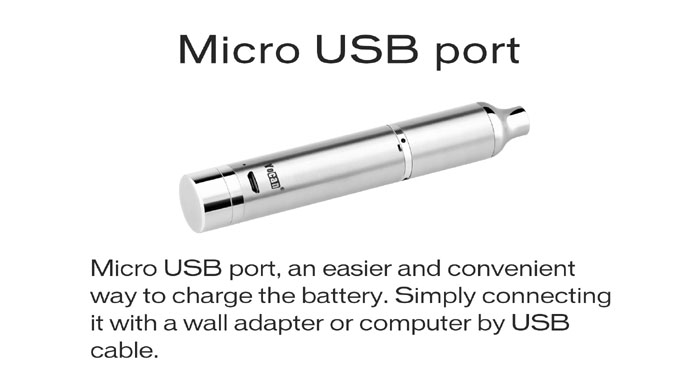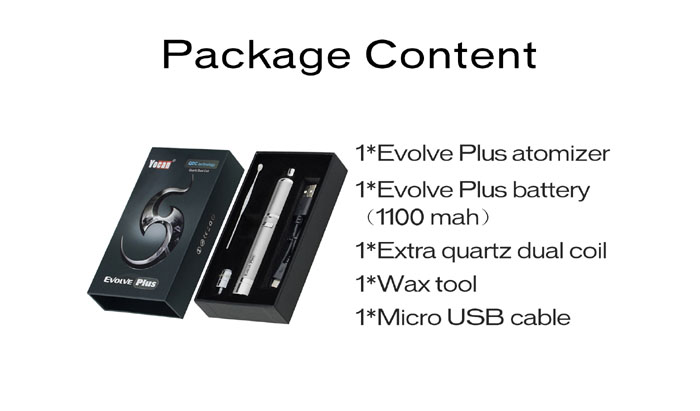 Package Contents:
1*Evolve Plus Atomizer
1*Evolve Plus Battery(1100mah)
1*Extra Quartz Dual Coil
1*Wax Tool
1*Micro USB Cable
Note: please ensure you have basic knowledge on how to properly use it.
1)If the tanks use sub-ohm coils, vapers must be sure that your device and batteries can handle sub-ohm coils, only recommend experienced users order this, extra safety precautions should be practiced when using a sub-ohm tank. the tank only works with the mod that can support the atomizer and coil. if you have a tank and resistance is 0.3ohm, you must sure that the mod or battery can support resistance low to 0.3ohm. improper use and lead to injury or damage. use the OHMS LAW Calculator to check. if you have a question, please feel free to contact us.
2)users need to pay attention to Li-ion cells when vaping. the batteries very sensitive to charging characteristics and may explode or burn if mishandled. so vapers must have enough knowledge of Li-ion batteries in charging, discharging and assembly before use. please use the fire-proof surface battery charger, never leave a charging battery unattended. we will not responsible to damage for the human reason or mishandling of Li-ion batteries and chargers. the device always recommends work with rechargeable lithium-ion IMR batteries with min output current 20A or higher.
3) Smokstore will not responsible or liable for any injury, damage, defect, permanent or temporary that may be caused by the improper use of Li-ion battery, coils, tanks, mods. please have a basic knowledge of batteries. Welcome to contact us anytime to get help.