The Lost Vape Q-PRO 24W High-End Pod Kit, with the cuboid-shape design and premium stainless steel frame, comfortable to grip and durable. the Q-PRO built-in 950mAh battery and max output 24W, 5levels output adjustable and give you the ability to enjoy your clouds and nicotine hit. Press the power level button 3 times in 2 seconds will allow you the cycle through five different power levels to meet the different vaping demands. the Lost Vape Pod with 2ml e-juice capacity and with top airflow adjustable design, you can adjust your preferred airflow and switch between MTL and DL vaping. the Q PRO with top refill cap design, easy to inject your favorite e-juice without leaking issue. the Lost Vape Pod System compatible with all types of Orion Series Coils, which compatible with both freebase e-liquid or nicotine salts. there is Lock / Unlock Pod Button on the side, you can install and replace the Pod easily. there are two Replacement Pods included, pre-installed with 0.5ohm Regular Coil and 1.0ohm Regular Coil. will deliver you the pure taste flavor.
Features:
Colors: Silver / Weave, Black / Weave, Blue / Weave, Gold / Weave, Rainbow / Weave
Size: 93*37*13.5mm
Built-in 950mAh Li-Po Battery
Output Wattage Range: 8-24W
5Levels Output Adjustable By Pressing The Power Level Button
Intelligent LED Indicator Light
Compatible With All Types Of Orion Series Coils( Q-PRO, Orion Plus DNA, Orion Q, Orion DNA GO )
Micro USB Port For Fast Charging
Short Circuit Protection
Low Battery Protection
Temperature Protection
Over-Charge Protection
Low / High Resistance Protection
-------------------------------------------------
Pod Capacity: 2ml
Coils:
Orion Plus Mesh Coil, 0.25ohm
Orion Plus Regular Coil, 0.5ohm
Q-PRO Regular Coil, 1.0ohm
Top Airflow Adjustable For MTL Or DL Vaping
Convenient Top E-Liquid Refill
Delrin Drip Tip Included
Lock / Unlock Pod Button
Includes:
1*Lost Vape Q-PRO Battery
1*Q-PRO Pod( Pre-installed 1.0ohm Regular Coil )
1*Q-PRO 0.5ohm Regular Coil
1*User Manual
1*Lanyard
1*Micro USB Cable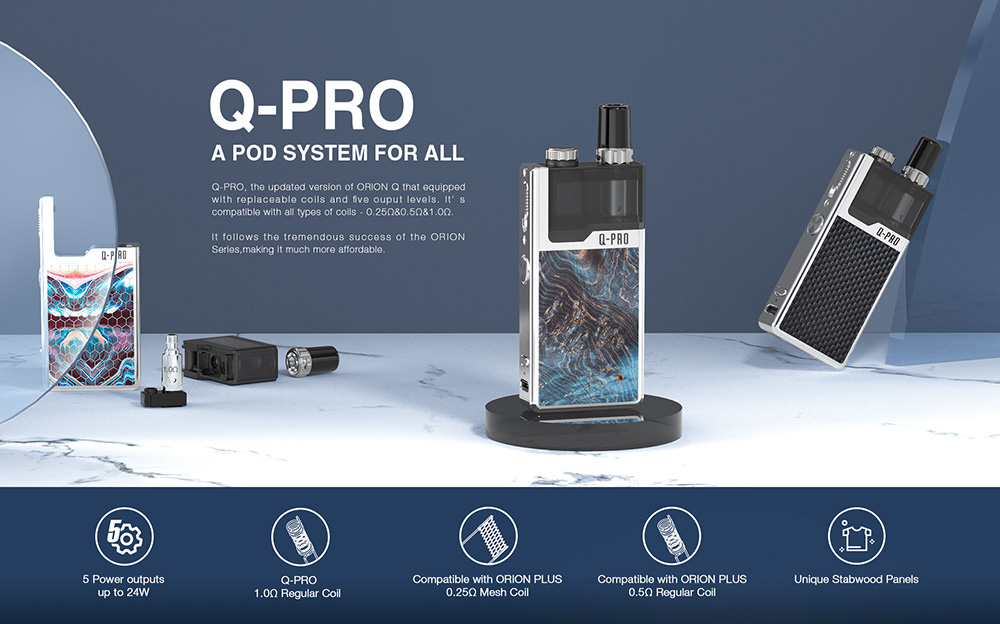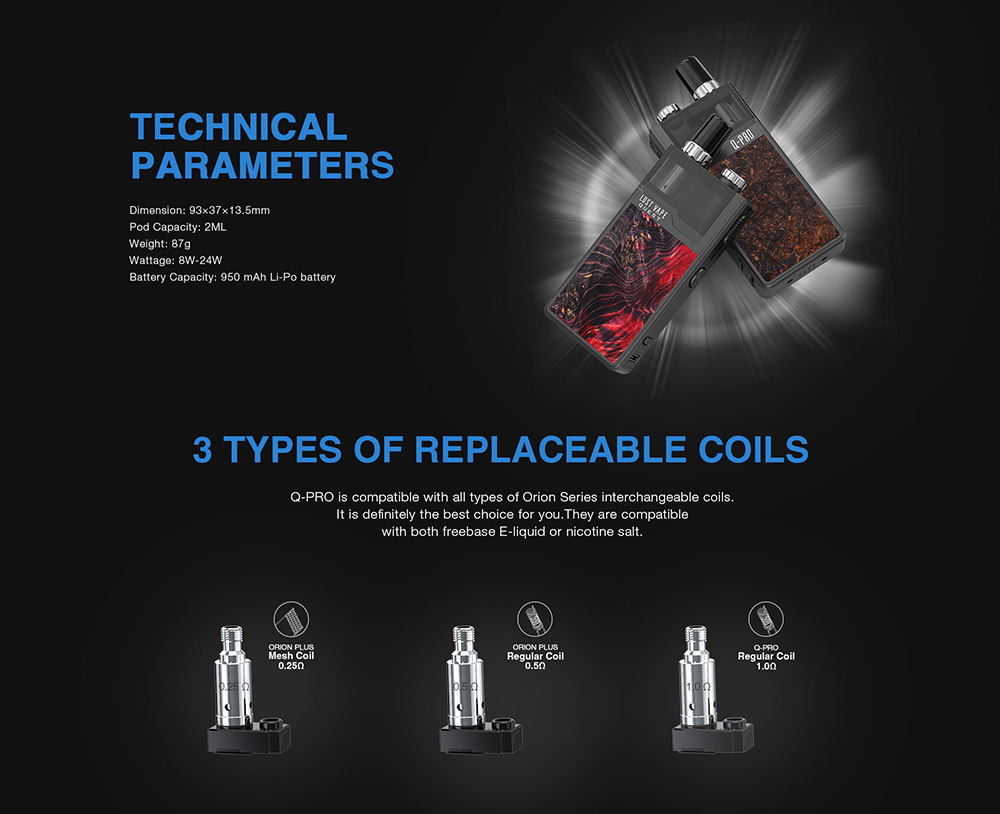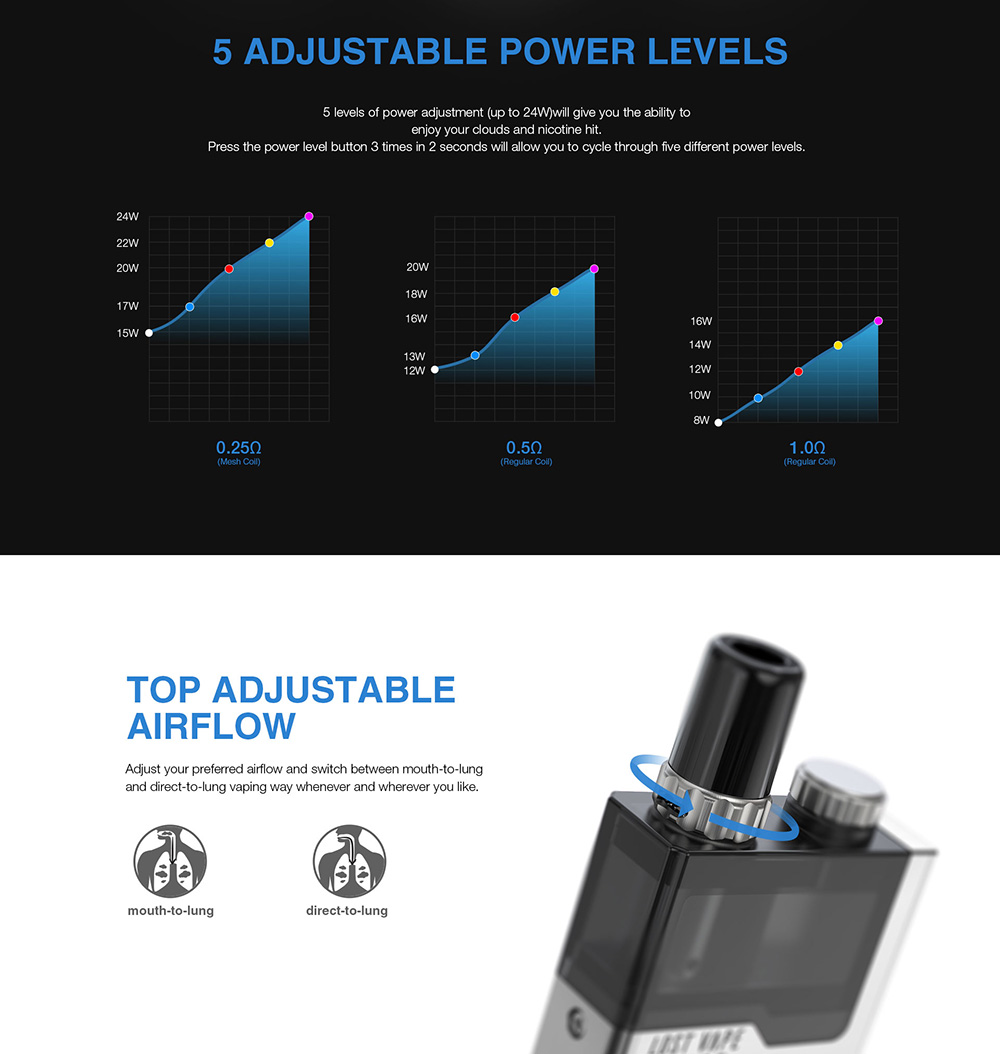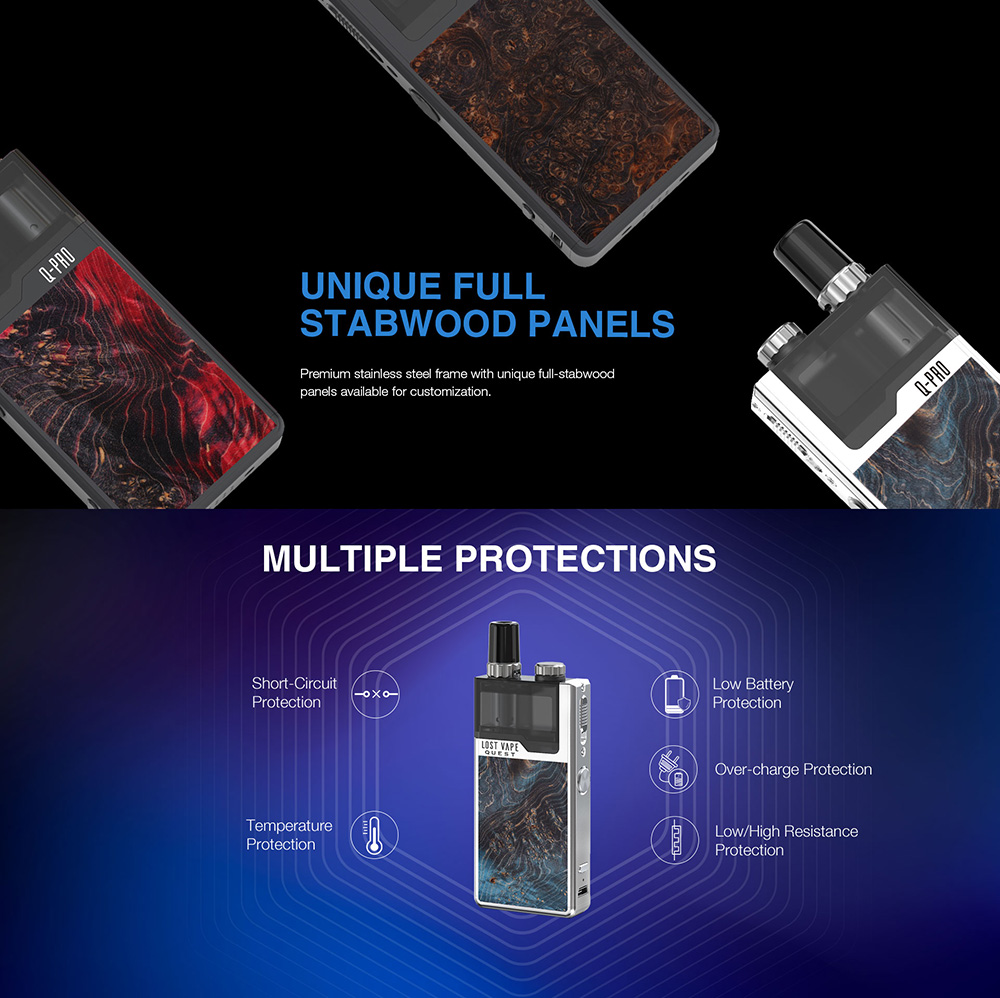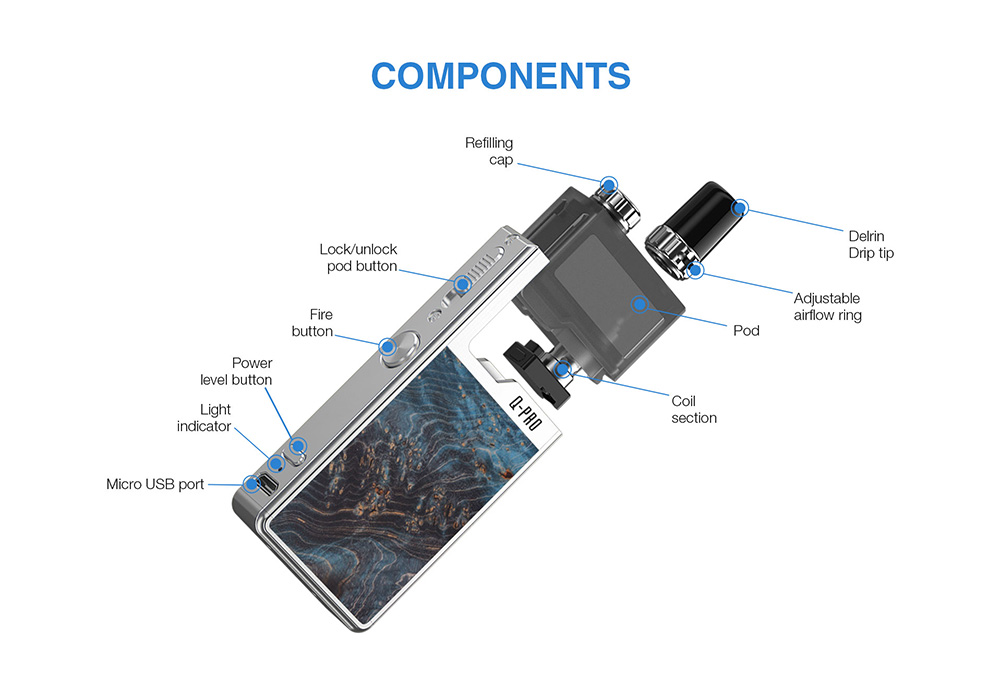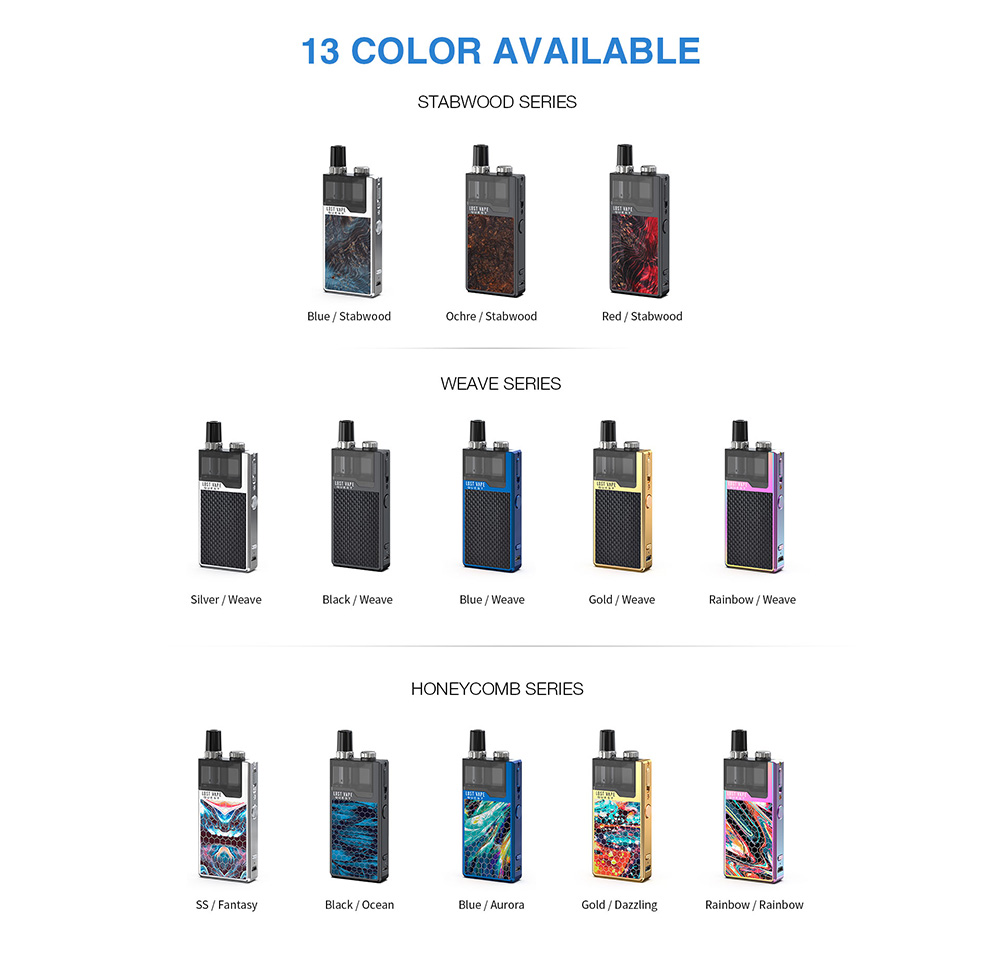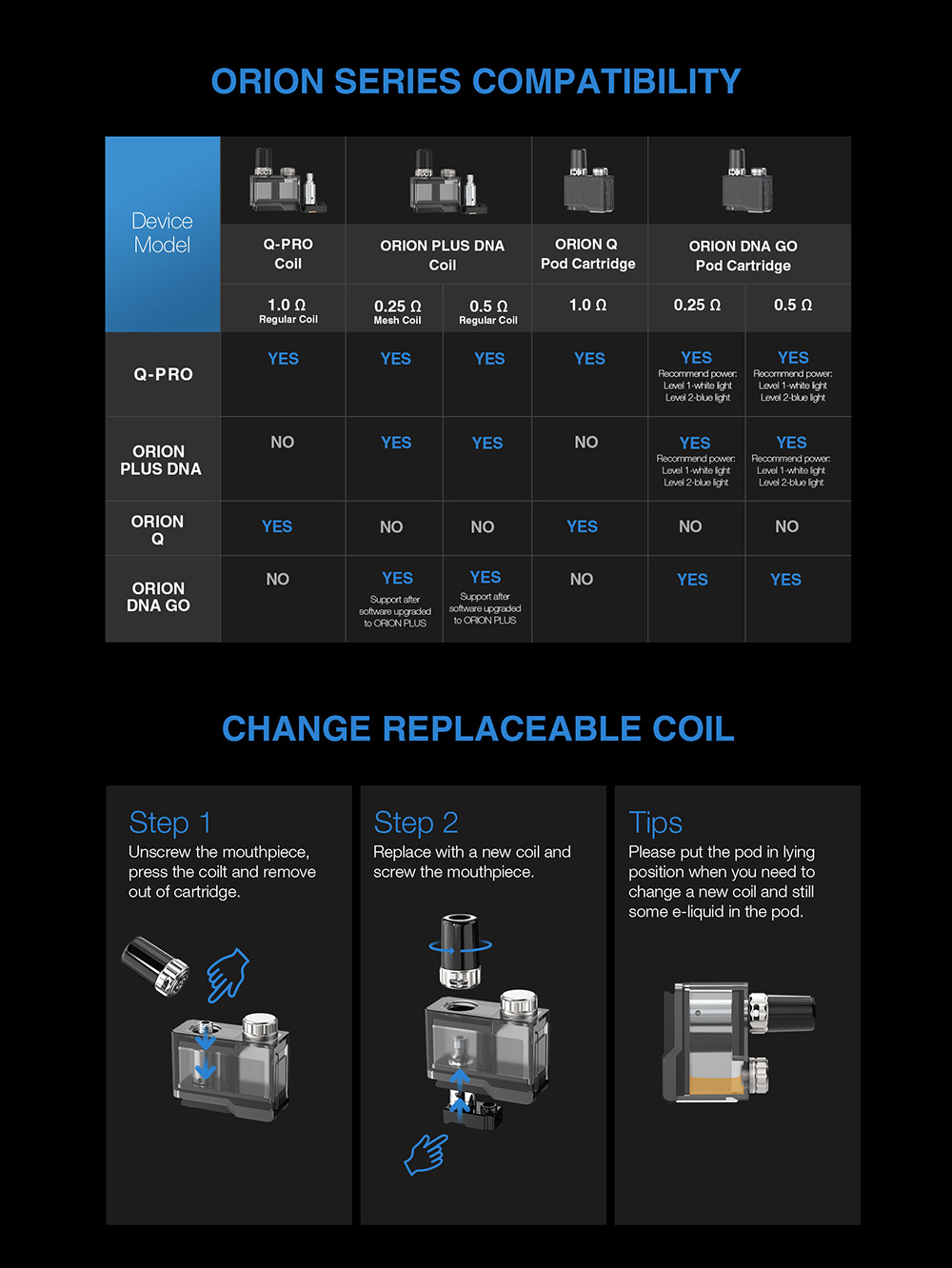 Note: please ensure you have basic knowledge on how to properly use it.
1)If the tanks use sub-ohm coils, vapers must be sure that your device and batteries can handle sub-ohm coils, only recommend experienced users order this, extra safety precautions should be practiced when using a sub-ohm tank. the tank only works with the mod that can support the atomizer and coil. if you have a tank and resistance is 0.3ohm, you must sure that the mod or battery can support resistance low to 0.3ohm. improper use and lead to injury or damage. use the OHMS LAW Calculator to check. if you have a question, please feel free to contact us.
2)users need to pay attention to Li-ion cells when vaping. the batteries very sensitive to charging characteristics and may explode or burn if mishandled. so vapers must have enough knowledge of Li-ion batteries in charging, discharging and assembly before use. please use the fire-proof surface battery charger, never leave a charging battery unattended. we will not responsible for damage to the human reason or mishandling of Li-ion batteries and chargers. the device always recommends work with rechargeable lithium-ion IMR batteries with min output current 20A or higher.
3) Smokstore will not responsible or liable for any injury, damage, defect, permanent or temporary that may be caused by the improper use of Li-ion battery, coils, tanks, mods. please have a basic knowledge of batteries. Welcome to contact us anytime to get help.