The Lost Vape Triade DNA250C 300W Vape Box Mode, which machined out of die-cast zinc alloy and stainless steel with premium accented leather battery doors and the array of side-plate inlays, with round style ergonomic shape design, feel more comfortable in hand. the newest lost vape box mod built-in the upgraded Evolv DNA250C chipset, allowing it to fire up to 300watts, powered by triple high-drain 18650 batteries, recommend the Nitecore IMR 18650 3100mAh 35A Battery. the new DNA chipset with replay mode which allows vapers to save and replay personalized perfect puff. it features 0.9 inch OLED screen with a customizable user interface, it will show vapers the output wattage, working temperature, working voltage, and resistance etc. the new DNA chipset with innovative functions: wattage control, temp protection, replay function, boost mode, preheat and onboard programmable multicolor LED. the lost vape DNA250C 300W mod will be a good choice of premium vape mods.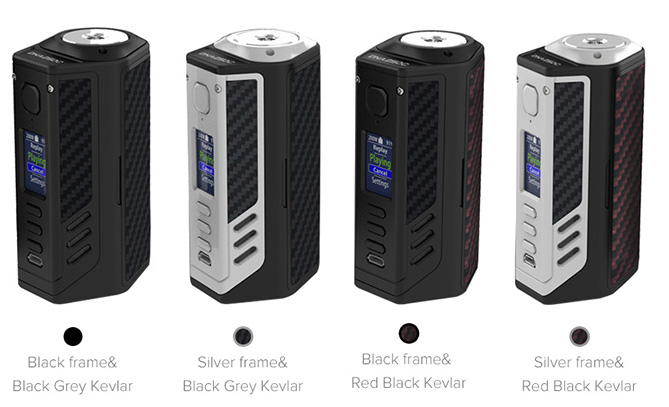 Lost Vape Triade DNA250C 300W Box Mod Features:
Material: Zinc Alloy + Leather
Colors: Black Frame & Black Grey Kevlar, Black Frame & Red Black Kevlar, Silver Frame & Black Grey Kevlar, Silver Frame & Red Black Kevlar
Size:89.3*49.3*39.8mm
Built-in Evolv Upgraded DNA250C Chipset
Output Wattage Range: 1-300W
Min Kanthal Resistance Support: 0.1ohm
Min Temperature Resistance Support:0.08ohm
Temperature Control Range: 100-315℃/200-600℉
Powered By Triple 18650 High-Drain Batteries(Sold Separately)
Customizable User Interface
Intuitive 0.9 Inch OLED Colorful Screen
Upgraded Escribe Software
98% Output Efficiency, Cell-by-cell Monitoring
Micro USB Port-2A Balance Charging Supports
Spring-Loaded Nickel Plated Brass 510 Connector
Replay Function: Temperature Sensing And Tuning Of Temp Control
Watt Boost Mode: Increase Initial Power Output And Ramp-UP Time
High Responsive Three Buttons
Short Circuit Protection
Low Battery Protection
Working Temperature Protection
High Resistance Protection
Over-Heat Protection
On-Board Reverse Polarity Protection
Package Contents:
1*Triade DNA250C Vape Mod
1*User Manual
1*USB Cable
1*USB OTG Charging Adapter
Note: please ensure you have basic knowledge on how to properly use it.
1)users need to pay attention to Li-ion cells when vaping. the batteries very sensitive to charging characteristics and may explode or burn if mishandled. so vapers must have enough knowledge of Li-ion batteries in charging, discharging and assembly before use. please use the fire-proof surface battery charger, never leave a charging battery unattended. we will not responsible for damage to the human reason or mishandling of Li-ion batteries and chargers. the device always recommends work with rechargeable lithium-ion IMR batteries with a min output current of 20A or higher.
2) Smokstore will not responsible or liable for any injury, damage, defect, permanent or temporary that may be caused by the improper use of Li-ion battery, coils, tanks, mods. please have a basic knowledge of batteries. Welcome to contact us anytime to get help.