The Uwell Caliburn Koko Pod Kit, which with more compact with the square shape, you can hold in the palm of your hand easily, free up your hands and pockets with the included necklace. built-in 520mAh battery and max output 11W only, with the micro USB port for charging, the intelligent battery LED indicator light will show you the battery life and charging status. the Uwell BEIN chipset has multiple circuit protection functions to provide stable, safe and reliable performance. the Uwell Caliburn Kit with draw-activated mechanism provides beginners a more convenient vaping experience, the well-designed airway offers the restriction for a tight cigarette feeling, bring you the great MTL experience. the exclusive Pro-FOCS flavor testing technology provides vapers with the ultimate vaping experience by properly controlling the heating temperature, strictly managing the material quality, and completely restoring the e-juice flavor. the Uwell Refillable Pod can hold 2ml e-juice, you can inject your favorite freebase or nicotine salt. the 1.2ohm built-in parallel coils fully atomize the juice which gives you the better flavor, bigger clouds and the smoother throat hits.
Quick Links:
Uwell Caliburn Koko Replacement Pods
Features:
Material: Aluminum Alloy + PP + PCTG
Size: 67*43*12mm
Compact And Portable
Built-in 520mAh Battery
Max Output Power: 11W
Draw-Activated Mechanism Design
Intelligent Battery LED Indicator Light
Exclusive Pro-FOCS Flavor Testing Technology
Necklace Included
Micro USB Port For Changing
Short Circuit Protection
Low Power Protection
Over Vape Indication
---------------------------------
2ML Refillable Pod
Coil Resistance: 1.2ohm
Convenient Top E-Juice Refill
Plug-Pull Pod Design
Includes:
1*Uwell Caliburn Koko Pod Kit
1*Caliburn Koko Pod 1.2ohm
1*Micro USB Cable
1*User Manual
1*Necklace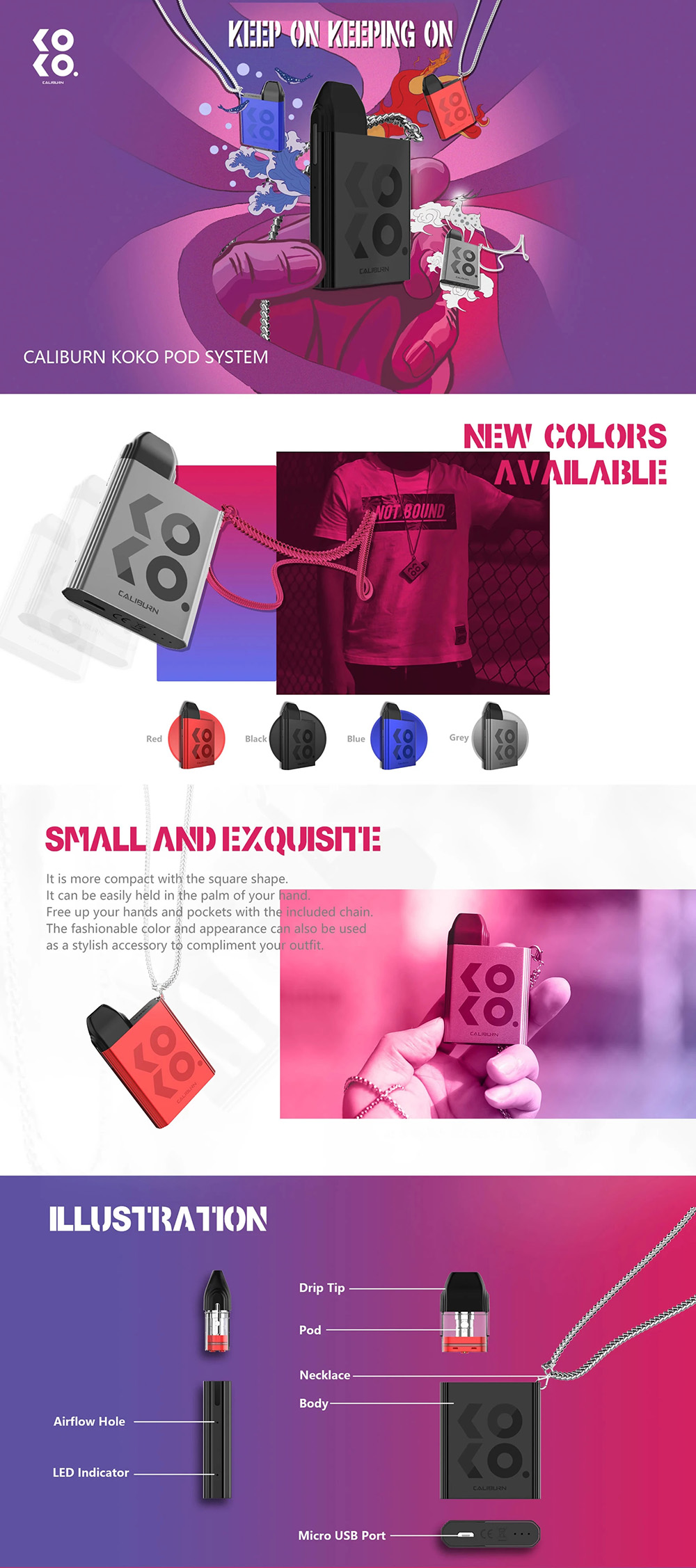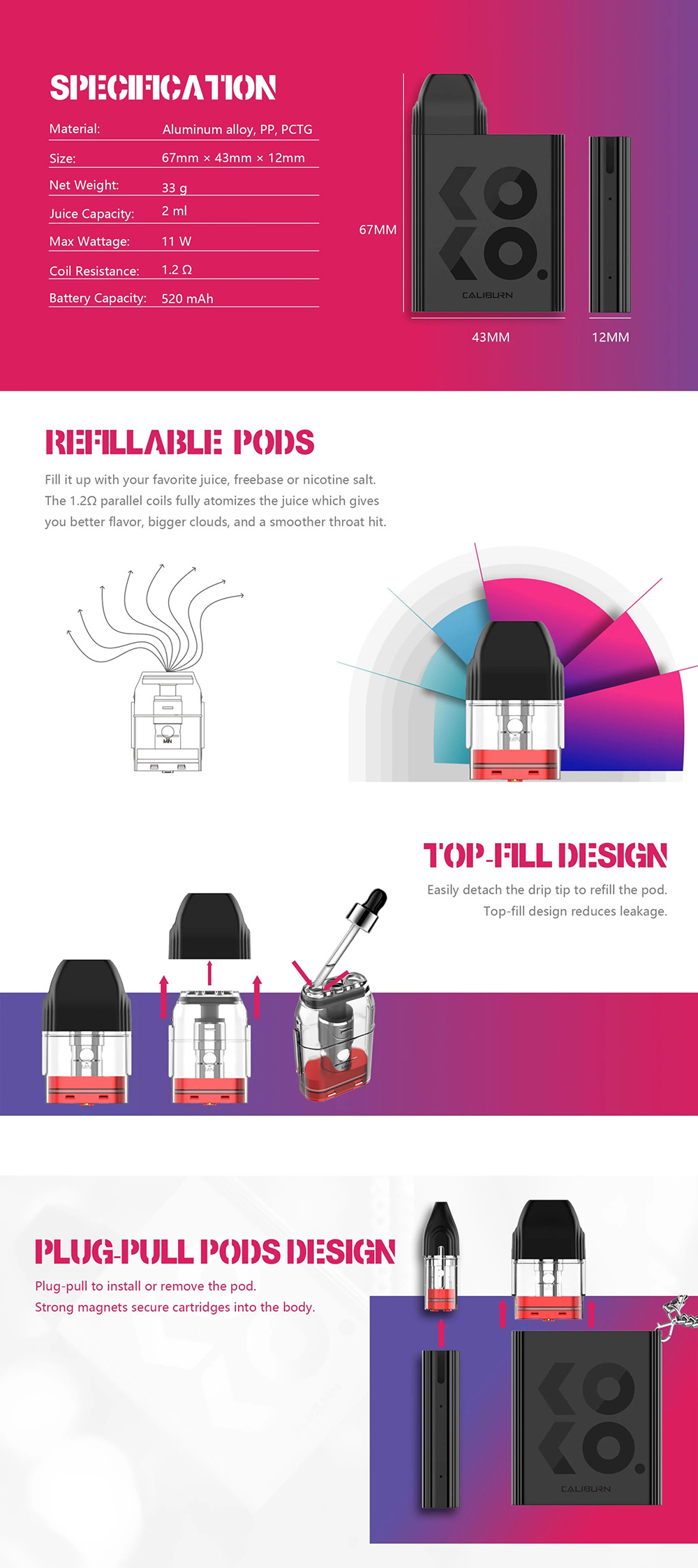 Note: please ensure you have basic knowledge on how to properly use it.
1)If the tanks use sub-ohm coils, vapers must be sure that your device and batteries can handle sub-ohm coils, only recommend experienced users order this, extra safety precautions should be practiced when using a sub-ohm tank. the tank only works with the mod that can support the atomizer and coil. if you have a tank and resistance is 0.3ohm, you must sure that the mod or battery can support resistance low to 0.3ohm. improper use and lead to injury or damage. use the OHMS LAW Calculator to check. if you have a question, please feel free to contact us.
2)users need to pay attention to Li-ion cells when vaping. the batteries very sensitive to charging characteristics and may explode or burn if mishandled. so vapers must have enough knowledge of Li-ion batteries in charging, discharging and assembly before use. please use the fire-proof surface battery charger, never leave a charging battery unattended. we will not responsible for damage to the human reason or mishandling of Li-ion batteries and chargers. the device always recommends work with rechargeable lithium-ion IMR batteries with min output current 20A or higher.
3) Smokstore will not responsible or liable for any injury, damage, defect, permanent or temporary that may be caused by the improper use of Li-ion battery, coils, tanks, mods. please have a basic knowledge of batteries. Welcome to contact us anytime to get help.