The Tesla Punk Pod Kit, which with the ultra-portable design and the classic punk style, treated by vertical layer carving processing technology, with 20 times of polishing and 3 layer vacuum coating and 10 times of metal brushing to finally fix the color, looks exquisite, pocket-friendly, comes with the necklace and you can wear it. with the 600mAh battery capacity and 5V/500mA upgrade fast-charging system, long battery life up to 48hours. the Tesla Pod Kit with the constant voltage output design will provide a strong power output for the daily vaping, has no buttons and with the airflow switch, easy and friendly to beginners. can charge the built-in battery via the micro USB port, the fast charging system allows it will be fully charged in 1.24hours. the Tesla Refillable Pod can hold 1.2ml e-juice and made of the PCTG material, adopts the 1.4ohm organic cotton coil, each drop of e-juice is fully atomized, can be used for a wide range of e-liquid like Nic Salts, normal e-juice or CBD, bring you the dense flavor.
Quick Links:
Features:
Material: Zinc Alloy
Colors: Black, SS, Antique Copper, Antique Bronze
Size: 70*39*12.2mm
Built-in 600mAh Battery
Output Power Range: 6.4-9.25W
Output Mode: Constant Voltage Output
Output Voltage: 3.2-4.2V
Output Current: 3A
USB Charging: 5V/0.5A
Charging Time: 1.24H
Air Flow Switch
Micro USB Port For Charging
Necklaces Included
Short Circuit Protection
Over Puffing Protection
Low-Voltage Protection
Over-Current Protection
Charging Protection
-----------------------------------------------
Pod Material: PCTG
1.2ML E-Juice Capacity
Resistance: 1.4ohm
Side E-Juice Refill Design
Includes:
1*Tesla Punk Pod Kit
1*User Manual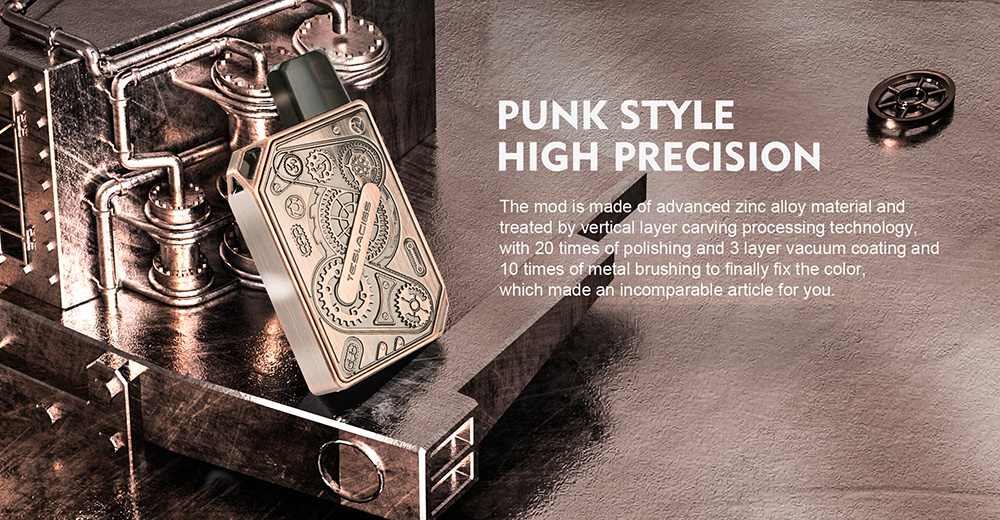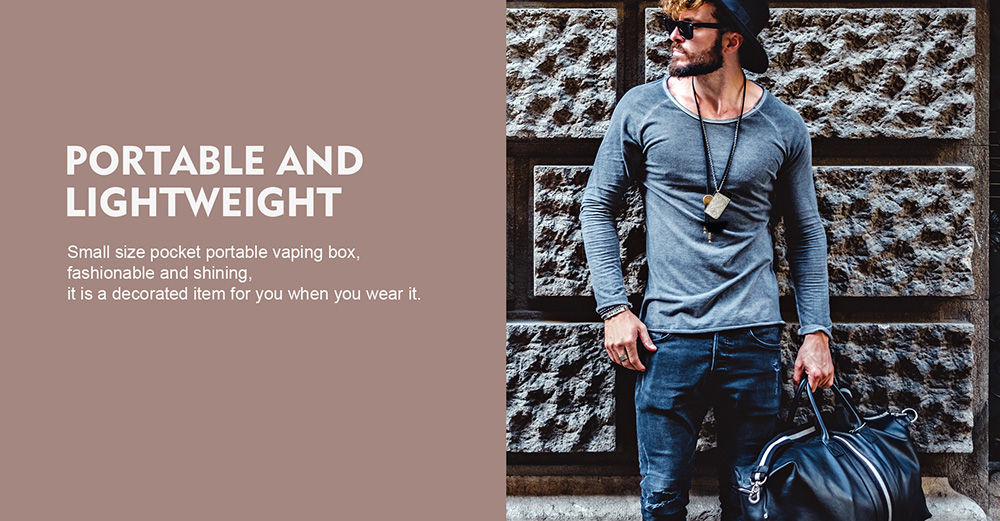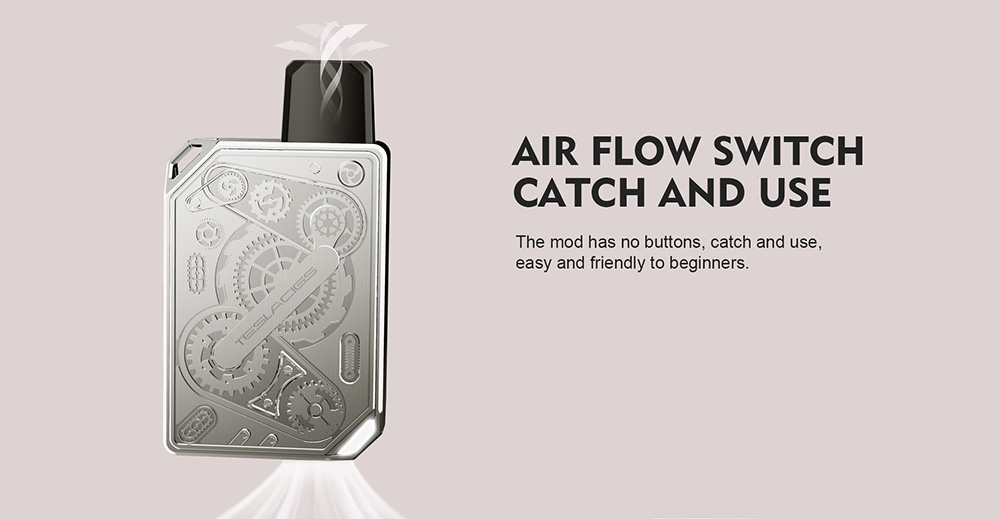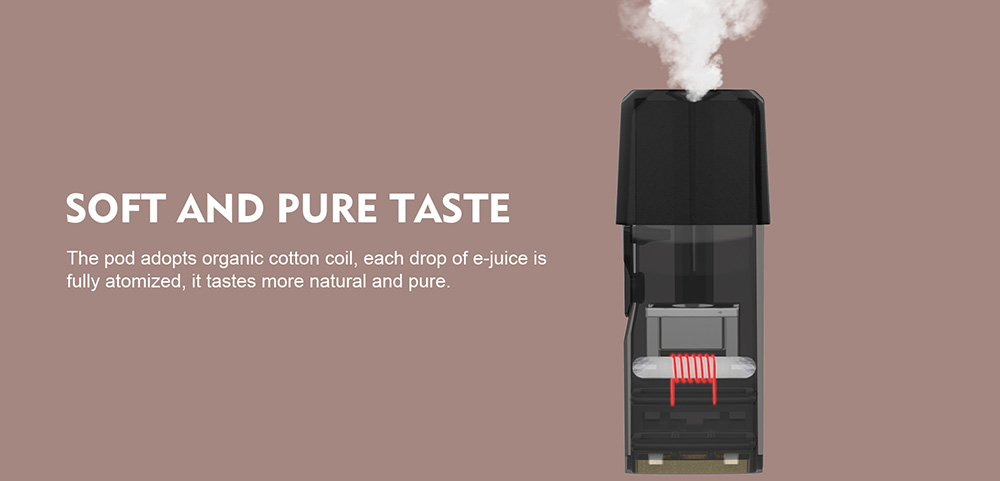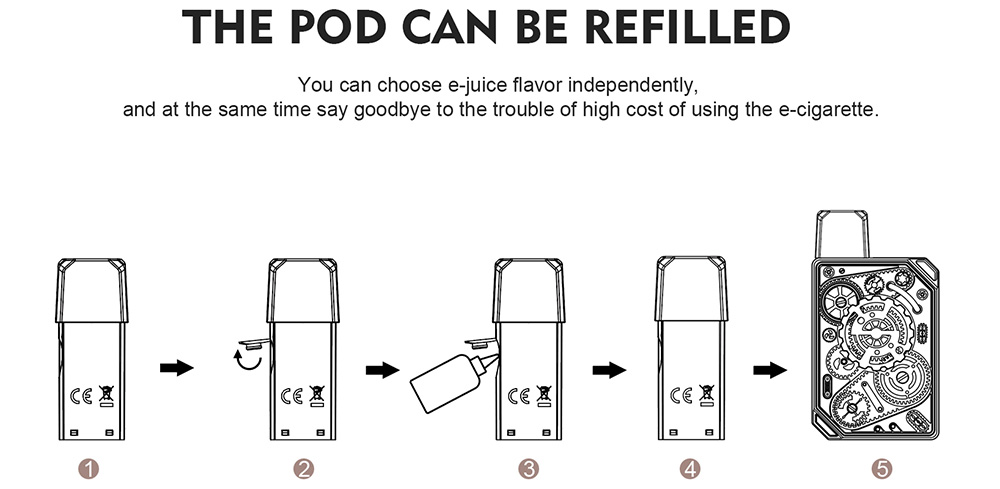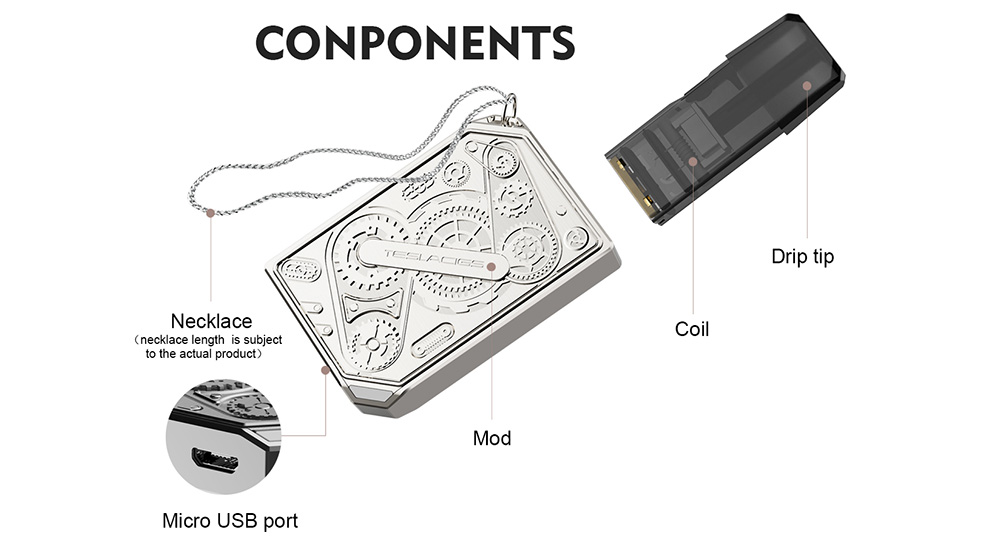 Note: please ensure you have basic knowledge on how to properly use it.
1)If the tanks use sub-ohm coils, vapers must be sure that your device and batteries can handle sub-ohm coils, only recommend experienced users order this, extra safety precautions should be practiced when using a sub-ohm tank. the tank only works with the mod that can support the atomizer and coil. if you have a tank and resistance is 0.3ohm, you must sure that the mod or battery can support resistance low to 0.3ohm. improper use and lead to injury or damage. use the OHMS LAW Calculator to check. if you have a question, please feel free to contact us.
2)users need to pay attention to Li-ion cells when vaping. the batteries very sensitive to charging characteristics and may explode or burn if mishandled. so vapers must have enough knowledge of Li-ion batteries in charging, discharging and assembly before use. please use the fire-proof surface battery charger, never leave a charging battery unattended. we will not responsible for damage to the human reason or mishandling of Li-ion batteries and chargers. the device always recommends work with rechargeable lithium-ion IMR batteries with min output current 20A or higher.
3) Smokstore will not responsible or liable for any injury, damage, defect, permanent or temporary that may be caused by the improper use of Li-ion battery, coils, tanks, mods. please have a basic knowledge of batteries. Welcome to contact us anytime to get help.